Thousands of protesting farmers from UP stopped from entering Delhi
Thousands of protesting farmers from UP stopped from entering Delhi
Sep 21, 2019, 04:50 pm
3 min read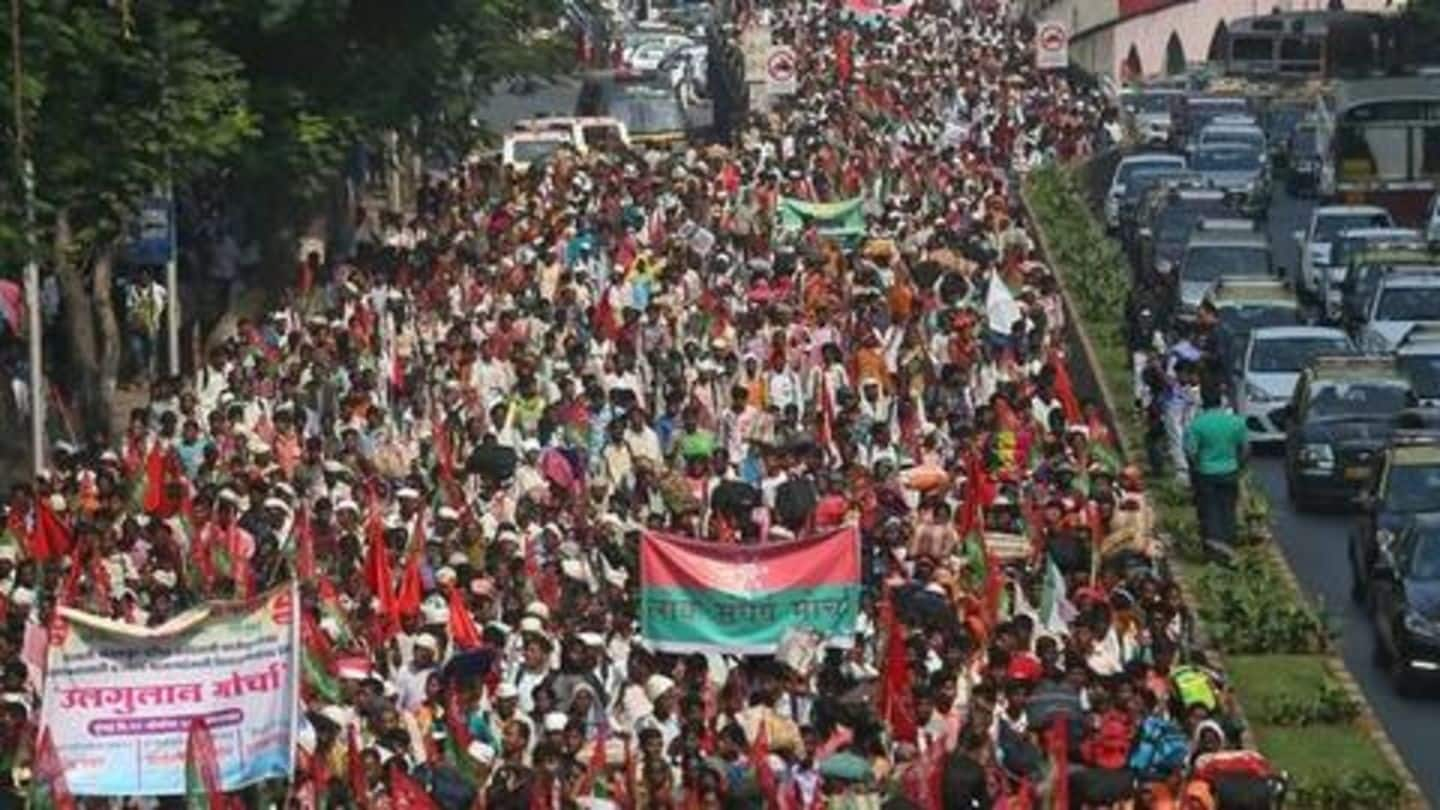 Thousands of farmers from Uttar Pradesh, who have been demanding loan-waivers, were on Saturday stopped from entering Delhi, prompting them to hold a sit-in protest. The massive march, organized by Rashtriya Kisan Sangh, started from Saharanpur on September 11 and Kisan Ghat in the heart of the capital was supposed to be the culminating point. But the farmers were stopped earlier in the day.
Heavy forces were deployed to deal with the march
This morning, the protesting farmers started their march from Noida's Transport Nagar and heavy forces were deployed to deal with any violence. The farmers were supposed to reach Kisan Ghat, a memorial of famous farmer-leader Chaudhary Charan Singh, through Akshardham and ITO. However, police stopped them near Ghazipur on NH-24. Reportedly, talks between the outfit and Agriculture Ministry didn't yield any results.
So, what exactly are the farmers demanding?
As it turns out, loan waivers aren't the only thing the farmers are demanding. They also want free electricity for irrigation, free education, and other health facilities. The outfit also wants farmers and laborers to get a pension of Rs. 5,000 after they turn 60. They are also demanding that the price of crops should be decided only in the presence of farmers' representatives.
Farmers want a 10X increase in fee for maintaining cattle
Moreover, the body wants that if a farmer dies accidentally, he/she should get "martyr status". The farmers should also get benefits of an accident insurance scheme. They want that cattle maintenance fee set by the state government is increased from Rs. 30/day to Rs. 300/day. Sugarcane farmers must get the price of the crop with interest on time, is another thing which they are demanding.
Further, farmers want an AIIMS in Western UP
Further, the farmers also want a High Court and AIIMS to be set up in West UP. They are also demanding that all polluted rivers should be treated and that all suggestions of the Swaminathan Commission are implemented soon.
"Farmers are suffering but government is sleeping"
Disclosing why they decided to hold the march, Radhe Thakur, the Vice-President of the body, said they were let down by Prime Minister Narendra Modi. "At present, the condition of farmers is miserable. They are struggling with the economic crisis, while the government is sleeping," he said. He added that until they get assurance from Chief Minister Yogi Adityanath they won't budge.
Thakur held Adityanath responsible for farmers' suicide
"Sugarcane farmers have not been paid on time. By increasing the electricity rate, the Yogi Adityanath government in UP is creating a burden on the farmers due to which they are forced to commit suicides," he went on.