#TravelBytes: 5 most beautiful routes in India for cycling enthusiasts
#TravelBytes: 5 most beautiful routes in India for cycling enthusiasts
Aug 24, 2018, 08:45 pm
3 min read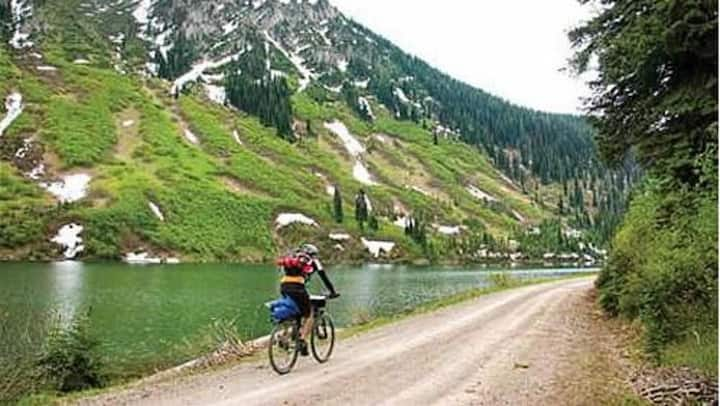 Cycling isn't just an exercise. It's much more- the sheer joy of jumping onto your bike, and pedaling your way through beautiful surroundings is purely unmatched. India, being the amalgamation of soul-soothing landscapes, offers escape into nature to everyone, and especially to the cycling enthusiast in you. Here, we list 5 most beautiful routes in India for cycling enthusiasts.
Pedal from Chennai to Pondicherry along the East Coast Road
Though a relatively easy-peasy choice for a cycling trail, but be assured- a pedalling experience from Chennai to India's own France, Pondicherry, along the East Coast Road is nothing short of thrilling. The 155-km journey (ideally covered in 2-3 days) will give you some of the most mesmerizing views of the sea, white-sand beaches, and crystal-clear blue waters. Best time to go is November-February.
The king of all cycling expeditions in India
Take a breathtaking riding adventure, starting from Manali and making it to the serene, cold desert town of Leh. Rated expert-level, the 700km trail ideally takes around 10-15 days to cover, and features some unbelievably exhilarating views of fantastic landscapes, and snow-covered Himalayas. On your journey, make stops at Pangong Lake, Hemis, and Chang La. April-August makes for the best time to ride.
Of sea, cash crop farms, and coconut trees!
The three-day trail along the beautiful Somnath-Diu route, offering enthralling views of the sea, the stunning cash crop farms, enclosed by many coconut trees is simply un-missable. It's an 'easy to moderate' rated cycling trail in the West Indian state of Gujarat, featuring lush-green landscapes of the Gir National Park along the journey. When in Diu, visit the Diu Fort, and enjoy beach-basking.
Witness the unforgettably scenic Kerala backwaters
Get your bikes out and ride along the beautiful roads of the coastal South Indian state of Kerala. Start out in the capital city of Kochi, and ride to the unforgettably amazing backwaters, enjoying serene views of the unending coconut trees, and small fishermen towns and villages. The best time to cover the three-day trail is during the winter season (November to February).
The Shillong to Cherrapunji pedaling trail is a fantasy-come-true
The 275km stretch from Shillong to Cherrapunji is an unexplored yet utterly spellbinding cycling trail in Meghalaya, which is known for its misty weather. Along the journey, you'll come across cascades, lush-green mountains, floating lakes, amazingly clean villages, living root bridges, peaceful monasteries and a number of treat-to-the-eye valleys. The trail is best experienced during the winter season.