Uttarakhand: 'Hero' cop, who saved Muslim man, gets death threats
Uttarakhand: 'Hero' cop, who saved Muslim man, gets death threats
Written by
NewsBytes Staff
May 30, 2018, 05:44 pm
2 min read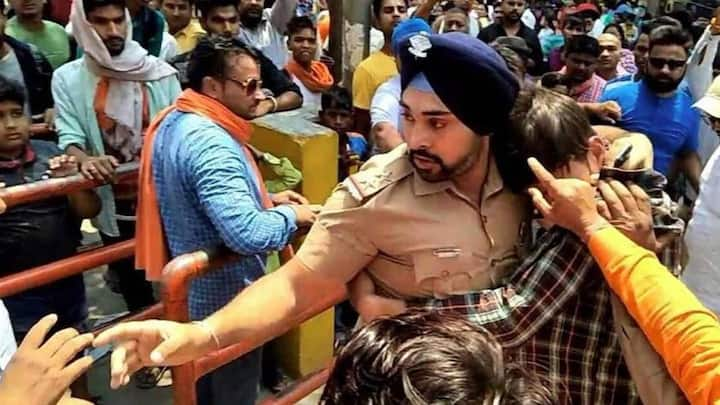 Gagandeep Singh, the Uttarakhand cop who saved a Muslim man from getting lynched, is receiving death threats and has been sent on leave, BBC reported. The Muslim man was heckled as people were angry over his meeting with a Hindu girl. While Singh's action made him a hero, a Ramnagar BJP leader raised objections over the Muslim man's presence in a temple.
Gagandeep fought fanatic crowd alone, got love from every corner
The incident happened on May 22, when 19-year-old Irfan was allegedly seen in a 'compromising position' with a Hindu woman at Girija Temple. The angry crowd let the girl go, but started heckling the boy and shouted 'love jihad'. Just before matters could get worse, Singh intervened. He hugged the man tightly and led him away from the crowd.
Congratulatory messages forced Gagandeep to deactivate Facebook, switch-off phone
Although the world equated Singh with a hero, he didn't understand the big deal. He saw the boy's helplessness and came to his rescue, he said. "I started getting so many calls that I switched off my number. I deactivated my Facebook account as well. I didn't understand what was happening," the cop said, warming hearts again with his humility.
As netizens hail Singh, BJP MLA warns 'destroyers' of Hindu-culture
Days after the incident, Ramnagar BJP MLA Rajkumar Thukral said the Muslim man shouldn't have been at the temple when "we don't visit mosques." He warned "destroyers" of Hindu culture and openly threatened Hindu Sena would "teach them a lesson." Reiterating the right-wing's allegations of 'love jihad,' he said, "We will fight the ongoing plans of strengthening the roots of love jihad"
Threats to Gagandeep prove we failed as a society
The residents of Ramnagar said the incident has changed the locality. A local asked how can right-wing outfits call a couple's voluntary decision to go out as 'love-jihad'. The threats hurled at Singh confirm something is fractured beyond repair in the society. A hero who saved an innocent life shouldn't have to look over his shoulder and live in fear.