WB BJP chief Dilip Ghosh's vehicle attacked in East Midnapore
WB BJP chief Dilip Ghosh's vehicle attacked in East Midnapore
Written by
Anjana Raghav
(PTI desk)
Sep 17, 2018, 06:58 pm
2 min read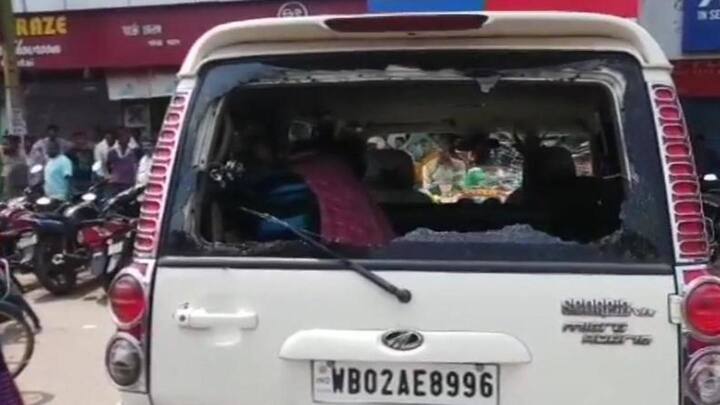 West Bengal BJP President Dilip Ghosh's vehicle came under attack today in East Midnapore district, where he arrived in the morning with a contingent of 10-12 cars to attend a meeting, a police officer said. Ghosh claimed that the attack at Contai in East Midnapore was the "handiwork" of Trinamool Congress (TMC) workers, a charge denied by the ruling party. Here's more.
Miscreants behind the attack are yet to be identified: Police
The police officer, however, said the miscreants behind the attack are yet to be identified. "Ghosh was shown black flags while entering the venue of a party meeting near Contai central bus stand by unidentified people, following which a clash broke out between the two sides. The miscreants also broke the window panes of the state BJP President's car," the officer said.
10 karyakartas were hospitalized following the attack: Ghosh
The police officer, however, clarified that the situation was under control and Ghosh's meet was underway as per schedule. "Policemen have been deployed in huge numbers in the area and we are looking into the situation, trying to identify the miscreants," the officer added. The state BJP President, on his part, said 10 karyakartas had to be hospitalized following the attack.
TMC-members think they can stop BJP, they're being fools: Ghosh
"TMC workers broke my car's window panes and damaged 30 motorcycles that were a part of the contingent," Ghosh said, adding he had faced similar attacks earlier too. "If the TMC and its leadership think that they can stop the BJP, they are living in fool's paradise," he thundered, alleging local TMC MP Dibyendu Adhikari and cops were present when the attack happened.
Attack was the result of BJP's internal fight: Adhikari
Adhikari, however, refuted the allegations and said he was nowhere near the site of the incident. "I was passing through the area when I came to know that Ghosh was shown black flags by his own partymen. The attack was the result of the saffron party's internal fight," he claimed. The TMC has never stopped the BJP from holding any meeting, Adhikari said.