Zomato delivery man seen eating ordered food, company issues statement
Zomato delivery man seen eating ordered food, company issues statement
Dec 11, 2018, 02:40 pm
2 min read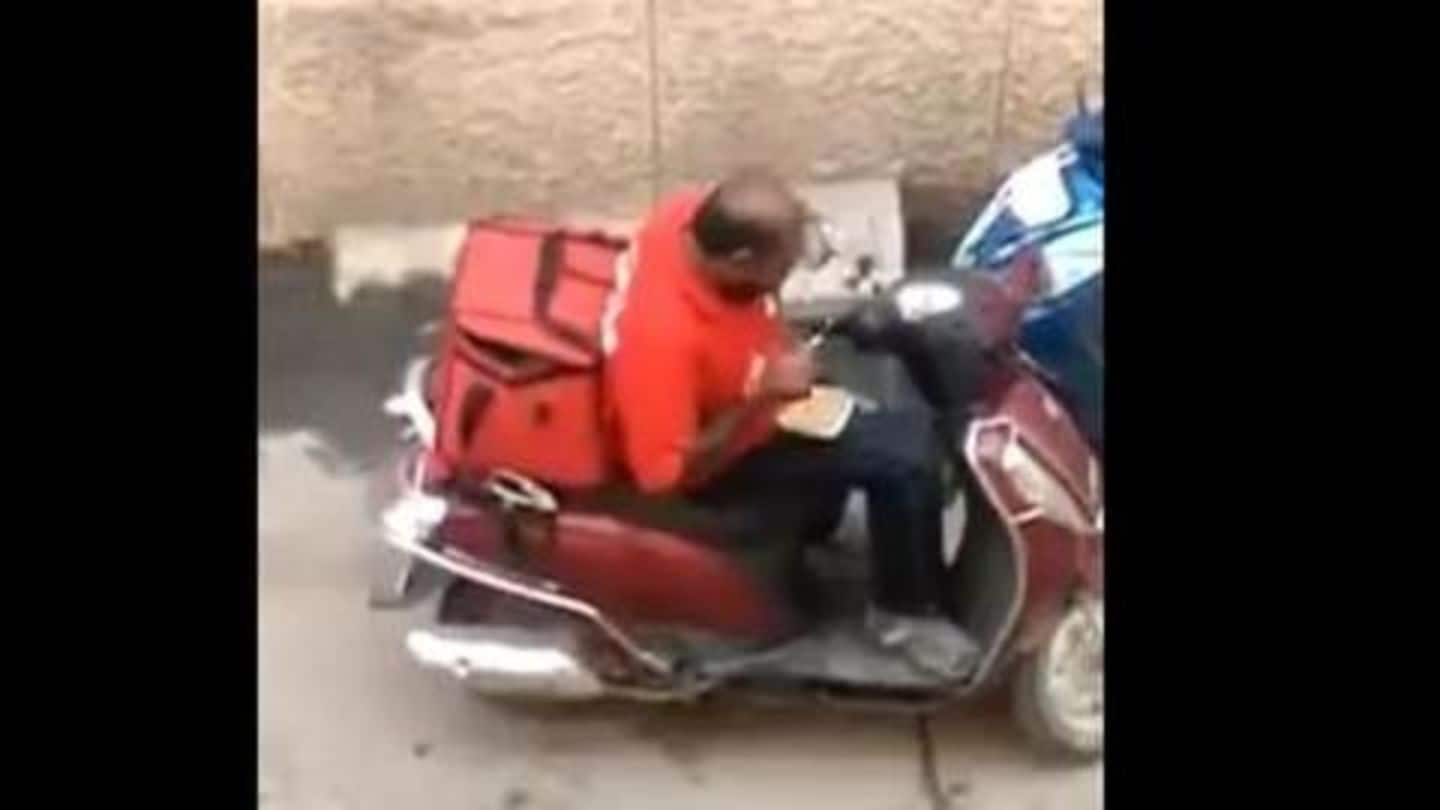 For those who live alone and don't like to cook, food delivery apps like Zomato have been their savior. However, the company, headquartered in Gurugram, was recently left embarrassed after a video showing one of its delivery executives eating the food meant for delivery, went viral on social media. Zomato has since given a statement on the issue. Here's more on this.
Delivery man eats food and carefully wraps it up
Yesterday, a Twitter user posted a video, which apparently showed a Zomato delivery executive casually eating some of the food, which was meant to be delivered. After taking a few bites from one consignment and then wrapping it up, he's seen taking out another one to do the same. He then adjusts the sealing of the consignments and prepares to leave.
Watch the delivery executive take some bites
Netizens say they have seen such incidents earlier too
The video went viral soon and netizens were obviously not happy. Many people slammed the food delivery company for the callous and unprofessional attitude of the delivery man. Others said they have seen such incidents earlier as well, one netizen wrote, "Seen same here. Drinking from milkshake which was ordered." Also, a lot of people said they will not order from Zomato again.
Zomato issues statement, sacks delivery man
After receiving heavy backlash from people on social media, Zomato issued a statement shortly after. It stated that it has launched an investigation into the matter and that they "take this very seriously." The company added that the video location is Madurai and "while we understand that this was a human error in judgement, we have taken him off our platform."
We take food tampering very seriously, says Zomato
Zomato says will introduce tamper-proof tapes, precautionary measures
The statement further requested their users to "highlight the smallest of deviations" to the company. Despite many Twitter users' claims, Zomato said this was a rare case. For further safety from tampering of the food, the company said it will introduce tamper-proof tapes and other precautionary measures. "Zomato maintains a zero tolerance policy for tampering of food," the statement further read.