On keto diet? Try these 5 easy breezy recipes
On keto diet? Try these 5 easy breezy recipes
Feb 13, 2022, 04:10 pm
3 min read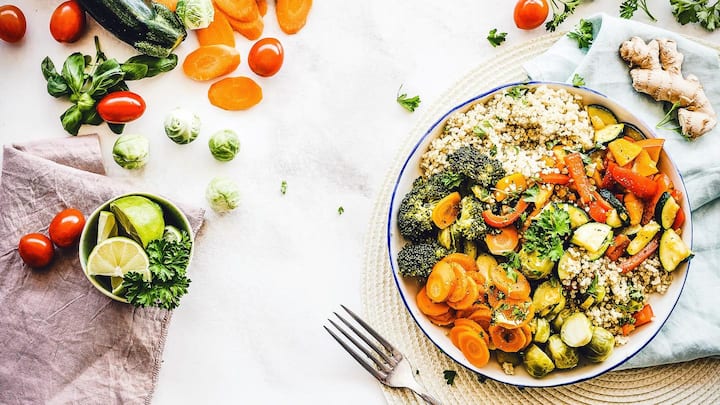 The keto diet is one of the most followed diets worldwide. This low-carb and high-fat diet resembles the Atkins diet. Apart from weight loss, it also helps people keep their diabetes in check by improving overall health. In the keto diet, you eat protein-rich items like fish, eggs, cheese, paneer, and yogurt. Here, we have compiled some easy keto recipes that you can try.
Here is what our expert says
A diet that garnered a lot of attention in the last decade is the keto diet.
It focuses on reducing the carbohydrates to less than 5% of total consumed calories and instead replaces them with healthy fats.
Along with weight loss, it has proven to reduce inflammation in the neural tissue in patients who have suffered a stroke and to reduce seizures in epileptics.
Boil six cups of water, add three sliced broccoli to it and let them cook. Remove and put them in cold water. Now, remove excess water using a salad spinner. In a bowl, add mayonnaise, apple cider vinegar, mustard, salt, and pepper to make the dressing. Combine broccoli, cheese, onions, sliced almonds, and freshly chopped chives. Toss them in the dressing and refrigerate.
Preheat oven to 400 degrees Fahrenheit. In a pan, heat oil, add bell peppers, two sliced onions, chili powder, salt, and pepper, and cook for five minutes. Mix cheddar and Monterey Jack in a bowl. Place them in a circle on parchment paper. Bake until it melts. Put the onion mix along with avocados and chicken on it and fold. Bake again.
Preheat oven to 400 degrees Fahrenheit. Melt mozzarella and cream cheese together. Add eggs, almond flour, baking powder, and salt. Make small balls with this dough and place them on a baking sheet while flattening them a little. Apply butter and sprinkle sesame seeds and parsley. Bake for 12 minutes. Use them to make your very own homemade delicious burgers.
Cut four avocados and scoop out the flesh. Keep the flesh aside for later. Sprinkle lemon juice on them. In a medium pan, heat oil and add onions and a protein of your choice. You can also add some veggies. Cook everything well. Stuff the avocados with the above filling, cheese, lettuce, tomato, and sour cream.
In a pan, heat some olive oil, add half an onion, and cook for five minutes. Add garlic and mashed paneer and cook for five minutes. Now, add chili powder and cumin powder along with salt and pepper. Cut bell peppers, apply olive oil, and place on a baking tray. Stuff the peppers with the paneer mix and cheese and bake for 20 minutes.