5 Indian mythological retellings you must read
5 Indian mythological retellings you must read
Jul 14, 2022, 01:18 pm
3 min read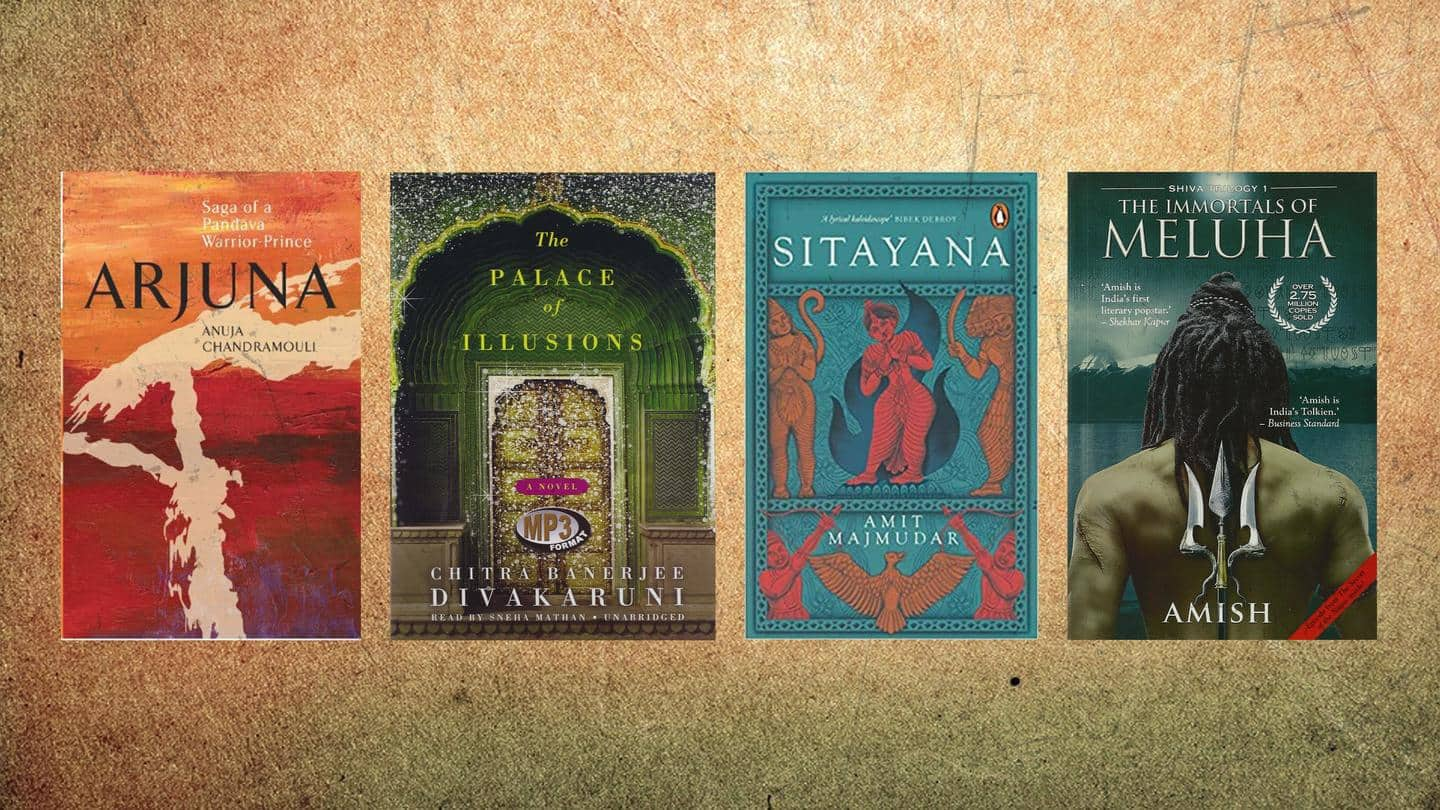 India has much more to offer in mythology besides Ramayana and Mahabharata. Various Indian writers have come up with impressive works over the years to cater to mythology enthusiasts. Have you ever wondered what some legendary tales would sound like when told from another perspective? Here are five mythological retellings, that'll leave you baffled at how different a story can sound when retold.
The Palace of Illusions by Chitra Banerjee Divakaruni
Written by Chitra Banerjee Divakaruni, The Palace of Illusions tells the story of the Hindu epic Mahabharata from Draupadi's viewpoint. The novel follows the life of Panchaali who is born from a fire sacrifice as a king's daughter. The story traces her journey and spirited balancing act as she is married to five men who have been cheated out of their father's kingdom.
The Shiva Trilogy by Amish Tripathi
Written by Amish Tripathi, The Shiva Trilogy consists of three books - The Immortals of Meluha, The Secret of Nagas, and The Oath of the Vayuputras. The books are based on the story of a tribal warrior named Shiva from Mount Kailash with great karma. His extraordinary journey of becoming the God of the Gods i.e. Mahadev, is what the novels entail.
Which books are you looking to read today?
Arjuna: Saga of a Pandava Warrior-Prince by Anuja Chandramouli
Another story from the Mahabharata, this novel by Anuja Chandramouli is written from the perspective of India's greatest hero, Arjuna. It talks about Arjuna and his numerous tales of war and glory. It's an intense story of love, friendship, ambitions, and weaknesses told in a modern and humorous style. The book showcases the flaws and imperfections of the Pandavas besides their struggles and victories.
Lanka's Princess by Kavita Kane
Written by former journalist-turned-writer Kavita Kane, Lanka's Princess retells the story of Ramayana through a fresh perspective of Ravana's sister Surpanakha. The story makes readers look at her differently than in the traditional way, portraying how she was misunderstood throughout. The novel traces the immediate cause of Sita's kidnapping by Ravana, and the Great War following this between him and Rama.
Sitayana by Amit Majmudar
Published in 2019, Sitayana, written by Amit Majmudar retells the story of Ramayana from Sita's perspective. It also gives you the perspective of other characters like Mandodari, Hanuman, and Lakshman. The story focuses on the fierce resistance of Sita, letting you know more about her than you have ever before. The book incorporates lyrical writing and epic twists. Check out more such book recommendations.