5 things to do in The United Arab Emirates
5 things to do in The United Arab Emirates
Feb 18, 2022, 05:39 pm
3 min read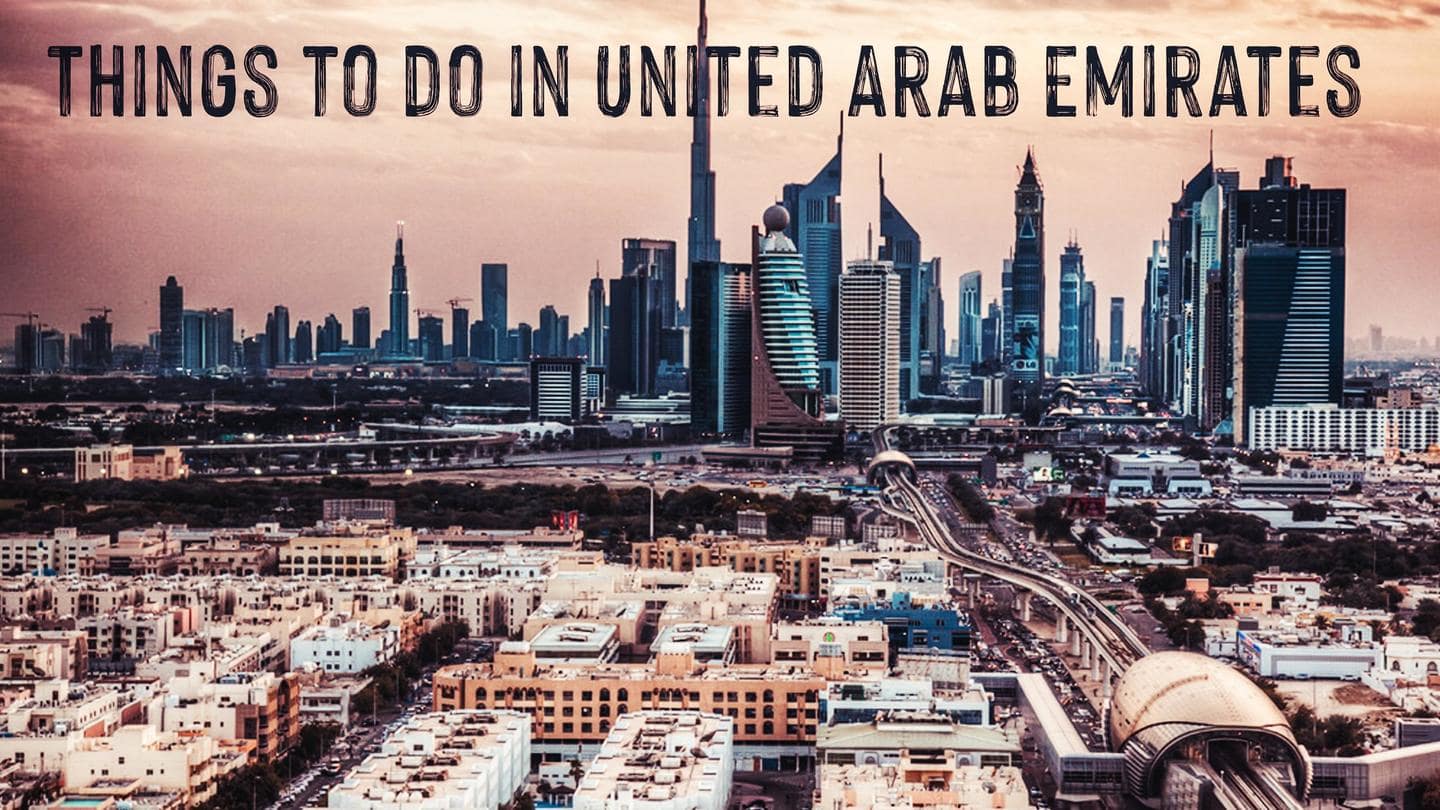 The United Arab Emirates is a popular destination among tourists for its rich history and culture. From witnessing the world-renowned skylines of Abu Dhabi and Dubai to exploring the stunning Arabian art, UAE is full of hidden treasures. Being a federation of seven emirates, the country has some beautiful beaches, massive malls, and fun theme parks. Here are five things to do in UAE.
Witness the stunning Burj Khalifa in Dubai
When you are in the United Arab Emirates, you need to visit Dubai to witness the soaring sky-high Burj Khalifa. Burj Khalifa is the world's tallest building with a whopping height of 828 meters and has 163 floors. It also has the highest observation deck in the world, besides being the tallest freestanding structure. It steals all the attention in downtown Dubai.
Stop by Sheikh Zayed Grand Mosque in Abu Dhabi
Abu Dhabi is a beautiful city in the UAE that is well-known for the stunning Sheikh Zayed Grand Mosque. Situated amid lush green gardens, the mosque is a unique blend of traditional and modern styles that depict Islamic architecture. Built by Sheikh Zayed bin Sultan Al Nahyan, the mosque houses the world's largest hand-woven carpet in one of its prayer halls.
Admire the Jebel Jais in Ras Al-Khaimah
Ras Al-Khaimah is the sixth-largest city in the UAE which is famous among tourists for the Jebel Jais mountain, the highest peak in the country. Standing at an elevation of 1,934 meters above sea level, the mountain offers the best sunrise and sunset views. The Jebel Jais Flight here is the world's longest zipline (over two kilometers), and attracts several adventure freaks.
Explore the Al Bastakiya in Dubai
Also known as the Al Fahidi quarter of Dubai, Al Bastakiya is a must-visit spot to learn about Dubai's ancient history and culture. It's a small heritage area that makes you revisit the historical roots of old Dubai before it became home to the glamorous skyscrapers. The buildings here are made of wood and mud with wind-tower features that reflect the traditional Arabian architecture.
Enjoy the iconic desert safari
Apart from its stunning and glamorous architecture, UAE is also popularly known for the thrilling desert safaris that will satisfy your adventurous soul. You can enjoy an overnight desert safari in Dubai or Abu Dhabi as you witness the golden sand stretches and waves. You can also enjoy desert camping, and camel rides here along with some lip-smacking Arabian food, and traditional dance performances.