5 flavored water recipes to sip on this summer
5 flavored water recipes to sip on this summer
Mar 31, 2022, 03:48 pm
3 min read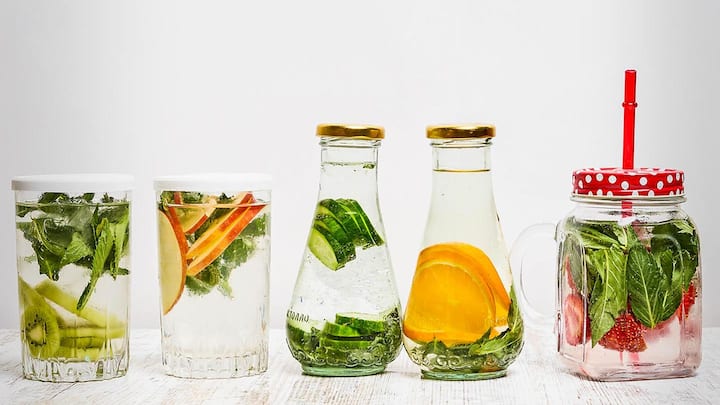 Water is a miracle drink that can prevent several diseases and satiate you like nothing else, especially in summer. It cleanses your system, refreshes you, and keeps you energized. However, if you are bored of having regular water, you can try some flavored water made with seasonal fruits, vegetables, and herbs. Here are five naturally flavored water recipes that are full of vital nutrients.
Strawberry, kiwi, and lime flavored water
This citrusy flavored drink is the perfect one to serve at your summer parties. It's yummy, refreshing, and healthy with a fresh burst of fruity flavors. Throw in some ice cubes in a tall glass. Then put sliced kiwi, strawberries, and half a lime into it. Pour in regular chilled water and serve immediately within four hours otherwise the water can turn bitter.
Cucumber and mint flavored water
This is the perfect detox drink to serve during the summers. It's light and refreshing and keeps you hydrated. It also maintains your skin health and boosts digestion. Put some ice cubes, peeled and sliced cucumber, and 1/4 cup of fresh mint in a glass. Fill in with chilled water and sip this drink to get relief from the scorching summer heat.
Watermelon and basil flavored water
Summers are incomplete without some red juicy watermelons. This watermelon and basil-flavored water will help you to stay hydrated due to its high content of water and electrolytes. Put some ice cubes in a glass. Then put small watermelon slices and fresh basil leaves into it. Fill it with water, mix well, and your refreshing watermelon and basil-infused water is ready to serve.
Pineapple and coconut flavored water
This pineapple and coconut flavored water recipe will give you the perfect tropical vacation vibes. Similar to a pina colada, this tropical-flavored drink is refreshing with the freshness of creamy coconut and the tangy flavors of juicy pineapple. Put lots of ice, sliced pineapple, and fresh coconut chunks in a glass. Pour water, mix well, and enjoy. You can also add some lime juice.
Blueberry and orange flavored water
This refreshing blueberry and orange-flavored water is just what you need on a hot summer afternoon to beat the humidity. Put ice, fresh blueberries, and thin slices of orange in a mason jar. Pour in some water, mix well and it's ready. However, wait for half an hour before consuming this drink as whole blueberries with skin take some time to release flavor.