Pancake Day: 5 sweet and savory pancake recipes
Pancake Day: 5 sweet and savory pancake recipes
Mar 01, 2022, 01:25 pm
2 min read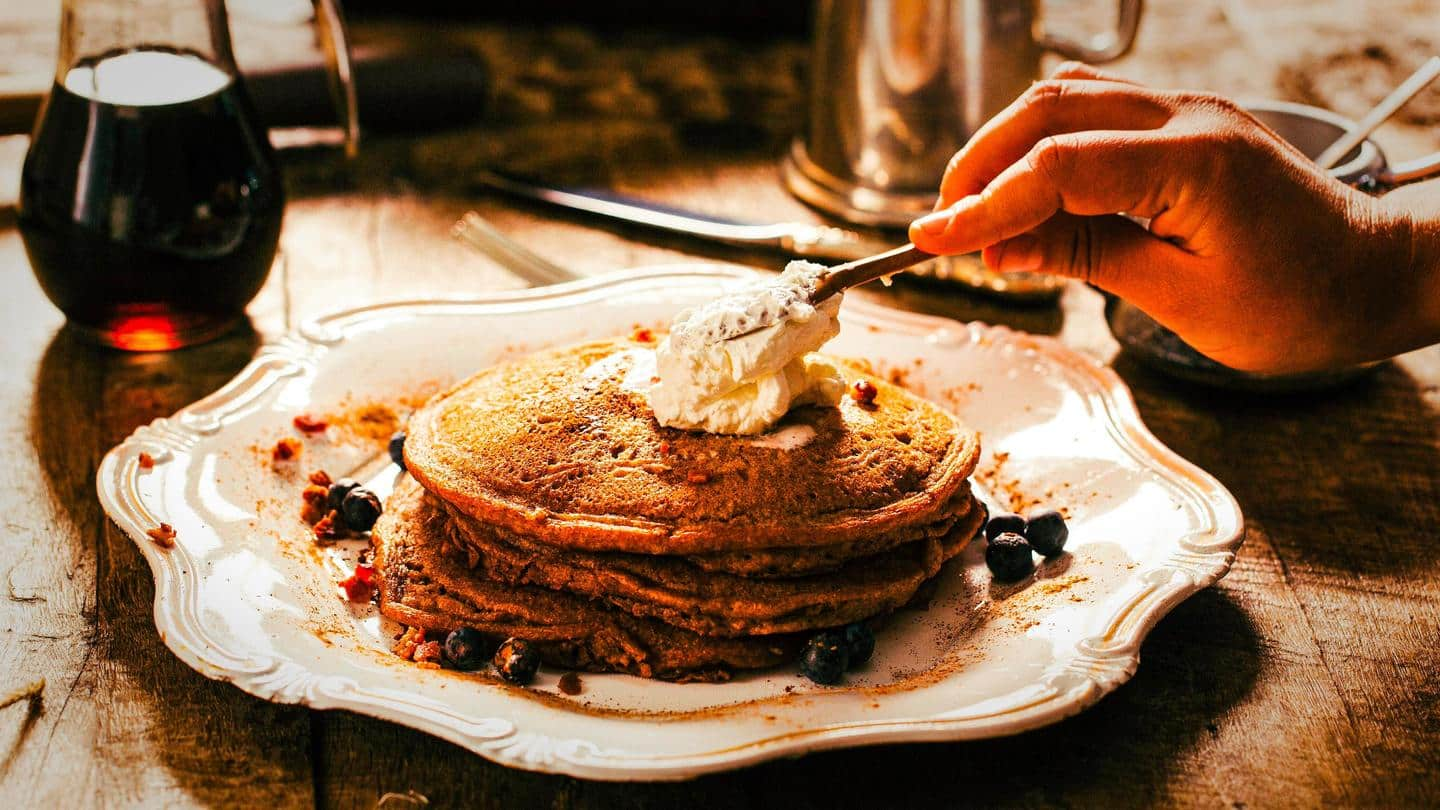 Pancakes topped with a whole lot of maple syrup are the ultimate comfort food to have for your morning breakfast. They are light, fluffy, tasty, and keep you full for a longer time. You can either whip up the classic American-style pancake or add interesting variations to them which are too delicious to resist. Here are five amazing pancake recipes you need to try.
This sweet banana pancake recipe is light, soft, fluffy, and is perfect to have for breakfast. Whisk together flour, baking powder, salt, and sugar. Mix vegetable oil, milk, bananas, and eggs in a separate bowl. Stir the flour mixture into the banana mixture to prepare the batter. Cook the pancake batter in vegetable oil and serve hot with some maple syrup.
Oats and peanut butter pancakes
Packed with the goodness of heart-healthy oats and peanut butter, this pancake recipe is tasty and healthy. Blend some oats and stir in cinnamon and baking powder. Combine peanut butter, milk, maple syrup, and vanilla extract in a separate bowl. Now mix the blended oat mix with the peanut butter mixture. Cook the pancake batter in coconut oil. Decorate with berries, nuts, and enjoy.
If you love potatoes, then this savory potato pancake recipe is just perfect for you. You can also relish this carb-rich delicacy for dinner. Boil the potatoes for 15-20 minutes and mash them well. Then, add flour, eggs, baking powder, and buttermilk and mix well. Melt some butter, pour in the batter, and cook until golden brown. Garnish with chopped chives before serving.
This chickpea pancake recipe is gluten-free and completely vegan. Mix chickpea flour with water. Crackle cumin seeds and add red bell pepper, carrots, spring onions, and turmeric and cook well. Add the vegetables to the chickpea batter along with coriander leaves and salt. Pour the batter in a pan drizzled with olive oil and cook well. And it's ready!
This warm and fluffy chocolate chip pancake recipe can be relished as a dessert or can be had even for your morning breakfast. Whisk together milk, egg, canola oil, and vanilla. Mix together flour, salt, sugar, baking powder, cocoa powder in a separate bowl and combine with the wet ingredients. Fold in the chocolate chips. Cook the batter well and serve with chocolate syrup.