A step-by-step guide to doing a manicure at home
A step-by-step guide to doing a manicure at home
Mar 01, 2022, 12:36 pm
3 min read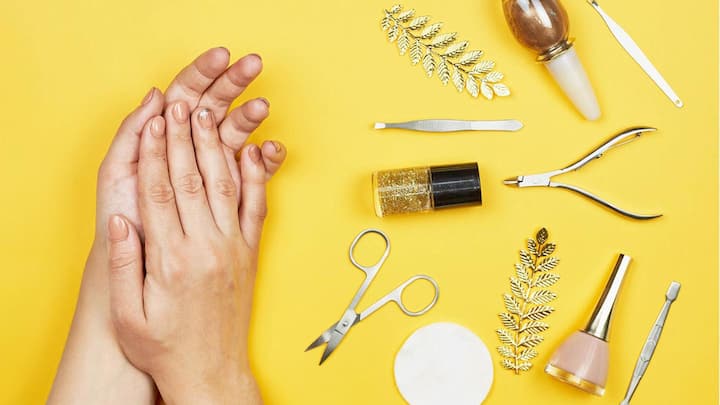 We all love well-groomed and beautiful hands and nails. Manicures can relax you and make your hands look pretty and fresh. You can easily do a manicure at home. All you need are the right tools and products. While some people prefer to focus only on the nails, it is important that you also exfoliate and clean your hands for the perfect manicure.
First, remove your nail polish
Start with cleaning your nails properly to ensure there is no dirt trapped in them. Remove your old nail polish gently with a nail polish remover and a few cotton pads. Use a non-acetone-based remover to prevent dry and damaged nails. After that, wash your nails gently with liquid soap and warm water and pat them dry before you start the manicure process.
After cleaning your nails, trim them using a nail clipper, and remember to not cut them too short. Then evenly file your nails to the desired shape by dragging the file across your nails. You can get simple rounded nails or make them square-shaped. Use an abrasive nail buffer to smoothen your nails and ensure an even nail polish application.
Soak your nails in water and push back the cuticles
After trimming and filing your nails, soak them in some warm water for five minutes. Add Epsom salt, essential oil, and baby shampoo to the water and clean the nails using a soft nail brush to remove dirt or dead skin cells. Dry your hands and then gently push your cuticles back using a cuticle pusher to give an illusion of longer nail beds.
Exfoliate and moisturize the hands
Next, take some hand scrub or body scrub. Wet your hands to avoid friction, and apply the scrub. Do this for a few seconds and then wipe it off. Now cover your hands with a thick moisturizer and massage for a few minutes to let the skin soak in all the goodness of the cream. Don't forget to apply it to the fingertips.
Apply a cuticle oil or cream
Using a four-way nail buff, smoothen the top of your nails. Next, use the "shine" side and buff the nails to add a nice shine to the nails. Now apply some cuticle cream or oil on the cuticles and the nails to make them healthy and strong. Leave the oil on for some time and then wipe off with a wet washcloth.
Finally, apply your nail polish
First, apply a single layer of the clear base coat on your nails to ensure an even application of the nail polish shade and make it long-lasting as well. After it dries, apply your favorite nail polish shade and let it dry again. Then apply the second coat of the nail polish and finally end by applying a clear topcoat to prevent chipped nails.