Taco Day 2022: 5 yummy taco recipes for your tummy
Taco Day 2022: 5 yummy taco recipes for your tummy
Mar 31, 2022, 10:53 am
2 min read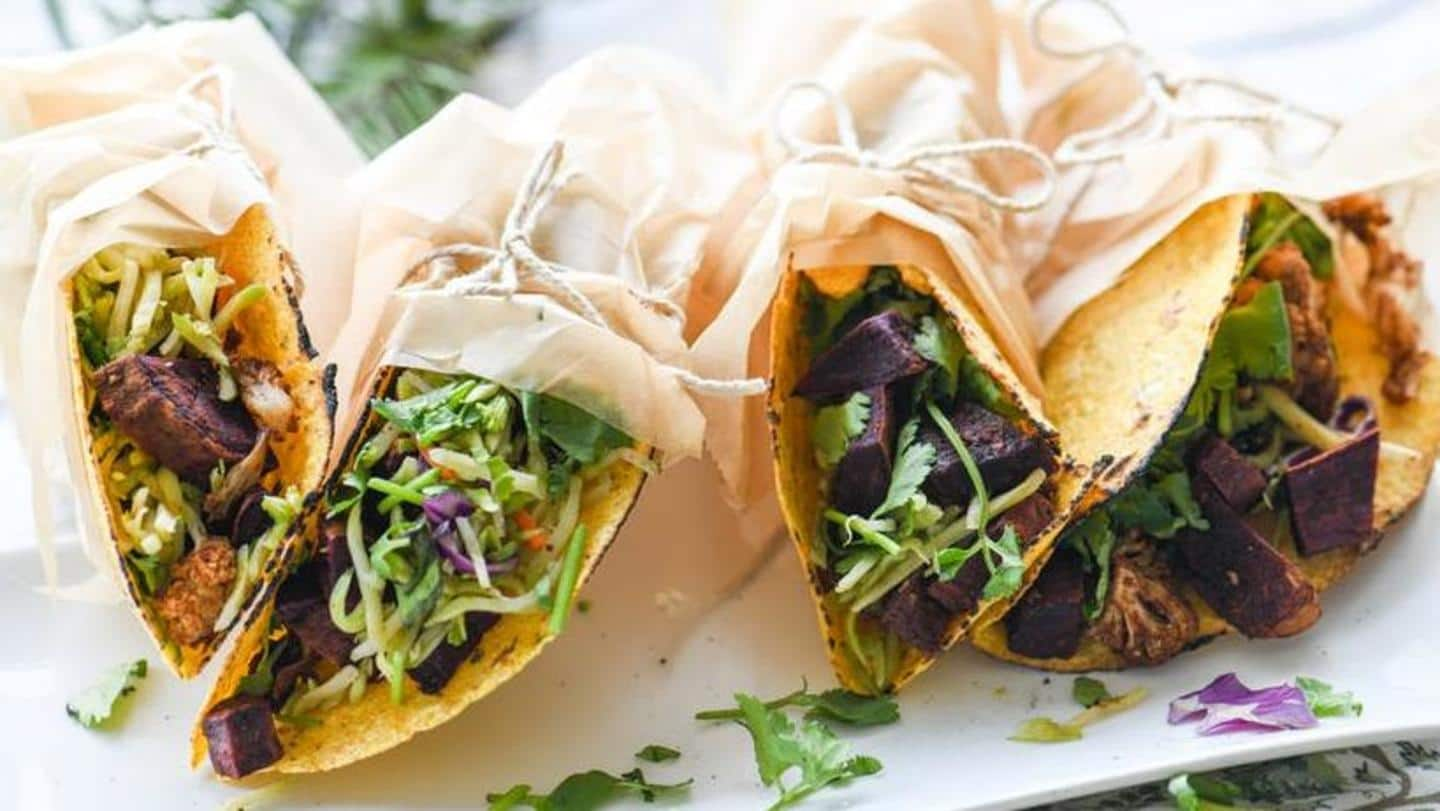 Every heard of Taco Tuesday? Well, although it's not a Tuesday why not delve into the complex flavors of a yummilicious taco while you read this? Mexico celebrates Taco Day on March 31 every year. This day promotes the consumption of tacos in the USA and in Mexico. This highly coveted dish started gaining popularity in the 1960s.
Toss the coleslaw, cilantro, scallions, radishes, olive oil, lime zest, and lime juice in a large bowl. Mix yogurt with lime juice in another small bowl and season with the required amount of salt and pepper. Brush tofu with oil and cook until it becomes crisp. Cut into strips. Fill tortillas with tofu, cheese and coleslaw, yogurt sauce, and salsa.
Saute garlic and onions. Add cooked rajma, water, and salt. Once it starts boiling mash it and blend well. Add black pepper powder, dried oregano, red chili powder, and cumin powder and mix well and cook till the mixture is thick. Heat taco shells in the oven and put in the refried beans, sour cream or yogurt, tomato salsa, and grated cheddar.
Heat oil in a pan and add onions, zucchini, mushrooms, and bell pepper and cook until vegetables are soft while stirring occasionally. Add in garlic and cook for a few more minutes. Add the cumin, chili powder, and oregano along with some water. Stir until everything is well combined. Add cooked black beans, lime juice, and coriander. Season with salt and pepper.
You need to first prepare scrambled eggs. Whisk four eggs and add chili powder, garlic powder, cumin powder, and salt. Since you want the eggs to be meaty, don't scramble much. Heat the taco shells as per instructions on the package. For the filling, use the cooked eggs, salsa, sliced red onions, coriander leaves, lettuce for that extra crunch, sour cream, and jalapenos.
Chop some tomatoes, jalapeno, and onions and cook until they soften. Add chicken, juice of one lemon, salt, pepper, and simmer. Prepare a side salad with coriander leaves, red onion, and the remaining jalapenos, one lime juice, olive oil, cheese, and salt and pepper. Warm the tortillas and add the chicken filling to the tortillas. Serve the tacos with the jalapeno salad.