Why do we need sunscreen, how does it protect skin?
Why do we need sunscreen, how does it protect skin?
Dec 05, 2020, 11:19 pm
7 min read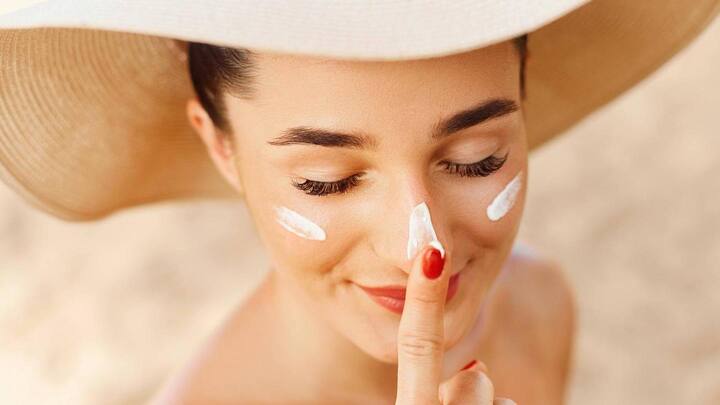 Sunscreens or sunblocks are available as lotion, gel and spray in the market today. They reflect or absorb the sun's UV radiation. However, using sunscreen should not be limited to summers. A sunscreen is a must, irrespective of the season. Additionally, it is important to use a scarf or an umbrella if it is hot outside, even if you have applied your sunscreen.
It blocks harmful UV rays from penetrating your skin
The number one reason behind applying sunscreen is that it shields you from harmful UV rays. It is important to get your daily dosage of the sun and Vitamin D, but not at the cost of your skin. Depletion of the ozone layer has put us at risk of harm from the UV rays. Sunscreen blocks those rays from penetrating your skin.
Sunscreen can prevent premature or early aging of skin
Not using sunscreen before you step out can cause premature or early aging of your skin. If you want your skin to look healthy, avoid fine lines and wrinkles, then dab a generous amount of sunscreen on the exposed parts of your body. Statistics say that people below the age of 55 who use sunscreen have 24% lesser chance of developing skin disorders.
Prevents sunburns and tanning, saves skin from lethal melanoma risk
Sunscreen also prevents sunburns and tanning. Sunburns can leave bruises and burns on your skin, turn your skin red and lead to skin peeling. This can also lead to hives, swelling, itching and blisters. Recurring sunburns can increase the risk of lethal melanoma. Tanning is considered to be healthy but it also increases the risk of getting affected by the UVB rays.
Sunscreen offers better protection from the sun than full-sleeved clothes
Does it provide better protection than full-sleeved dresses? Yes! A dress isn't enough to shield you from the harmful rays of the sun. Cotton dresses especially offer absolutely no protection. So apply sunscreen even under your dress. Choose a sunscreen with at least SPF 30. Reapply your sunscreen every two to three hours. Remember to apply sunscreen after your workout and wash up.
Can enhance your skin, responsible for protecting skin proteins
Sunscreen can help in enhancing your skin. Skin proteins, namely, keratin, elastin and collagen are responsible for keeping your skin healthy, which is why it becomes even more important to use a sunscreen as this is the only way to protect these proteins. An additional tip, try to choose a sunscreen that contains titanium dioxide as it makes the skin more youthful.
UV rays can penetrate water; apply sunscreen before swimming
Being in the water when the sun is out (or even if it is not sunny) tans your skin terribly. UV rays have a way of penetrating even water and might actually harm your skin a lot more. Don't get into the pool without your sunscreen. Waterproof sunscreens ensure that the product doesn't wash away from your skin when you are in the water.
Now, how will you select the sunscreen suited for you?
Read the label to ensure that your sunscreen contains parsol (or avobenzone), zinc oxide and titanium oxide. Look for a "broad spectrum" label on the sunscreen bottle. Broad spectrum protects you from both UVA and UVB rays. They can also guard against rashes, clogged pores, blisters, and sunburns. Choose a waterproof sunscreen whose SPF is somewhere between 30 and 50.
Have to be out for long hours? Reapply sunscreen frequently
Apply your sunscreen about 30 minutes before stepping out. Now, going out daily makes sun exposure inevitable. Therefore, we need to apply sunscreen everyday. This will benefit your skin in the long run. If you have to stay out in the sun for long hours, reapply the sunscreen every two hours. There is no certain time to begin using sunscreen.
Sunscreens are rather essential for pregnant women
You might be wondering whether you can use makeup and moisturizers along with a sunscreen or not. Sure, you can. A sunscreen should go over your moisturizer and serum. You can apply your makeup over sunscreen. Pregnant women need not worry about whether it is OK to use a sunscreen as it is perfectly fine to use one. In fact, it's crucial for them.
For pregnant women: Go for mineral sunscreens, protect your fetus
Primary ingredients in most physical sunscreens are zinc oxide and titanium dioxide. Such sunscreens are called mineral sunscreens and are best for pregnant women as your skin won't absorb the chemicals in them, thus avoiding any kind of harm to the fetus. Do not go above an SPF 30 sunscreen. Anything higher than that should be avoided, just to be on the safer side.
Check the expiry date of your sunscreen before buying one
As mentioned earlier, apply sunscreen every two hours and you are good to go. Check for the expiry date of the sunscreen lotion before you buy it. Sunscreens usually have a shelf life of three years. You can continue to use it for a little over three years for it to be effective. But try to discard the rest as soon as possible.
What is SPF and why is it an important factor?
SPF stands for Sun Protection Factor. It is the amount of protection the sunscreen can provide to the skin. There are three types of SPFs: 1) Physical SPF sunscreens form a layer and do not penetrate the skin. 2) Chemical SPF sunscreens are usually greasy or oily. 3) Broad Spectrum protects your skin from UVA and UVB rays. This is the ideal sunscreen.
Don't use a higher SPF sunscreen, they are false advertisements
SPF is the ability of the sunscreen to block UVB rays, not UVA rays. UVA can penetrate deeper into your skin than UVB. UVA protection is denoted by PA on sunscreen bottles. They are labeled as PA+, PA++, and PA+++. Don't use a higher SPF sunscreen. You will find SPF 80 or SPF 120 in the market but these claims and advertisements are misleading.
Lotions/creams suit the dry skin type, gels for oily
Sunscreens can be found in the form of lotions, creams and gels. Choose one for your skin type. While lotions and creams suit the dry skin type, gels work great on oily skin as they will not leave you looking like a grease ball.
How long can your skin stay protected from the sun?
SPF can measure how long your skin can stay protected from the sun. Just time the earliest signs of your skin reddening and multiply that by the SPF number. For instance, if your skin reddens in two minutes and your sunscreen has SPF 50 then multiply 2*50 = 100 minutes. This implies that your skin can stay protected for approximately 100 minutes.
Want to make your own sunscreen? Here are some tips
Take 8oz of carrier oil, sun-blocking agents like micronized zinc oxide or titanium dioxide, 1oz of emulsifying wax and essential oils (not citrus). Be careful not to inhale zinc oxide and titanium dioxide. Also, put on gloves. Melt the wax in a separate container and then add the carrier oil, essential oils, followed by zinc oxide (7.5% ) and titanium dioxide (8%).
Choose good quality sunscreens, don't compromise on the brand
Don't stress over making your own sunscreen if you don't want to mess around with chemicals or have no understanding of the ingredients. Go to the store and buy. Choose good quality sunscreens, don't compromise on the brand. Apply your sunscreens everyday and stay safe.