Manmohan Singh says Congress not against Savarkar, only 'Hindutva ideology'
Manmohan Singh says Congress not against Savarkar, only 'Hindutva ideology'
Written by
Siddhant Pandey
Oct 18, 2019, 10:52 am
3 min read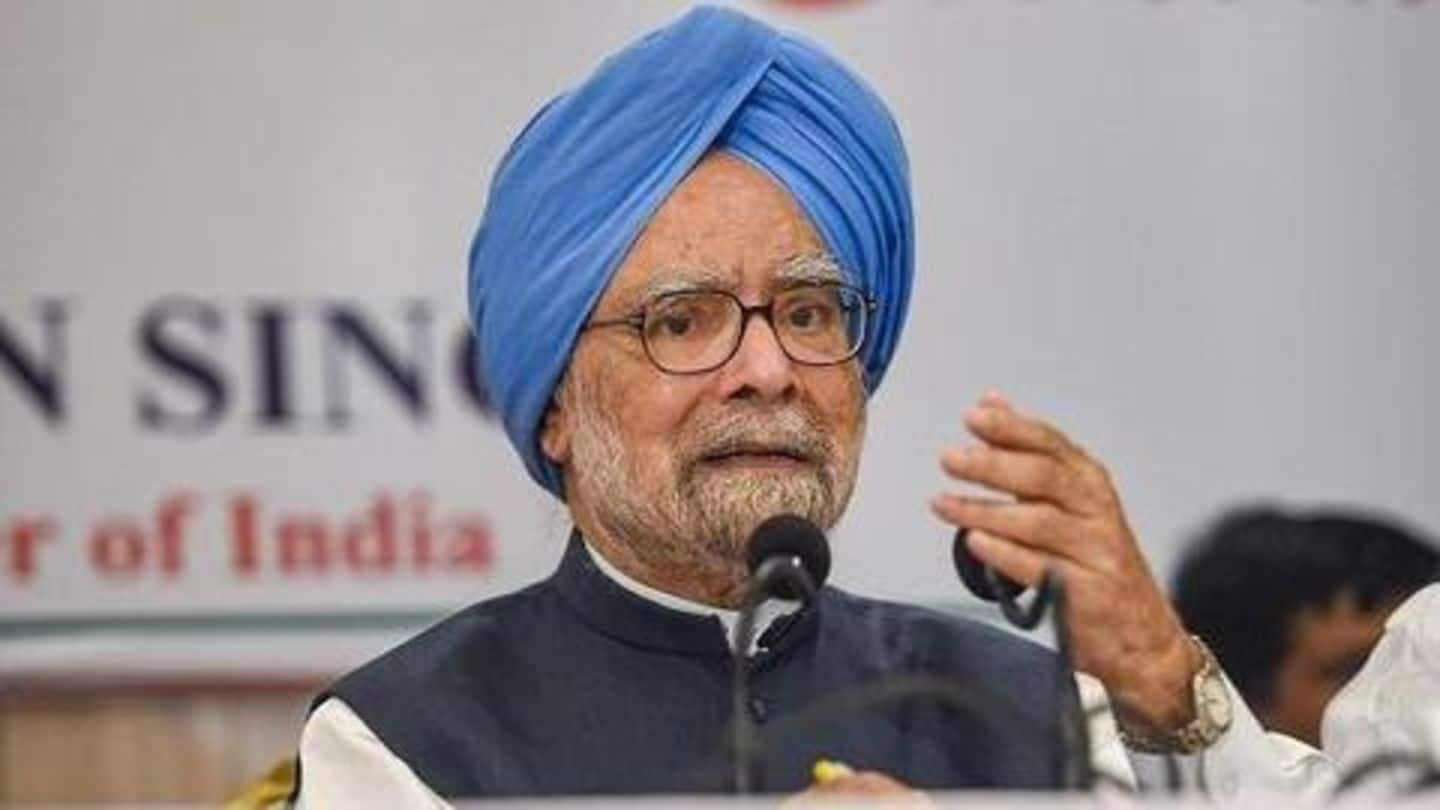 Former Prime Minister Manmohan Singh on Thursday criticized the Maharashtra BJP for proposing a Bharat Ratna for Vinayak Damodar Savarkar, famously known as Veer Savarkar. On Tuesday, the BJP had sparked a row when it pushed for a Bharat Ratna for Savarkar, a Hindutva ideologue who was once charge-sheeted and later acquitted in Mahatma Gandhi's assassination. Here are more details.
Singh reminded that Indira Gandhi issued stamps commemorating Savarkar
Addressing the issue at a press conference in Mumbai, Singh said, "You would recall that Indira Gandhi had issued a postal stamp commemorating him." He added, "We're not against Savarkarji, but we're not in favor of the Hindutva ideology that Savarkarji stood for." However, Singh added, "The issue will be settled when the case comes before the committee that looks into these matters."
You can watch the video here
#WATCH Mumbai: Ex-PM Manmohan Singh speaks on BJP's promise to give Bharat Ratna to Veer Savarkar, in their election manifesto. He says, "...We are not against Savarkar ji but the question is,we're not in favour of the Hindutva ideology that Savarkar ji patronised stood for..." pic.twitter.com/U2xyYWhrqo

— ANI (@ANI) October 17, 2019
BJP proposed Bharat Ratna for Savarkar in Maharashtra poll manifesto
To note, the ruling BJP had sparked a row when it proposed a Bharat Ratna, India's highest civilian award, for Savarkar, Mahatma Jyotiba Phule, and Savitribai Phule, in the party's manifesto for the upcoming Maharashtra assembly elections. Congress leader Manish Tewari and Communist Party of India general secretary D Raja sardonically said that the BJP may as well have named Gandhi's assassin Nathuram Godse.
Absolutely no reason to oppose Savarkar: BJP VP
Responding to Singh's remarks, BJP Vice President Vinay Sahasrabuddhe said Singh should "come clean on what aspects of Savarkar's philosophy he is opposed to." Sahasrabuddhe added, "[Savarkar] is for nationalism, social justice, equality. He's also for scientific temper and fight against superstition. The entire value system mooted by Savarkar was very pragmatic and was very forward-looking. So, there's absolutely no reason to oppose Savarkar."
1857 revolt wouldn't be history without Savarkar: Amit Shah
Meanwhile, Union Home Minister Amit Shah said that had it not been for Savarkar, the First War of Independence, 1857, would not have been a part of Indian history. He also stressed the need to rewrite history from India's perspective. Shah's remarks were made during the inauguration of a two-day international seminar on 'Guptvanshak-Veer: Skandagupta Vikramaditya' at Banaras Hindu University.
Sitharaman obsessed with blaming others: Singh responds to FM's attack
On Thursday, Singh, a former Finance Minister, also responded to current Finance Minister Nirmala Sitharaman's comment blaming him for the bank crisis. Singh said Sitharaman is "obsessed" with blaming others, instead of finding solutions. He also clarified the party's stance on Article 370, saying it favored the dilution of Article 370 in Parliament, however, "opposed to the high-handed manner" in which it was done.
Singh also spoke on Citizenship Amendment Bill, NRC
Further, Singh criticized the Citizenship Amendment Bill, saying, "We have a legislation in Parliament which discriminates against Muslims." Singh also said that while he's not against the National Register of Citizens, we "must not lose sight" of problems that may arise while executing the exercise.