To counter haters, Congress shares RaGa's Fitbit numbers from Kailash-yatra
To counter haters, Congress shares RaGa's Fitbit numbers from Kailash-yatra
Sep 07, 2018, 02:45 pm
2 min read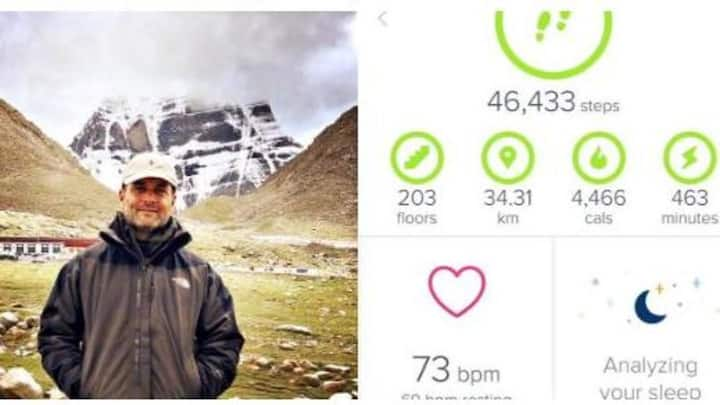 Rahul Gandhi's Kailash Mansarovar Yatra is being widely discussed in Indian politics (for reasons unknown) and now Congress, in a bid to take haters head-on, has shared Fitbit numbers of the party president's pilgrimage. The numbers shared on Congress's Twitter handle show Gandhi walked 46,433 steps, covered 203 floors, 34.31 kms, and burned 4,466 calories. The tweet said Gandhi left all haters behind.
Can you keep up, asks Congress in tweet
Many questioned if Gandhi actually visited Kailash Mansarovar
Gandhi kick-started his Kailash Yatra on August 31. He shared pictures from the journey and tweeted those who are called by Shiva, are able to pay a visit. But, even this journey wasn't sans controversies. Many doubted the pictures which were shared and opined Gandhi never visited Kailash Mansarovar. However, pictures of Gandhi with fellow pilgrims have sort of put an end to the debate.
Pictures give insight into Gandhi's Kailash Mansarovar trip
Tarun Vijay says good things about Gandhi, deletes tweets later
Amid the row (with Sambit Patra questioning Gandhi's penchant for China), BJP leader Tarun Vijay congratulated Congress scion. His words were welcomed by Randeep Singh Surjewala of the Congress. Sharing screenshots of Vijay's tweets, Surjewala congratulated him for 'speaking truth'. "Whatever you wrote about Rahul Gandhi on his Kailash Yatra, you deleted it out of fear of the establishment," Surjewala tweeted.
Satyam Shivam Sundaram, tweets Surjewala
तरुण विजय जी,

हौसला अपना बुलंद कर लीजिये,
निर्भय होकर सच्चाई के साथ चलीये,

राहुल गाँधी जी की कैलाश यात्रा के लिए आपने जो कुछ लिखा,
अपने हुक्मरानों के डर से उसे मिटाइये नहीं,

सत्यम, शिवम् सुंदरम

सत्य ही शिव है,

महादेव आपको सत्य का रास्ता दिखाते रहेंगे व असत्य का नाश होगा। pic.twitter.com/dE4ae9acqY

— Randeep Singh Surjewala (@rssurjewala) September 5, 2018
Ahead of visit, UP Congress labeled Gandhi 'shiv bhakt'
Notably, ahead of Gandhi's journey, Congress workers put up posters of him in Gorakhpur, Uttar Pradesh, where he was described as a 'Pandit' and 'Shiv Bhakt'. Anwar Hussain, party's district general secretary, said, "During his spiritual tour, he will perform 'sadhna' and pray for the country." Gandhi decided to embark on tedious journey after he had a 'close shave with death' on a trip.