Jaya, Hema, and Urmila: Neta or abhineta?
Jaya, Hema, and Urmila: Neta or abhineta?
Apr 07, 2019, 06:49 pm
4 min read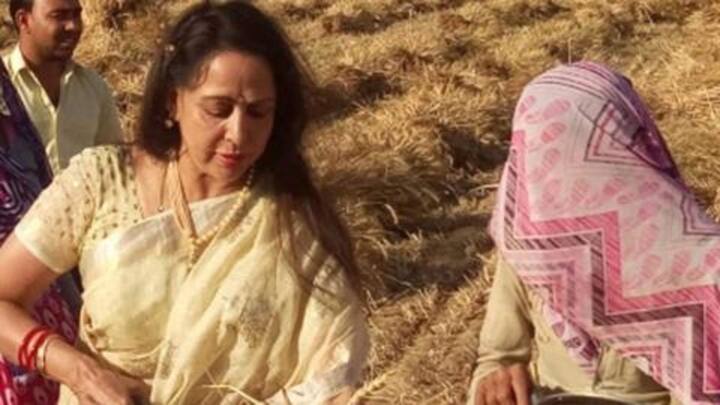 This election season is not only about political power but star power as well. Though this isn't the first time cine stars jumped into the political arena, thanks to social media their moves are being heavily scrutinized. And, might we add, the actors have displayed their theatrics well. May 23 will tell whether the acts paid or not, but for now, the great Indian political tamasha is dipped in Bollywood.
"Dreamgirl" Hema Malini started campaign with sickle in hand
Let's start with Hema Malini. The sitting MP from Mathura and BJP's star candidate is seeking re-election from the temple town. Now, Hema might not know details of work she did in her constituency (she accepted the same in an interview), but her presence in the field catapulted her to the news. With a sickle in her hand, she kicked her campaign.
During roadshow, Hema didn't leave comfort of her SUV
Hema harvested wheat with laborers in Govardhan area and soon everyone started talking about her "non-starry" persona. But the truth is far from that. When Hema held a roadshow in Gokul and Mahawan areas, she didn't even step out of her SUV. The actress repeatedly checked her phone, waved at the crowd, but didn't actually meet them.
Later, she drove a tractor and smiled for cameras
To keep the crowd engaged, Hema kept saying "Radhe.. Bolo Nandlal Ki Jai", but the locals felt the distance, nevertheless. Despite reports suggesting that Hema's campaign has been about photo-ops, the actress didn't care much. On Saturday, she drove a tractor in Govardhan area. Wearing sunglasses, she smiled for cameras and showed the "victory" sign. Well, Hema is clearly not hiding it anymore.
Actress Jaya Prada cried on stage remembering her past
We saw the acting skills of another veteran actress during the campaign. Jaya Prada, who joined BJP a few weeks ago, remembered the harassment she faced years ago. Without taking SP's Azam Khan's name, she said she was driven out of Rampur, the constituency she represented in Lok Sabha twice. As Jaya broke down, she was cheered on by the spectators.
Jaya was offered water, but she didn't drink it
While Jaya cried, a well-wisher gave her water. She refused to take a sip and continued her speech. The actress-turned-politician said she wasn't alone anymore and thanked Prime Minister Narendra Modi and BJP for giving her the opportunity. But will the tears move Rampur?
Urmila danced on streets to seek votes
Urmila Matondkar, who joined Congress recently and is fielded from North Mumbai, celebrated Gudi Padwa on streets. Her idea of reaching out to people involved a lot of dancing and clapping. But the banners of the celebrations featured Wing Commander Abhinandan Varthaman, despite the EC clarifying that armed forces should be left out of polls. Didn't Congress tell you the rules, Urmila?
Why hasn't PM Modi's "fan" Vivek joined BJP yet?
At a time when it's hard to differentiate between abhineta and neta, Vivek Oberoi has chosen a completely different path. Though he hasn't officially joined BJP (what are you waiting for?), Vivek has been named as star-campaigner of the party in Gujarat. In the garb of releasing his biopic, Vivek is slamming Opposition and speaking beautiful things about PM Modi.
History shows Indians love voting for their stars
One can't really blame actors/politicians for the theatrics. Apparently, this is what voters love. In 1984, Amitabh Bachchan won from Allahabad and recorded the highest victory margin in general election history. When the superstar sought votes, citizens didn't ask if he would improve their standard of living. The charisma was enough. In 2004, Govinda was elected to Lok Sabha from Mumbai. But he always remained absent from Parliament and garnered criticism. Eventually, he resigned in 2008.
Dear voters, don't let glamor cloud your judgment
In this scenario, it is up to the voter to not get deviated from the photo-ops, the tears, and dance. One might be fans of these stars, but that doesn't mean they will be good lawmakers. Press that button on EVM, wisely.