'Can become CM in one-minute,' says the controversial Hema Malini
'Can become CM in one-minute,' says the controversial Hema Malini
Jul 27, 2018, 01:48 pm
2 min read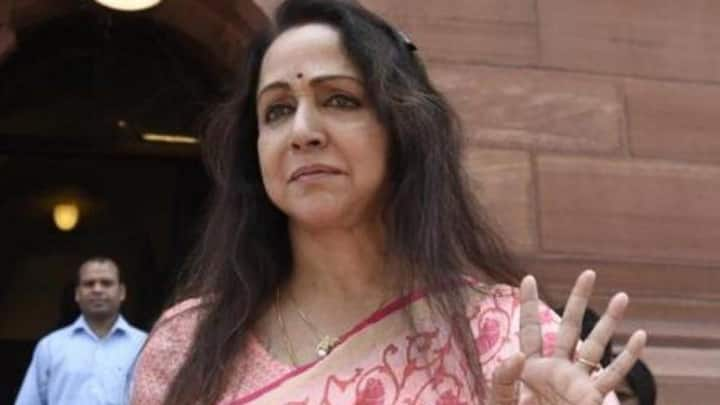 UP BJP MP Hema Malini can become the chief minister if she wanted to "in a minute," she told reporters Wednesday in Rajasthan's Banswara, "but I don't like to be tied up." "I am not too keen. My freedom of movement will end," the Mathura MP said. But one wonders if the controversial politician does, in fact, have the people's and party's support.
Malini's journey in politics
Though Malini joined the BJP in 2004, she had been working for the party since before, having campaigned for BJP candidate Vinod Khanna in 1999. She served as a Rajya Sabha MP during 2003-09 after being nominated by the president, and became BJP general secretary in 2010. In 2014, she defeated incumbent Mathura MP Jayant Chaudhary (RLD) to get elected to the Lok Sabha.
Her frequent bizarre statements have shocked many
Throughout the years, Malini's statements have hinted she's detached from ground realities. In 2014, she said Vrindavan widows have a "bank balance and nice beds, but they beg out of habit." In 2015, after her speeding Mercedes rammed into an Alto, she was rushed to a private hospital while a two-year-old occupant of the Alto received no attention and succumbed. Malini blamed the child's father for her death.
After massive fire tragedy, she blamed immigrants, praised administration
After last year's deadly Kamala Mills fire which killed 14, Malini seemed to blame the rising population and immigrants for the tragedy, insisting the police do a "great job." "The authorities should have brought in some restrictions here to control the population," she said.
Malini's controversies aren't just limited to quotes
Malini has also been accused of getting undue favors from the Maharashtra government, which reportedly sold her a 2,000 sq m plot near Mumbai's posh Andheri area worth Rs. 50cr at just Rs. 70,000. In 2007, when she questioned the then UPA government on its intentions to "bring (manufacturing) parts of reverse osmosis-based purifiers at par with finished purifiers," her motives were questioned. Malini is the face of Kent RO purifiers.
Her latest statement might have some sensibility though
Wednesday, Malini said she loved working for the 'Brijwasi' people, adding she has done much work for Mathura since 2014. She also lauded PM Narendra Modi, saying he had worked for women, farmers and the poor. "It's difficult to find a PM like him." She added she had become an MP due to her film career. This is probably one thing she got right.