Kumaraswamy spent Rs. 42L of taxpayers' money on swearing-in!
Kumaraswamy spent Rs. 42L of taxpayers' money on swearing-in!
Aug 09, 2018, 07:03 pm
2 min read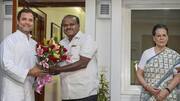 The JD(S)-Congress government in Karnataka sworn in more than two months ago hasn't exactly earned the love of the masses, mostly due to lack of projects and pending salaries. Anger has now shot up after reports emerged that it spent a whopping Rs. 42L on HD Kumaraswamy's swearing-in ceremony! Here's perspective: Chandrababu Naidu (AP) spent Rs. 8.7L on his own. Arvind Kejriwal (Delhi) spent Rs. 1.85L.
What exactly did the government spend on?
In a move away from usual practice, the Kumaraswamy government decided to pay for 42 top leaders who arrived. It didn't even lodge them in official guesthouses, but in two five-star hotels - Taj West End and Shangri La - on May 23-24, the Mumbai Mirror reports. Another major expense was on a buffet at the Vidhana Soudha Banquet Hall, which cost Rs. 4.35L.
The guests seemed to have enjoyed themselves heartily
The dignitaries seemed to have forgotten concern for finances too. Naidu, who raked up the highest expenses, had a bill of Rs. 8.72L on his less-than-24-hour stay at the Taj. Actor-turned-politician Kamal Haasan spent Rs. 1.02L. 'Aam Aadmi' Arvind Kejriwal, who was staying at the Taj, generated a bill of Rs. 71,025 for his stay, plus Rs. 5,000 for beverages.
Here's how much the government spent on other CMs' swearing-in
Overall, the State Hospitality Organisation spent Rs. 37.53L on accommodation and food of guests at hotels, an RTI query has revealed. Incidentally, when Kumaraswamy's successor Siddaramaiah took oath, and even when BS Yedyurrappa became CM for two days this year, it spent zero on guests' accommodation.
'Govt not spending on projects or salaries, JD(S) should reimburse'
Naturally, citizens are enraged. "The government has been claiming it has no money for developmental projects," said former Karnataka Lokayukta Justice Santosh Hegde. "The government should have spent on improving crippling infrastructure and paying salaries to pourakarmikas," said Sridhar Pabbisetty, CEO, Namma Bengaluru Foundation. "If Kumaraswamy has conscience, arrangements should be made to pay Rs. 42L from JD(S)' account," said BJP spokesperson Ashwath Narayana.
'It is the political party's responsibility': AAP shifts blame
Amid the controversy, AAP has come up with a really weak defense. "It is the responsibility of the political party that invited him for the function. The government shouldn't allow wasteful expenditure," said Prithvi Reddy, convener, AAP Karnataka. But what about Kejriwal's accountability?