Opposition demands 'immediate release' of detained former J&K CMs, leaders
Opposition demands 'immediate release' of detained former J&K CMs, leaders
Written by
Siddhant Pandey
Mar 09, 2020, 07:49 pm
2 min read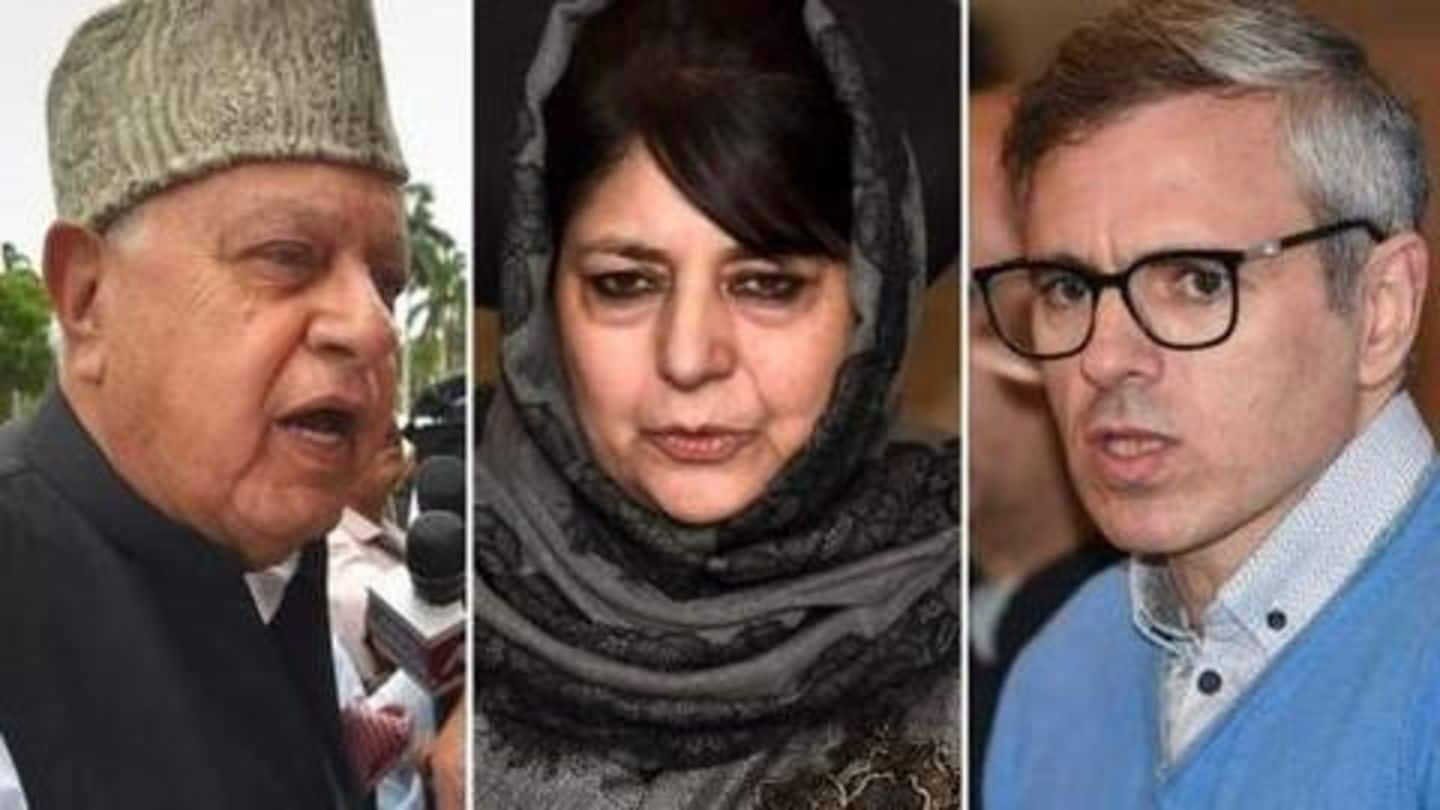 The Opposition on Monday sent a joint resolution to the Bharatiya Janata Party-led Centre demanding the immediate release of all political leaders detained in Jammu and Kashmir. The Opposition especially stressed on the release of three former Chief Ministers of the erstwhile state: Farooq Abdullah, his son Omar Abdullah, and Mehbooba Mufti. The leaders were detained in August last year. Here are more details.
J&K politicians detained when Centre abrogated Article 370
Several political leaders in J&K have been in detention since August 5 last year, when the Centre repealed the erstwhile state's special status and bifurcated it into two Union Territories of J&K and Ladakh. Farooq Abdullah was booked under the stringent Public Safety Act (PSA) in September. In February this year, Omar Abdullah and Mufti were also booked under the same Act.
'Nothing in their past records to establish public safety threat'
The resolution argued, "There's nothing in the past records of these three leaders to lend credence to the Modi government's false and self-serving claim that they pose a threat to 'public safety' in J&K or that they have endangered national interests with their activities." The resolution deemed their detention a "blatant violation of fundamental rights" and an "attack on the Constitutionally-assured rights" of Kashmiris.
'Democratic dissent being muzzled by coercive administrative action'
The resolution also stated that under Prime Minister Narendra Modi's administration, "democratic dissent is being muzzled by coercive administrative action, which has threatened the basic ideals of Justice, Liberty, Equality, and Fraternity as enshrined in our Constitution."
Who all signed the resolution?
Nationalist Congress Party (NCP) supremo Sharad Pawar, West Bengal Chief Minister and All India Trinamool Congress (TMC) supremo Mamata Banerjee, Janata Dal-Secular (JD-S) chief and former Prime Minister HD Devegowda, Communist Party of India-Marxist (CPI-M) General Secretary Sitaram Yechury, Communist Party of India (CPI) chief D Raja, and Rashtriya Janata Dal (RJD) MP Manoj Kumar Jha signed the resolution.
2 ex-BJP Minister also signed resolution; Congress didn't
Former Union Ministers in the Atal Bihari Vajpayee-led NDA government, Yashwant Sinha and Arun Shourie were also signatories. Interestingly, the Indian National Congress did not sign the resolution, even though the party has demanded the release of detained J&K politicians in the past.