Manmohan Singh advises Modi against wiping out Nehru's legacy
Manmohan Singh advises Modi against wiping out Nehru's legacy
Aug 27, 2018, 11:17 am
2 min read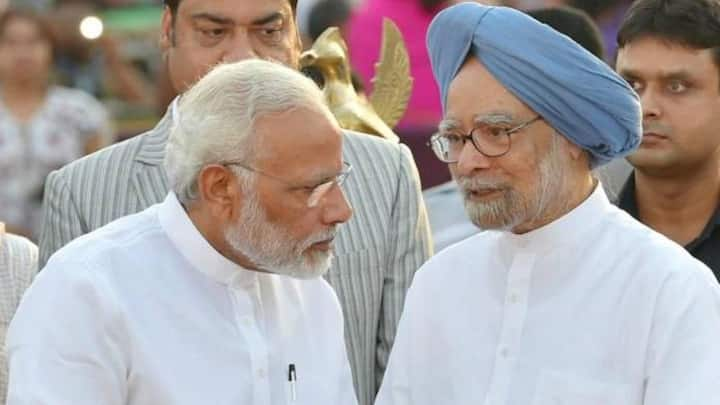 Amid reports that BJP-led Centre plans to set up a museum for all Prime Ministers in the Teen Murti Complex, former PM Dr Mamohan Singh has written a strong worded letter to his successor Narendra Modi asking him to not wipe away Jawaharlal Nehru's legacy. In a letter written last week, Dr Singh asked PM Modi to leave Teen Murti Complex, undisturbed.
BJP's plans of PM museum gets strong objection from Congress
The Teen Murti Bhavan complex houses Jawaharlal Nehru Memorial, Nehru Memorial Museum and Library (NMML). The BJP government spoke about setting up a museum of all former PMs in the complex, last month. This announcement irked Congress, which called it an attempt to dilute Nehru's legacy. Amid objection, NMML director, Shakti Sinha said the museum will be separate from the existing Nehru memorial.
Nehru didn't belong to Congress but entire nation: Dr Singh
Dr Singh told PM Modi, Nehru didn't belong to Congress only but the entire nation. "It is in this spirit that I have written to you," the letter read. The former PM added NMML was dedicated to India's first PM who 'left an indelible imprint on our country'. "His distinctiveness and greatness have been acknowledged even by his political opponents and rivals," Singh wrote.
"Museum must retain its primary focus on Nehru"
"The museum itself must retain its primary focus on Jawaharlal Nehru and freedom movement because of his unique role having spent almost ten years in jail between the early 1920s and mid-1940s. No amount of revisionism can obliterate that role and his contributions," the letter added.
Dr Singh also reminds Modi of Vajpayee's speech about Nehru
Dr Singh also mentioned former PM Atal Bihari Vajpayee and the speech he gave in Parliament after Nehru died. Singh reminded of Vajpayee's speech where he said, "Such a resident may never grace Teen Murti again." Notably, Vajpayee had said the refined gentlemanliness of Nehru might not be visible in near future, but he added he had great respect for him despite him being a political rival.
Vajpayee never tried to 'obliterate' Nehru's legacy: Dr Singh
Dr Singh noted that there was never an attempt to change the character or nature of NMML when Vajpayee was PM for six years. "But sadly, that seems to be part of the agenda of the Government of India now," the letter claimed.