Hanging of Nirbhaya's rapists: Javadekar blames AAP's negligence for delay
Hanging of Nirbhaya's rapists: Javadekar blames AAP's negligence for delay
Jan 16, 2020, 03:18 pm
3 min read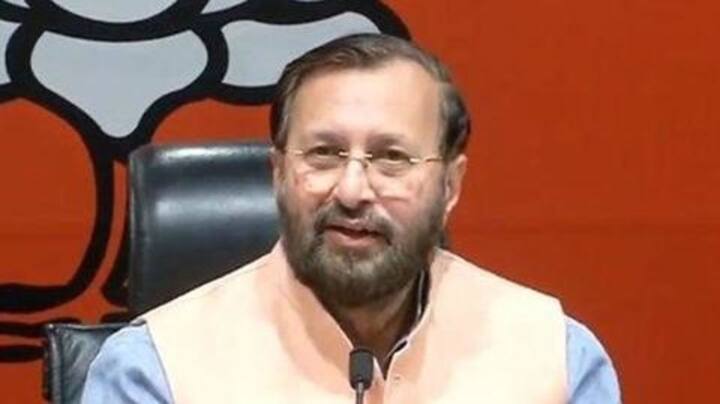 The four men who raped Nirbhaya in 2012 in Delhi will not be hanged on January 22, and Union Minister Prakash Javadekar sees an Aam Aadmi Party conspiracy in this. In a press conference today, Javadekar blamed the negligence of Arvind Kejriwal's government for the delay. Had the convicts been told about mercy pleas earlier, the process would have been expedited, he claimed.
Context: Nirbhaya's rape united India, convicts got death sentence
23-year-old Nirbhaya was gang-raped by six, including a juvenile, on a moving bus in Delhi. After undergoing treatment initially in the national capital and then in Singapore, she succumbed to her inhumane injuries on December 29, 2012. Her rape and murder led to countrywide protests with citizens demanding the strictest punishment against rapists. The pleas were heard and the accused were sentenced to death.
They were given death sentence in 2013
The physiotherapy intern was violated by six men but only four — Mukesh (31), Pawan Gupta (24), Vinay Sharma (25) and Akshay Kumar Singh (33) — were given the death sentence in 2013 since the prime accused, Ram Singh, committed suicide. The juvenile was sent to a correction home for three years. Both Delhi High Court and the Supreme Court upheld the death penalty.
The legal battle has been dragging on for years
The apex court had upheld the crucial verdict in 2017, but the convicts weren't hanged. In October, authorities of Tihar jail, where they are lodged, informed the convicts that they can either file mercy plea or face death. Last week, Patiala House Court issued a black warrant, fixing January 22 as execution's date. The decision was welcomed but looks like it didn't do much.
Mukesh drew blank at SC, approached President Kovind
After Patiala Court's decision, Vinay and Mukesh filed curative petitions in the top court which were dismissed. Not letting any opportunity go, Mukesh filed a mercy plea before President Ram Nath Kovind. Yesterday, the state government apprised HC that convicts can't be hanged till President takes a decision. However, the black warrant wasn't canceled by the bench of Justices Manmohan and Sangita Dhingra Sehgal.
Even if plea is rejected, rapists won't be hanged
"It (the execution) can only take place 14 days after the rejection as we are bound by the rule which says that a notice of 14 days must be provided to the convicts after the rejection of mercy plea," advocate Rahul Mehra told HC yesterday.
"Why were convicts not informed about mercy pleas earlier"
Rooting his attack at AAP on this development, Javadekar said, "The hanging of the convicts in 2012 Delhi gang-rape case is now delayed because of Delhi government's negligence. AAP is responsible for the delay in justice." He asked, "Why did the Delhi government not give notice to the convicts for filing mercy plea in the last 2.5 years?"
Earlier, Kejriwal welcomed issuance of black warrant
Notably, when the black warrant for the convicts was issued, Kejriwal was elated. He had said, "The decision has fulfilled a long-term wish of the Delhi people. I hope people who misbehave with women learn from this, that they won't be spared and the law will take its course in their case." His deputy, Manish Sisodia, concurred and said law won in the end.
In 2012, AAP wanted rapists to be hanged immediately
AAP, which was fairly new in 2012, repeatedly cornered Congress, which governed both state and Centre, over Nirbhaya's rape. Once, AAP activists staged a protest outside Congress president Sonia Gandhi's residence demanding that rapists should be hanged soon. The allegations leveled by Javadekar hint that BJP plans to question Kejriwal, who is seeking re-election, over this issue. Can it hurt AAP's prospects? Only time will tell.