Will never forgive Pragya for insulting Bapu: PM Modi
Will never forgive Pragya for insulting Bapu: PM Modi
Written by
Ramya Patelkhana
May 17, 2019, 03:35 pm
3 min read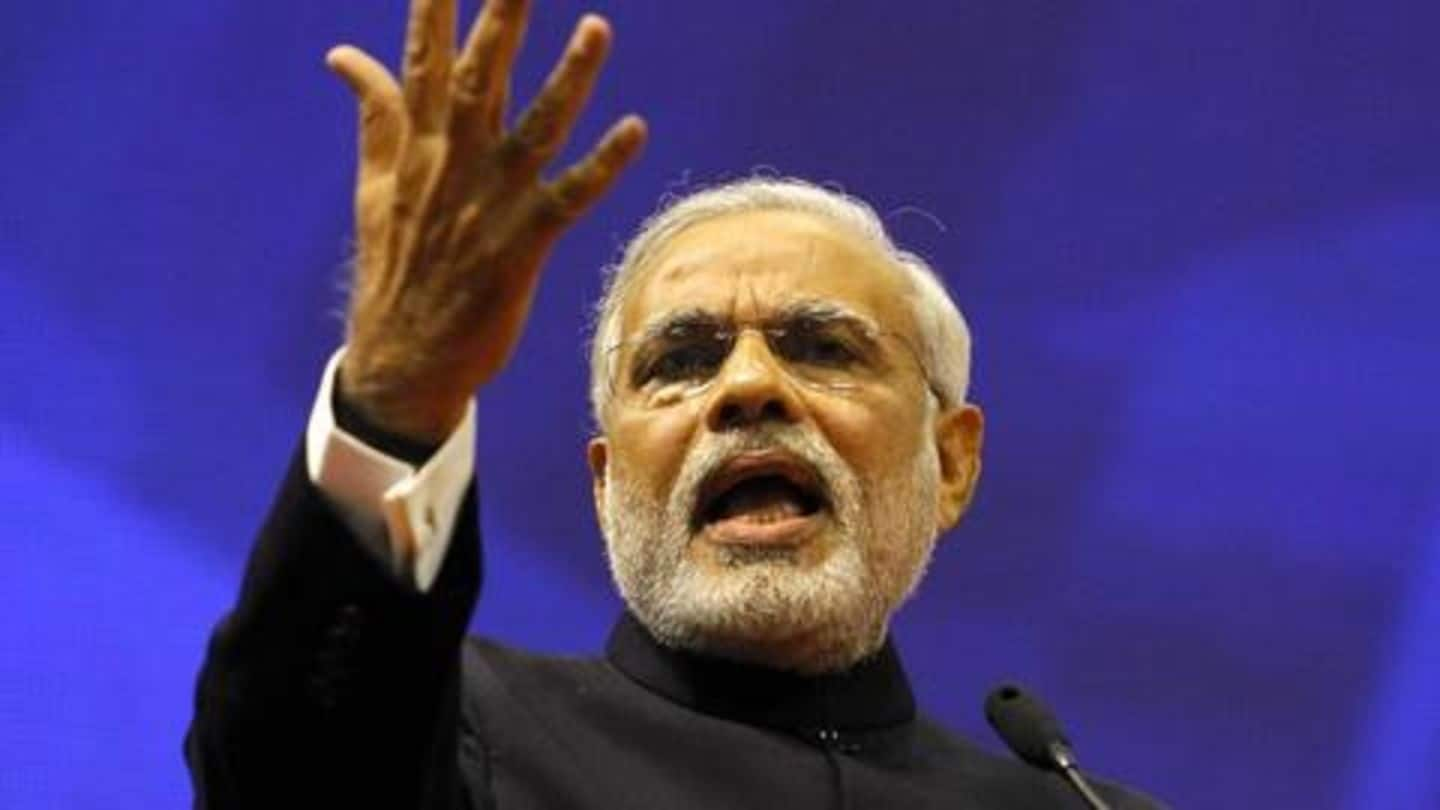 A day after BJP's Bhopal candidate Pragya Singh Thakur called Mahatma Gandhi's assassin Nathuram Godse a deshbhakt, PM Narendra Modi slammed her over her remarks. He said that he will never be able to forgive Pragya for her comments insulting Gandhi and favoring Godse. Notably, PM Modi had earlier endorsed Pragya as the BJP's Lok Sabha candidate from Bhopal. Here's what went down.
Would never be able to forgive her completely: PM Modi
"The statements that have been made about Gandhiji or Godse are very bad and very wrong for the society. It is different that she (Pragya) sought apology, but I would never be able to forgive her completely," PM Modi said.
Backstory: Pragya called Godse a 'deshbhakt'
BJP's Bhopal Lok Sabha candidate and Malegaon blast-accused, Pragya, on Thursday, called Godse a deshbhakt (patriot). She made these comments while responding to actor-turned-politician and Makkal Needhi Maiam (MNM) founder Kamal Haasan's "free India's first terrorist" remark on Godse. Pragya said that Godse was, is, and will always remain a deshbhakt. However, she later apologized and said that her "statement was absolutely wrong."
People calling Godse 'terrorist' should instead look within: Pragya
"Nathuram Godse was a deshbhakt, is a deshbhakt, and will remain a deshbhakt. People calling him a terrorist should instead look within, such people will be given a befitting reply in these elections," Pragya had said. BJP spokesperson GVL Narasimha Rao, however, said, "BJP doesn't agree with this statement, we condemn it."
Have huge respect for Gandhi: Pragya
After BJP disowned Pragya's remark on Godse, she took a U-turn and apologized, saying, "I apologize to the people of the country for my statements on Nathuram Godse. My statement was absolutely wrong. I have huge respect for the father of the nation, Mahatma Gandhi."
Meanwhile, Amit Shah seeks explanation over three leaders' pro-Godse remarks
Meanwhile, BJP on Friday launched damage control after three senior party leaders made comments in favor of Godse. The three leaders are Pragya, Union Minister Anant Kumar Hegde, and Nalin Kumar Kateel. BJP chief Amit Shah took to Twitter and said that the party has nothing to do with their remarks, adding that an explanation within 10 days has been sought from the leaders.
इन लोगों ने अपने बयान वापिस लिए हैं और माफ़ी भी मांगी है। फिर भी सार्वजनिक जीवन तथा भारतीय जनता पार्टी की गरिमा और विचारधारा के विपरीत इन बयानों को पार्टी ने गंभीरता से लेकर तीनों बयानों को अनुशासन समिति को भेजने का निर्णय किया है।

— Chowkidar Amit Shah (@AmitShah) May 17, 2019
'Country will never forgive Pragya,' says Congress spokesperson
Separately, Congress spokesperson Randeep Surjewala slammed Pragya, saying that she has insulted Father of the Nation, Mahatma Gandhi, once again. "The country will never forgive Sadhvi Pragya for her statement on Nathuram Godse," he said. Former J&K CM Omar Abdullah also hit out at her, saying, "If the killer of the father of the nation is a patriot does that make Mahatma Gandhi anti-national?"