At Gandhis' bastion Raebareli, Modi lambasts Congress on defense-deals
At Gandhis' bastion Raebareli, Modi lambasts Congress on defense-deals
Dec 16, 2018, 03:33 pm
3 min read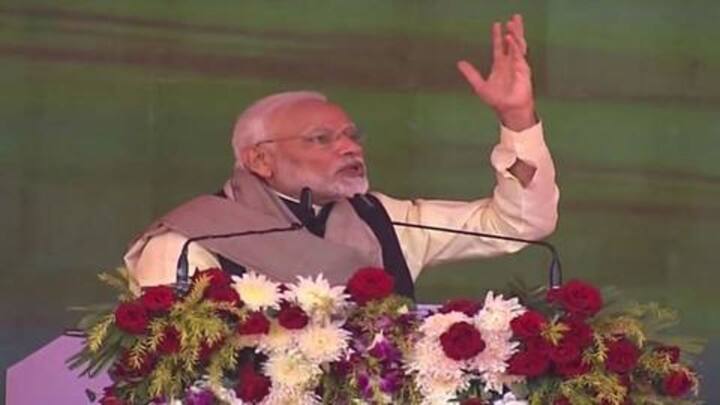 On his first visit to Raebareli in Uttar Pradesh on Sunday, Prime Minister Narendra Modi came down heavily on Congress over defense deals. He said the Congress party had a history of shady defense deals but the BJP cared about the army and their necessities. PM Modi's blitzkrieg comes days after Supreme Court turned down all petitions demanding a probe in Rafale deal.
After losing states, PM Modi addresses a rally
PM Modi's rally comes days after BJP lost Hindi heartland states, Chhattisgarh, Madhya Pradesh, and Rajasthan to Congress in recently concluded Assembly Elections. Notably, Raebareli has been sending UPA chairperson Sonia Gandhi to Lok Sabha for the past twenty years. But PM Modi claimed the constituency was neglected all these years and got fast-paced development only after 2014 when he became the PM.
PM Modi explains how coach factory will help Raebareli
After inspecting the Modern Coach Factory in Raebareli, PM Modi addressed a gathering and said the previous government promised 5,000 jobs, but not even half of posts were closed. About the coach factory, he said it would give jobs to youth. He added it would take weeks to talk about Congress' faults and that the party has only focused on weakening the nation.
Factory was sanctioned years ago, but that's about it
Prime Minister Narendra Modi in Raebareli: This factory was sanctioned in 2007 and was built in 2010. For 4 years parts of the coach from Kapurthala were assembled and painted here. The factory that was supposed to make new coaches was never allowed to work at its full capacity. pic.twitter.com/UbWGz5QDq0

— ANI (@ANI) December 16, 2018
We purchased bullet-proof jackets for army, says PM Modi
PM Modi then turned his attention towards the army and said the Congress did nothing to empower the Air Force but NDA did. The 68-year-old said NDA purchased 50,000 bulletproof jackets for the army in 2016 and has placed an order for another 1,86,000 jackets. He said the 'middleman' of AgustaWestland scam was extradited and everyone saw Congress send a lawyer to defend him.
PM Modi also speaks about Congress' 'lies'
In a direct response to Congress' crony capitalism allegations in Rafale deal, PM Modi said truth always shone brighter. Quoting epic Ramcharitmanas, he said some people accept, feed, eat and chew just lies. He said for them everyone lied including the Defense Minister, the SC, and Air Force officers of India. "No matter how often lie is repeated, it can't become truth," he asserted.
The NDA doesn't compromise on national security
What happened to loan waivers in Karnataka, asks PM Modi
PM Modi also boasted that BJP worked for MSP of farmers. He said Congress has been talking about loan waiver for days now but words weren't translated to action. He said Congress promised loans would be written off in Karnataka but even after six months it wasn't fulfilled. Congress was also asked why it didn't implement Swaminathan Commission's suggestion in ten years.