#ThatWas2018: RaGa's hug to Biplab Deb's logic, looking at political-controversies
#ThatWas2018: RaGa's hug to Biplab Deb's logic, looking at political-controversies
Dec 30, 2018, 02:57 pm
4 min read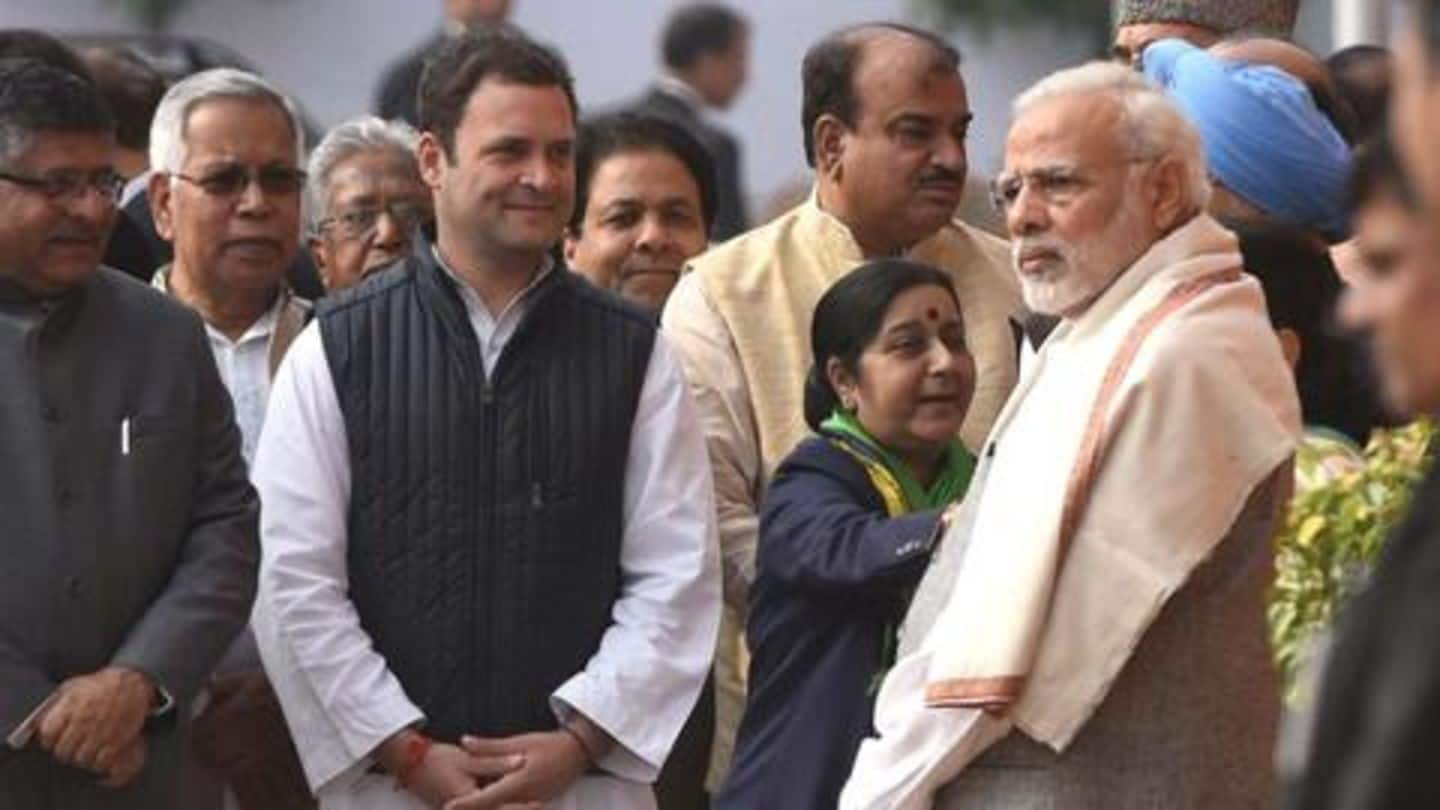 2018 wasn't devoid of political action. As it nears an end, dynamics in Indian politics have changed. The BJP's winning streak was halted as it lost three Hindi heartland states, and the Congress is eyeing a resurrection. But apart from assembly elections, a lot of other things happened this year. Here's looking at 6 such incidents which kept us, the journalists, occupied.
BS Yeddyurappa became Karnataka's CM, but only for 2.5 days
In May, after results of assembly polls of Karnataka were announced, BJP emerged as the single largest party, getting 104 seats. But it fell short of the majority mark- 111. BS Yeddyurappa staked claim to form the government and Governor Vajubhai Vala gave him 15 days to prove majority. However, JD(S) and Congress formed a post-poll alliance, and it ruined the plans of BJP.
The new 'friends' knocked on SC's doors, got an edge
In an unprecedented move, Congress approached the Supreme Court against Vala's decision. The apex court ordered that the floor test should be conducted soon. Yeddyurappa didn't have the numbers and before appearing for the test, he resigned and BJP got a huge setback.
Rahul Gandhi hugging Narendra Modi shocked everyone, obviously
A no-confidence motion was moved against Prime Minister Narendra Modi in the Parliament by TDP in July. In his speech, Congress President Rahul Gandhi slammed PM Modi and his governance. But he ended speech by hugging him, saying he only has love for his opponents, despite being ridiculed and called a Pappu. Returning to his seat, RaGa winked and BJP called the act 'drama'.
Watch: For a brief moment, Indian politics gave us cheer
After Bhima-Koregaon violence, activists were arrested
In January 2018, clashes between Dalits and upper-caste Marathas in Bhima-Koregaon, Maharashtra turned violent. The Dalits were celebrating their win on Marathas in a battle which took place 200 years ago. Months later, in August, Pune police acted on the violence and arrested five activists. The police claimed the violence was pre-planned and the activists had links with Maoists. The case caused a massive outcry.
Varavara Rao, Arun Ferreira, Gautam Navalakha, Vernon Gonzalves, and Sudha Bharadwaj were arrested in near-simultaneous raids in different parts of the country. They were charged with inciting violence and giving proactive speeches in December 2017. They are still in jail.
In a first, 4 Supreme Court judges held press-conference
In the first month of 2018, the nation saw 4 senior-most judges coming together to 'save the Supreme Court'. Justices Jasti Chelameswar, Ranjan Gogoi, Kurian Joseph, and Madan Lokur spoke against Dipak Misra, who was CJI back then, touched the topic of Justice Loya's death and said independent judiciary was essential for democracy's survival. Notably, a motion to impeach CJI Misra was also moved, but it was rejected.
The Centre was attacked for ruining judiciary
The press conference got the Centre criticism from all quarters and it was suggested the Modi government was destroying institutions. But after the impeachment motion was rejected, the press conference died a slow death. Notably, Justice Misra nominated Ranjan Gogoi as his successor.
The Jammu and Kashmir assembly was dissolved by Governor
In November, J&K governor Satya Pal Malik dissolved the state assembly after Peoples Democratic Party chief, Mehbooba Mufti, and People's Conference leader, Sajad Lone, staked claim to form the government. Arch rivals PDP and National Conference stitched an alliance and Lone had the support of BJP. But Malik dissolved the assembly saying none of the contenders could have delivered a stable government.
2018 introduced us to Biplab Deb and his 'genius'
Tripura Chief Minister Biplab Deb was perhaps the best find (pun intended) of 2018. The BJP leader repeatedly courted controversies. He said since Diana Hayden lacked the 'traits of Lakshmi and Saraswati' she wasn't an Indian beauty, suggested only civil engineers should take up civil services, claimed internet existed during Mahabharata and asked youngsters to set up paan shops instead of running after ministers for jobs. What an eventful year.