Pragya Thakur, who called Godse 'patriot', misses Gandhi Jayanti events
Pragya Thakur, who called Godse 'patriot', misses Gandhi Jayanti events
Oct 03, 2019, 02:41 pm
3 min read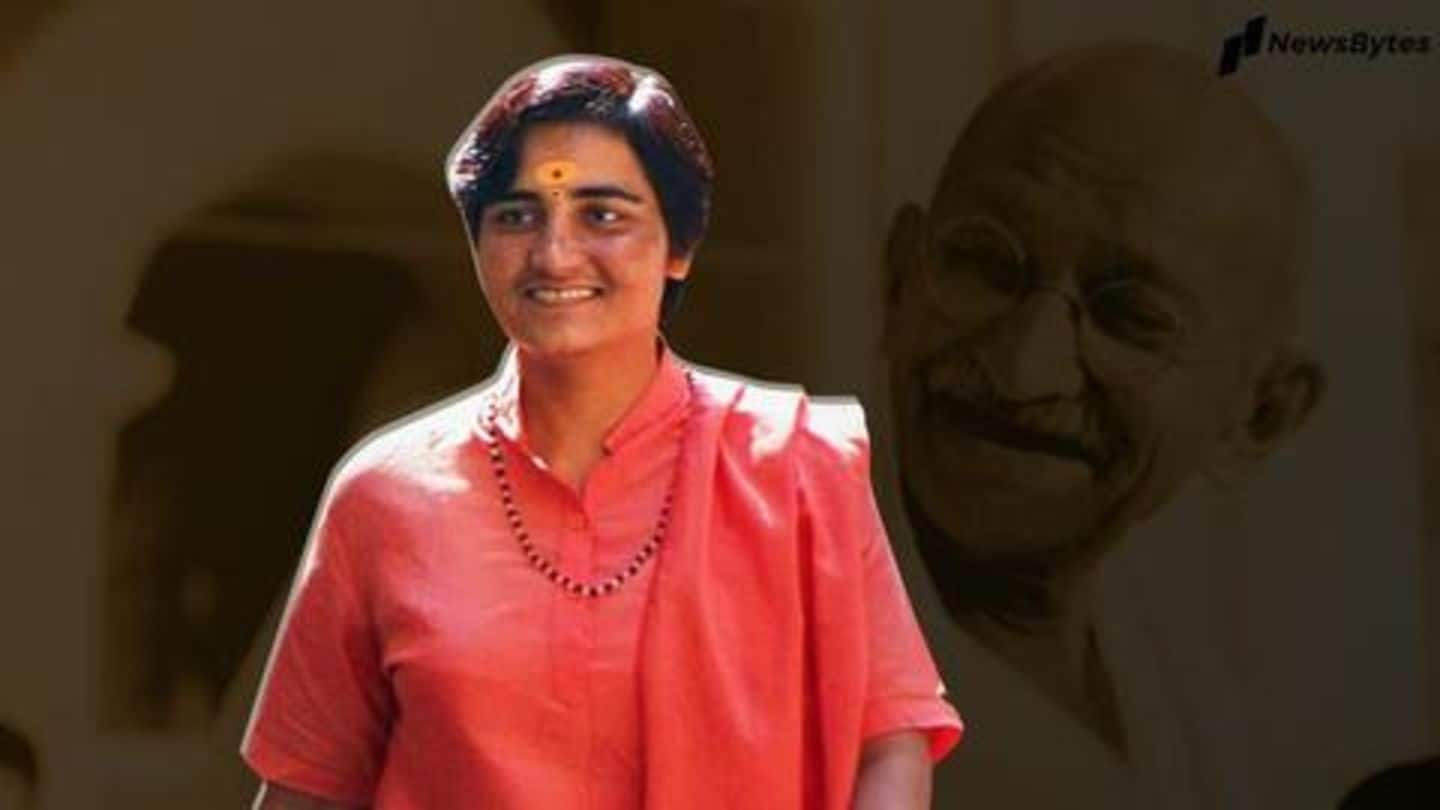 By fielding Pragya Thakur from Bhopal in summer elections, Bharatiya Janata Party (BJP) drew ire from several quarters. Fortunately, the gamble paid off as she bettered Congress stalwart Digvijaya Singh by a huge margin and won. However, her statements got BJP embarrassment especially the one in which she called Nathuram Godse a "patriot". This is probably why she remained absent from Gandhi Jayanti events.
Godse will always remain a "deshbhakt": Pragya
In the run-up for general polls, Pragya, who is accused of having a hand in 2008 Malegaon blast, regularly passed controversial statements. "Nathuram Godse was a deshbhakt, is a deshbhakt, and will remain a deshbhakt. People calling him a terrorist should instead look within, such people will be given a befitting reply in these elections," she said in May, stirring a huge controversy.
Subsequently, PM Modi said he won't forgive Pragya
While BJP defended Pragya on most occasions, it was at a loss of words after she glorified Godse. In an interview, Prime Minister Narendra Modi reprimanded her. "I will never be able to forgive Pragya Thakur for insulting Mahatma Gandhi," he had said.
BJP planned many events, Pragya was nowhere to be seen
Perhaps, BJP knew it has to maintain distance from Pragya on Wednesday, the 150th birth anniversary of Mahatma Gandhi. The saffron party had planned a series of events and asked all parliamentarians to participate. But, Pragya was nowhere to be seen in the padyatra or any other event organized in Bhopal to remember the Mahatma. As per TOI, BJP wasn't keen to invite her.
Her close aides claimed she was traveling
Interestingly, those close to Pragya claimed she gave the events a miss because she was traveling. "Didi is not in Bhopal. She has no programs today (Gandhi Jayanti) and will return after a week," her assistant Uma told the daily. Separately, her close confidante Bhagwan Jha claimed she is in a "shivir". "There is no local program which she will attend today," he said.
Another BJP leader hoped Pragya will fulfill her commitments
"She had prior engagements during Navratri. She will attend the rest of the programs as MPs have been asked by the party to manage their assignments anytime till October 31," said Vikas Virani, BJP's Bhopal district president.
In fact, Congress asked BJP if it would expel Pragya
The report added that Pragya wasn't invited for Gandhi Jayanti celebrations as BJP knows her presence would give Congress a chance to attack it. In fact, in Indore, some Congress workers installed a poster where she was referred to as "Hinsa ki pujaran". "The party that follows Godse, will it ever expel Pragya Thakur?" the poster, which was removed by police, read.
Meanwhile, Congress leader said BJP's "drama" has been exposed
"BJP has double standards, which is why Pragya is unwilling to join Gandhi Jayanti programs despite clear instructions from her party leadership. This drama has been exposed," Narendra Singh Saluja, Congress state spokesperson, told TOI.