Here's what Priya Varrier thinks about RaGa's wink in Parliament
Here's what Priya Varrier thinks about RaGa's wink in Parliament
Jul 20, 2018, 06:50 pm
2 min read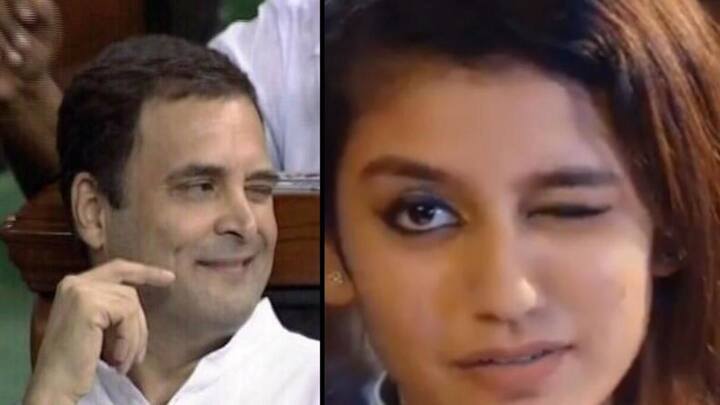 Actress Priya Varrier, whose wink in 'Oru Adaar Love' made her an overnight Internet sensation has expressed what she felt about Congress President Rahul Gandhi winking in the Lok Sabha today. In an interview, Varrier said she was pleased to see the sweet gesture and was happy that he "copied" her signature move. Here's more about it.
I am very happy today, Priya Varrier tells
Speaking about what happened in the Parliament today, Varrier said she came back from college and received the news. "He (Rahul) has greeted him (Modi) with the wink which is a very sweet gesture and I'm very happy that it was my signature move in the movie where I started off," she reportedly said. Further, she said she was extremely happy today.
The resemblance between Priya and RaGa caught Twitter's attention too
Move out Priya Warrier you have got a tough Competition in Rahul Gandhi!!

On a serious note this is what Pappu and Congress has reduced Parliament too

Cheap antics ,Fake Jhapis, Sly winks
Pappu once again reaffirmed he is crude, immature ,with no class #NoConfidenceMotion pic.twitter.com/sWOAlizDXC

— Naina 🇮🇳 (@NaIna0806) July 20, 2018
Rahul Gandhi's hug and wink rule Internet today
Launching a full-blown attack at NDA in the Lok Sabha, Rahul Gandhi said he didn't have hatred in his heart, and then went ahead and hugged the PM. The PM was taken aback by this gesture but he called the Congress President and also patted his back. Later, speaker Sumitra Mahajan said the gesture violated rules of the Parliament and reprimanded Gandhi.
Meanwhile, Twitter users have mixed reactions about the hug
The hug was bound to go viral on social media and soon Twitter users gave their opinion on it. Journalist Nidhi Razdan expressed shock (just like many of us): OMG Rahul Gandhi hugs the PM, while Barkha Dutt tweeted the PM must not have been expecting it. "What a moment! A hug after a scathing attack. @RahulGandhi did create an earthquake," wrote Marya Shakil.