RaGa says FM writes blogs, but didn't mention meeting Mallya
RaGa says FM writes blogs, but didn't mention meeting Mallya
Sep 13, 2018, 02:02 pm
2 min read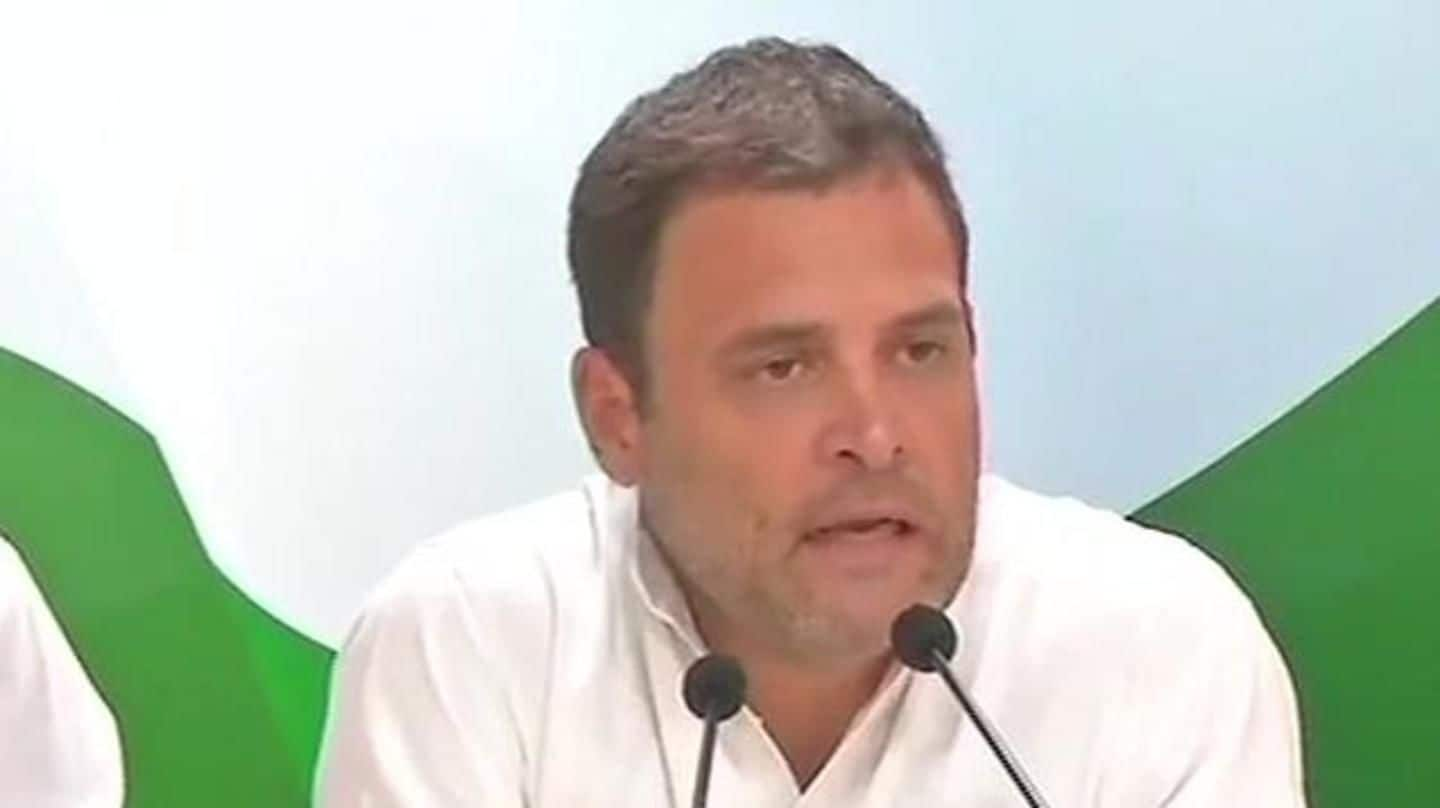 Addressing the press on Thursday, Congress President Rahul Gandhi launched a full blown attack on Finance Minister Arun Jaitley over his alleged meeting with beleaguered business tycoon Vijay Mallya. Gandhi said Jaitley had a knack for writing verbose blogs, but he never mentioned about his meeting with Mallya. Notably, on Wednesday, Gandhi tweeted Jaitley should resign after the serious allegations surfaced. Here's more.
The FM colluded with a criminal, says Gandhi
Gandhi dubbed Jaitley's response, that he just spoke a few words with Mallya, 'a lie'. Further, Gandhi questioned why were CBI and ED not informed about the meeting with an absconder, before he flew to London. "This can be done only by the one who controls CBI. The FM has colluded in a criminal running away from the country," he said.
Further, government is lying on Rafale, says Gandhi
Mallya claimed he made offer to settle with banks
The sensational claims of Mallya, outside a London court on Wednesday, sparked a fire in Indian political discourse. Mallya claimed he met the FM before leaving the country and gave the offer to settle with banks. "That's the truth," he maintained. Later, he clarified there was no formal meeting, and his words were blown out of proportion. Naturally, the Opposition attacked Narendra Modi-led Centre.
From London, Mallya sparked row in Indian politics
After controversy, Jaitley said he snubbed Mallya
At the receiving end of ire, Jaitley said there was no truth in Mallya's statement. He maintained he snubbed Mallya and asked him to take the offer with the banks. "I curtly told him 'there was no point talking to me and he must make offers to his bankers'. I didn't even receive the papers that he was holding in his hand," he said.
Meanwhile, Sambit Patra says, "Seems Gandhi family owns Kingfisher"
The BJP, of course, denied the allegations with spokesperson Sambit Patra holding a press conference to put the onus on Congress and Gandhi family. "Rahul Gandhi has gone on back-foot over Kingfisher Airlines. Sometimes it seems the Airlines wasn't owned by Vijay Mallya, but by Gandhi family in proxy," he said. Further, he claimed P Chidambaram was a 'philosopher of black money'.