Tamil Nadu: Grand reception welcomes 'Chinnamma' Sasikala after four years
Tamil Nadu: Grand reception welcomes 'Chinnamma' Sasikala after four years
Feb 10, 2021, 12:29 am
3 min read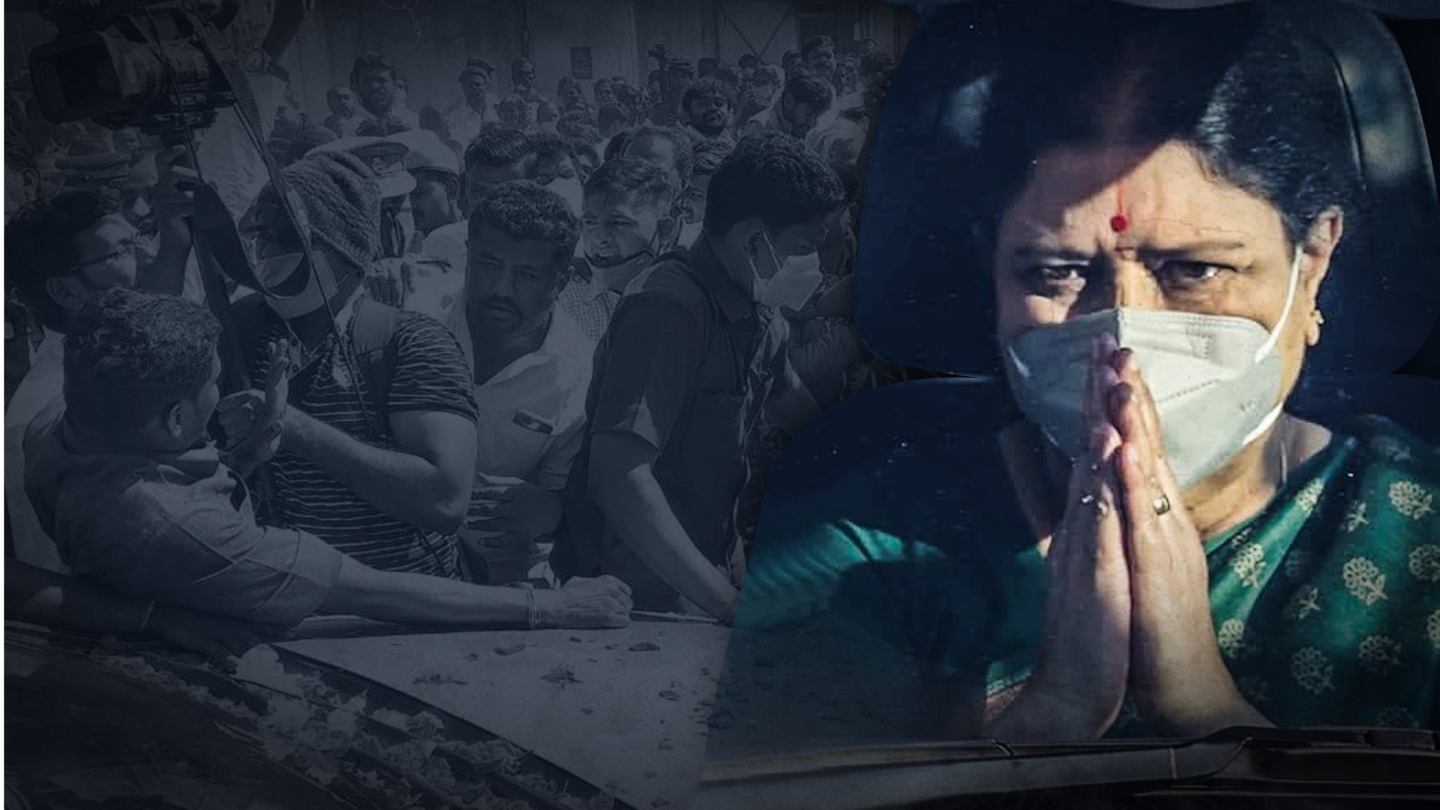 VK Sasikala, a formidable force in Tamil Nadu politics, returned to the state capital Chennai on Monday, after completing a four-year jail sentence in connection to a disproportionate assets case. The closest aide of late Chief Minister J Jayalalithaa came home to a grand reception, complete with chants of "Chinnamma." Cadres of AIADMK garlanded her, took selfies, and even fell before her convoy.
The 340 km-long journey took longer than usual
Sasikala left from Bengaluru in the morning. She had been staying at the Karnataka capital after release from prison as she contracted coronavirus. However, the 340 km-long trip took longer than usual, all thanks to her supporters. She was prohibited from using the party flag but flaunted it anyway. Her act of defiance reflected the message that she still sees herself as the boss.
She used AIADMK member's car, party expelled him
At one point, police and revenue officials asked Sasikala to remove the party flag. She then moved to another vehicle owned by an AIADMK partyman. A red-faced AIADMK then expelled Deputy Secretary of Thiruvallur district, Dhakshinamurthy, as he had loaned his car. Sasikala's convoy had dozens of vehicles. Her nephew TTV Dhinakaran, also the general secretary of Amma Makkal Munnetra Kazhagam party, tagged along.
Sasikala would remain active in politics for 'party workers'
During her journey, Sasikala stopped to give brief speeches. In one address, she declared she won't give in to "oppression." At another point, she said she would remain active in politics for "party workers." She also said that the enemy must not win (the upcoming polls) and all must work together under the AIADMK banner, like children of one mother.
Political opponents shouldn't be allowed to divide and rule: Sasikala
"All should unitedly stand as children of one mother to defeat a common enemy. This great movement shouldn't disintegrate due to the likes and dislikes of a few. We should not give room for our political opponents to divide and rule," she said.
She paid floral tribute to MGR, couldn't visit Jayalalithaa's home
Sasikala's first stop in Chennai was the home of late Chief Minister MG Ramachandran, the founder of AIADMK. She paid floral tributes to the leader. Notably, the Poes Garden house of Jayalalithaa remained off-limits to her. She also stopped at a few temples on the way. She was offered a garland so heavy that it had to be carried by a crane.
She claimed divine intervention of 'akka' saved her
In her interaction with loyalists, Sasikala repeatedly mentioned Jayalalithaa. "I have come out of corona due to the divine intervention of my akka (elder sister) Puratchi Thalaivi (revolutionary leader) Idaya Deivam (God) Amma," she said. She said AIADMK faced many difficulties but everyone should work whole-heartedly "to submit our success on the feet of Jayalalithaa."
Sasikala is now looking to challenge AIADMK's structure
About the reception that Sasikala received, a senior AIADMK member told IE that while some members of the crowd were arranged for, the party hadn't expected Monday's incident. Sasikala has given enough hints that she would now challenge the leadership of CM E Palaniswami and his deputy O Paneerselvam. Notably, she was expelled in 2017 after she handpicked Palaniswami for the post of CM.