Sena-Congress-NCP MLAs assemble at Mumbai hotel, take pledge
Sena-Congress-NCP MLAs assemble at Mumbai hotel, take pledge
Nov 25, 2019, 08:47 pm
3 min read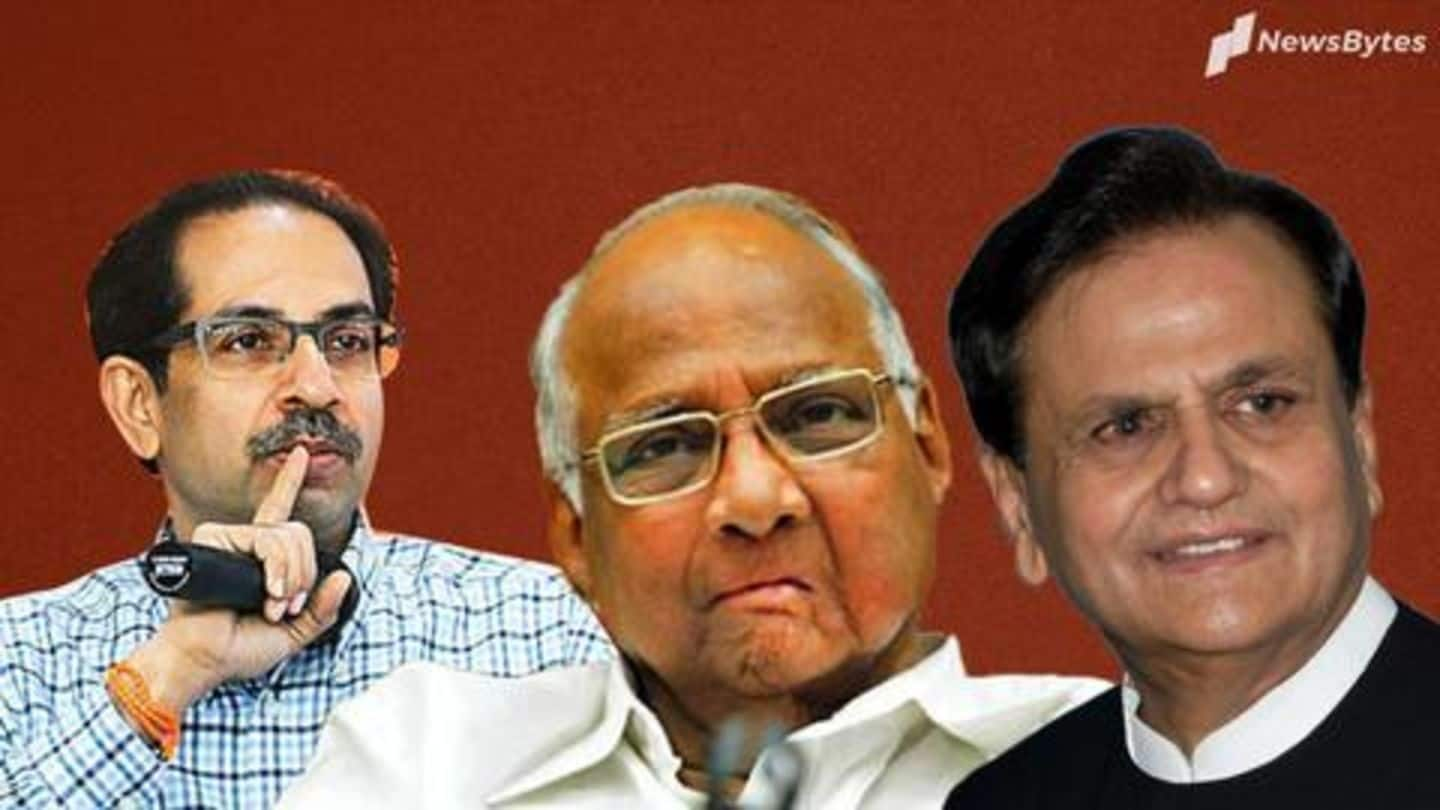 On Monday evening, MLAs from the Shiv Sena, the Congress, and Nationalist Congress Party (NCP) assembled at the Hotel Grand Hyatt in Mumbai, in a move aimed at showcasing the strength of the prospective three-party alliance. Among other prominent leaders, Sena chief Uddhav and his son Aaditya Thackeray, and NCP's Sharad Pawar and Supriya Sule were present at the hotel. Here are more details.
At the mega rally, Sena-Congress-NCP MLAs took pledge
At the mega rally, the MLAs were seen taking a pledge that they would support and remain honest to their respective parties. "I swear that under the leadership of Sharad Pawar, Uddhav Thackeray and Sonia Gandhi, I will be honest to my party. I won't get lured by anything. I will not do anything which will benefit BJP," the legislators solemnly said.
We (the MLAs) are more than 162, claimed Ashok Chavan
At the mega assembly, Congress leader Ashok Chavan said, "We are more than 162, not just 162. We all will be a part of the government. I thank Sonia Gandhi who allowed for this alliance to stop BJP. Governor should invite us to form government."
Uddhav and Sharad Pawar also addressed the rally
While addressing the MLAs, Uddhav said that they are not after power, but want to defeat those responsible for power-play, thereby taking a jibe at the ruling BJP. On the other hand, Sharad Pawar said that they are ready to face the Assembly whenever the Supreme Court orders a floor test, adding that they would teach the BJP a lesson.
What is the Maharashtra political drama all about
The development comes after President's Rule was revoked in Maharashtra, in an unprecedented manner, on Saturday morning. Minutes after that, BJP's Devendra Fadnavis and NCP rebel leader Ajit Pawar were sworn-in as the Chief Minister and the Deputy CM, respectively. Subsequently, the Sena, NCP, and Congress moved the Supreme Court, claiming the Fadnavis-led government doesn't have a majority.
Earlier today, SC held hearings with regard to Sena-Congress-NCP petition
Earlier today, the Supreme Court held hearings with regard to the petition filed by Sena, Congress and NCP against the hush-hush government formation in Maharashtra. While Sena's, and NCP-Congress' representatives pushed for an immediate floor test, BJP's side sought 7 days to prove majority. Subsequently, the three-judge SC bench, comprising Justices NV Ramana, Ashok Bhushan, and Sanjiv Khanna reserved their order until 10:30am, tomorrow.
Maharashtra dealing with political uncertainty ever since Assembly polls
To recall, ties between allies Sena and BJP broke after Assembly election results, due to tussle over power sharing arrangements. Since no party could a prove a majority, President's rule was imposed in the state on November 12. Meanwhile, Sena, Congress, NCP (Sharad faction) almost finalized a three-party alliance, but in a sudden turnaround, BJP and Ajit Pawar joined hands to form the government.