Smriti slams RaGa on Parrikar meet, says he is hallucinating
Smriti slams RaGa on Parrikar meet, says he is hallucinating
Jan 31, 2019, 03:16 pm
3 min read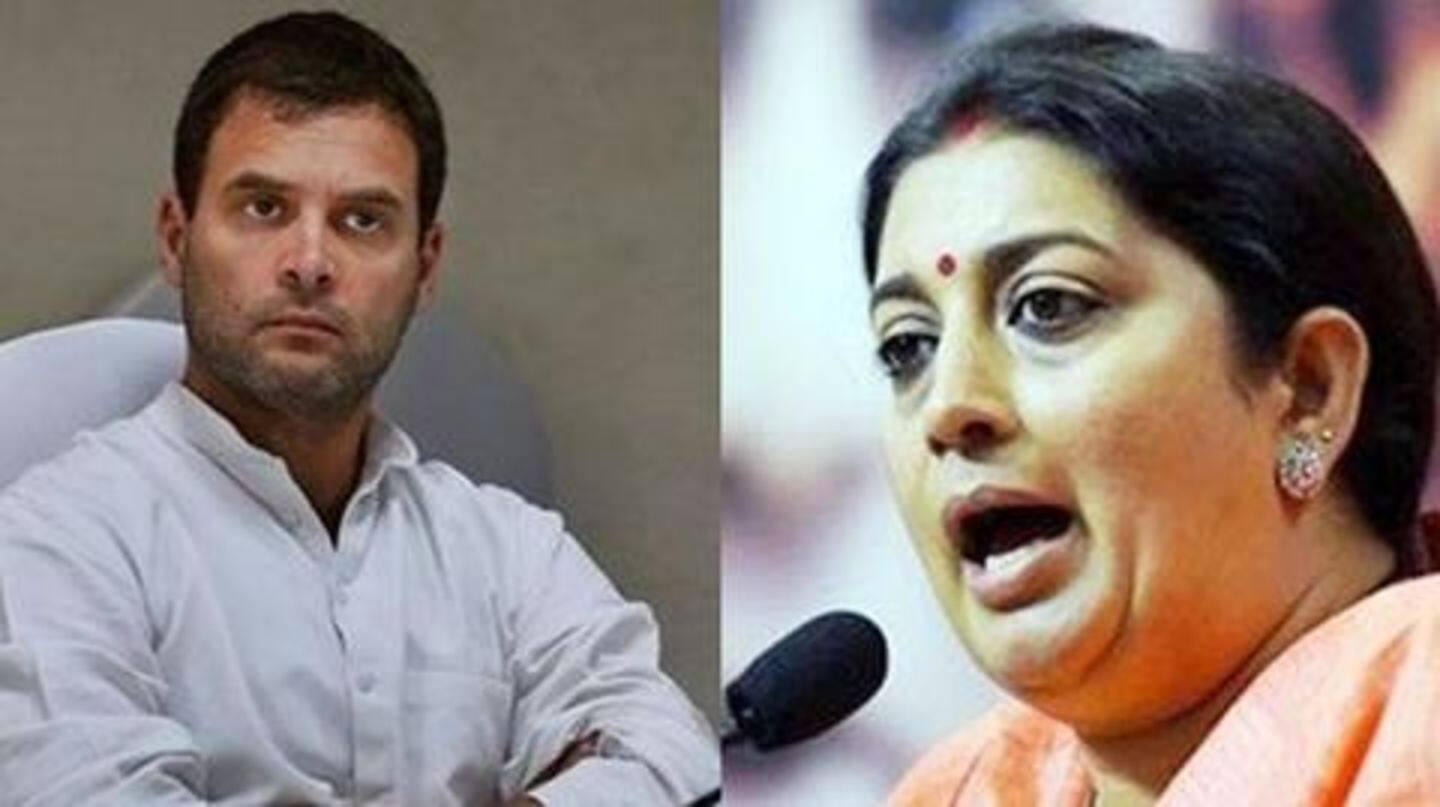 In a stinging Facebook post, Union Textile Minister Smriti Irani tore into Congress President Rahul Gandhi on the claims he made after his recent meeting with Goa Chief Minister Manohar Parrikar. Taking RaGa and his privileges head-on, Irani wrote the 'dynast' is a congenital liar who is hallucinating conversations that never happened. She said he is 'India's first post-truth politician'.
Irani digs deep into history to attack RaGa
Making the blunders of Congress the basis of her attack, Irani wrote the party still defends issues like the regulated economy, the 1962 China war disaster, and Kashmir gaffe. She added former Prime Minister Rajiv Gandhi signed corrupt defense deals but all Congress did was defend dynasty politics. The party also downplays successful leadership of 'non-dynasts', like Lal Bahadur Shastri's, Irani wrote.
Current representative is a liar, writes Irani
Attacking RaGa, Irani said the current 'representative of the dynasty' is a liar. She wrote his 'deep concerns' forced him to meet ailing Parrikar in Goa, but later he concocted a conversation. Earlier, he 'spoke' to French President Emmanuel Macron about Rafale, used a pleasant exchange with Sushma Swaraj for political mileage and said Arun Jaitley 'told' him he knew little about J&K.
"Does he have mindset of a college-level election contestant?"
"Does he have a mindset of a college-level election contestant or is he a congenital liar? Yet those who depend on dynasties for their survival find themselves looking the other way even when the above aberrations may well be psychiatric in character," she wrote.
Irani explained the beauty of democracy
Irani went on to add it was unfortunate that those who defend dynasty politics kept a back-up ready if one member didn't deliver. She wrote democracies flourish when people from humble backgrounds rise to the top and bust all myths of dynasties. "This was the strength of both the Prime Ministers, Shri Atal Bihari Vajpayee and Shri Narendra Modi," her Facebook post read.
You can read the full post here
For the uninitiated, here's why RaGa is being slammed
RaGa met Parrikar recently and details of their conversation, which he revealed, got him criticism. Hours after meeting him, RaGa said in Kochi, "The ex-defense minister Mr. Parrikar clearly stated that he has nothing to do with the new deal." While he continued to attack PM Modi over the multi-crore deal, Parrikar wrote to RaGa to remind him they didn't discuss Rafale.
Felt let down: Parrikar's emotional letter to RaGa
Goa CM Manohar Parrikar writes to Congress President Rahul Gandhi, writes "I feel let down that you have used this visit for your petty political gains. In the 5 minutes you spent with me, neither did you mention anything about Rafale, now did we discuss anything related to it.' pic.twitter.com/HbUX6yiDk3

— ANI (@ANI) January 30, 2019
Soon several BJP leaders expressed their disdain
After Parrikar set the record straight, BJP leaders grabbed the opportunity to slam RaGa. BJP President Amit Shah tweeted he was lying in name of a person battling illness and people were disgusted by his reckless behavior. Union Minister Hardeep Singh Puri said RaGa was a habitual offender. But RaGa defended himself saying the statements he gave were already in the public domain.
Parrikarji is showing loyalty by attacking me, claims RaGa
I totally empathise with Parrikar Ji's situation wish him well. He's under immense pressure from the PM after our meeting in Goa and needs to demonstrate his loyalty by attacking me.

Attached is the letter I've written him. pic.twitter.com/BQ6V6Zid8m

— Rahul Gandhi (@RahulGandhi) January 30, 2019