Meet the Yadav scion: Tejashwi, controversy's favorite child
Meet the Yadav scion: Tejashwi, controversy's favorite child
Jul 27, 2017, 06:28 pm
3 min read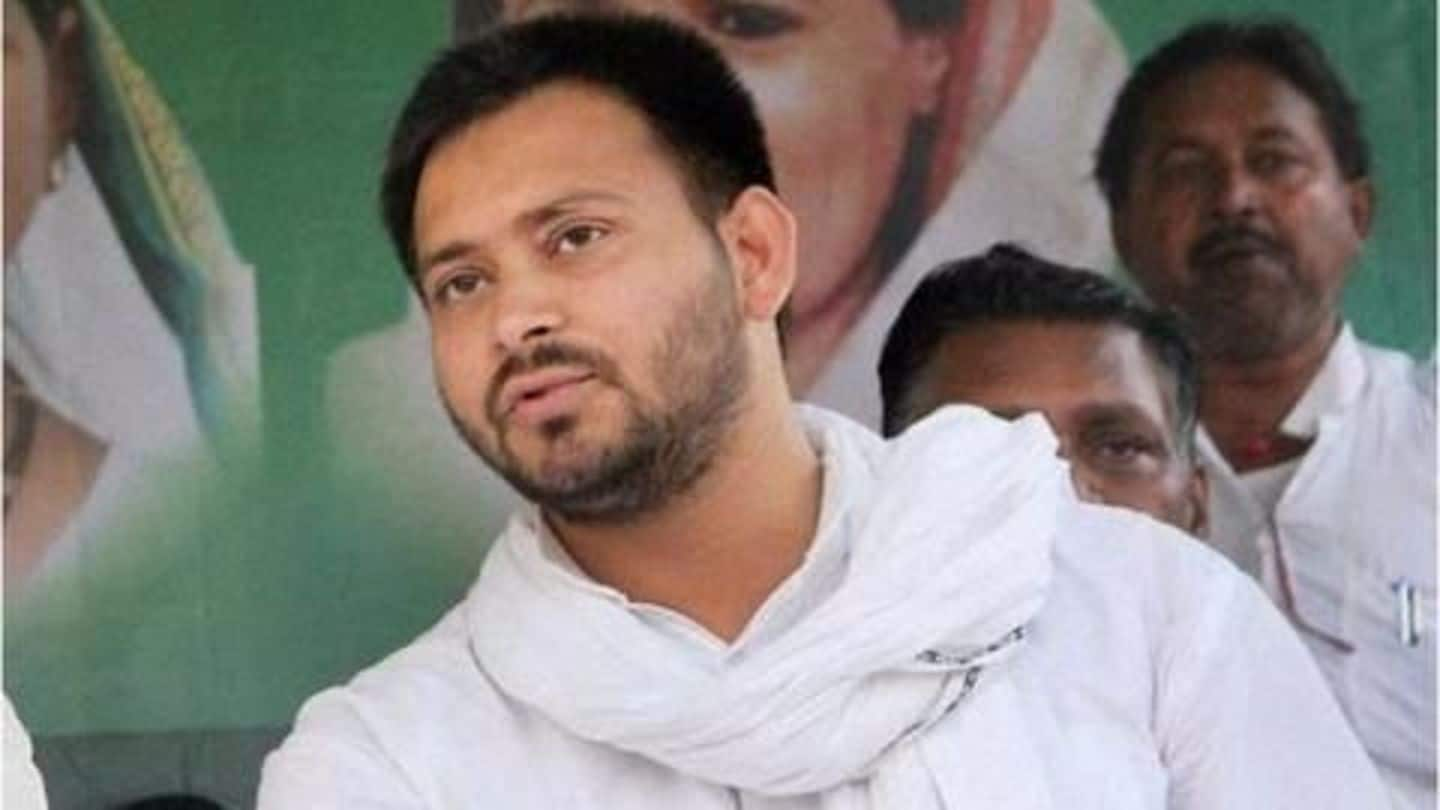 The 28-year-old ex-deputy CM of Bihar has hogged the limelight often, mainly due to the several controversies he has been in. Now he is seemingly at the centre of the high-voltage JD(U)-RJD drama which gripped Bihar politics for over a month now. But that's just one in a long list of troubles he has been in. Here's charting his contentious (and sometimes ridiculous) tenure.
Profile in brief: From school dropout to Bihar's deputy CM
The younger Yadav son has studied only up till class 9 at the Delhi Public School in RK Puram. He became an MLA from Raghopur in Vaishali district in 2015 by defeating BJP's Satish Kumar. Soon after, Tejashwi Yadav was elected as Bihar's Deputy CM and has been serving since November 2015 in Nitish Kumar's cabinet.
When Tejashwi received 44,000 marriage proposals on official number!
If the Yadav brothers' 2015 nomination papers are to be believed, Tejashwi was then 26 while elder brother Tej was 25! None clarified the issue. His young looks might have been a factor behind him reportedly receiving 44,000 marriage proposals on an official mobile number for infrastructural complaints. Apparently, many of those proposals contained details about the girls' figure, skin color and height.
When he kept getting his foot in the mouth
Tejashwi's lack of political correctness has got him into trouble several times. Last year, when BJP alleged "jungle raj" in Bihar over a Gaya road rage incident, Tejashwi retorted by saying "jungle raj" is everywhere, and compared it to Pathankot terrorist attack in which seven securitymen were killed. In March, he asked who is ABVP to decide 'anti-national' acts amid the Gurmehar Kaur row.
7 matches, 37 runs, 1 wicket: Tejashwi Yadav's cricket career
Tejashwi's stint with cricket was rather short. At 19, he had started playing at the national level, but with little recognition. Irritated, Lalu Prasad had once said, "Tejashwi is part of the Delhi team. But all he has done is to carry water.."
When he came under CBI scanner for corruption
Meanwhile, the ongoing corruption case against the RJD leader started when the CBI registered an FIR against him in connection with a land-for-hotels case. The CBI accused the Yadav family of accepting land in Patna in exchange for tenders to businessmen for maintenance of railway hotels during Lalu's tenure as Railway officer. Tejashwi is one of the owners of the land.
When Tejashwi expected 'VIP security' by having reporters thrashed
A little over 10 days before Kumar's resignation, Tejashwi was in the limelight once again, when his bodyguards roughed up reporters outside the Secretariat in Patna. It happened when Tejashwi got out of the car to address the media. As soon as he stepped out, his guards started manhandling and thrashing the reporters when they swarmed him for a byte.
When he was unnecessarily hailed as 'savior' of Bihar politics
Few days before Nitish resigned, sources said Tejashwi would no longer need to resign after the JD(U) insisting on it since long. Apparently a consensus had been reached in meeting between Nitish and Tejashwi, which ended on a "positive note". Not much later, Labour Minister Vijay Prakash blasted the speculations. "They just concentrated on development agenda," he said.
When he kept fighting a lost battle
After Nitish resigned as CM, Tejashwi led a march of 100 supporters to the Raj Bhawan at 2am after Governor Keshari Nath Tripathi met Nitish, protesting the "late night change in (Tripathi's) decision". After Nitish's swearing-in, Tejashwi tweeted: "Vicious greed for power of opportunism will spell it's own doom." Now that he's out of the cabinet, we are curious to know his next move.