Delhi government looted oxygen tanker, alleges Haryana Minister Anil Vij
Delhi government looted oxygen tanker, alleges Haryana Minister Anil Vij
Apr 21, 2021, 05:01 pm
3 min read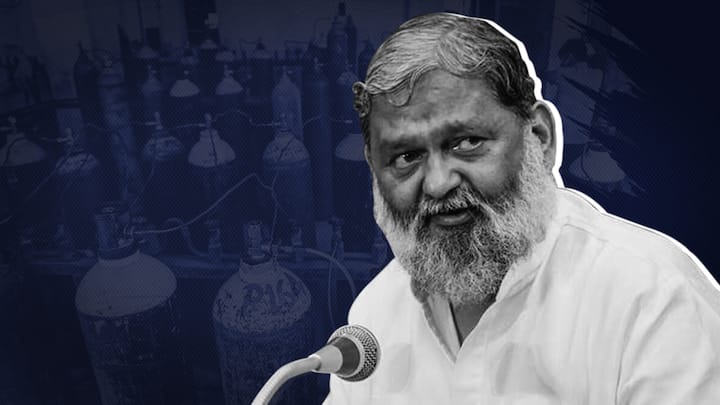 Haryana Health Minister Anil Vij on Wednesday claimed that the Delhi government stole an oxygen tanker that was on its way to Faridabad. The Bharatiya Janata Party (BJP) leader has now issued orders that all tankers will be accompanied by police personnel. Vij asserted that if state governments indulge in such alleged incidents, the entire healthcare infrastructure will suffer. Here's what happened.
Minister claimed the tanker was stopped and looted
In a clip, Vij was heard saying, "I came to know that the tanker was stopped by certain people in Delhi yesterday, while it was on its way to Faridabad for distributing oxygen to certain hospitals." There was no reaction from Delhi government on the allegation at the time of publishing. Vij also claimed that Haryana is being "forced" to give oxygen to Delhi.
Shall secure oxygen for our patients first: Vij
Vij, who also handles the Home portfolio, said the Haryana government will give priority to its patients. "Himachal was sending oxygen from its plants in Baddi to Haryana, which they have stopped. Similarly, we were also getting oxygen from Rajasthan that too has now been stopped. Thus, whatever oxygen we are generating in Haryana, we shall secure it for our patients first of all," he said.
He revealed government has taken steps to control black marketeering
Vij also claimed the government is cracking down on the black marketeering of Remdesivir. "I have deployed drug department officials. The movement of every vial will be recorded. Chemists have been informed to check the Aadhaar card before giving Remdesivir injections. We have already arrested four people," he said. He also directed Food and Drugs Administration to deploy personnel at oxygen manufacturing plants.
Separately, official claimed extra supply to Delhi would hurt UP
Like Haryana, oxygen supply has also become a bone of contention between Uttar Pradesh and Delhi. An official said, "INOX is supplying oxygen to maximum hospitals of Uttar Pradesh. An extra supply of oxygen to Delhi will create a problem in Uttar Pradesh." Chief Minister Yogi Adityanath spoke to Union Minister for Railways, Piyush Goyal, about this, the official told NDTV.
Delhi hospitals were almost out of oxygen last night
Just yesterday, a number of Delhi hospitals' officials had spoken about facing acute oxygen shortage, disclosing that their stocks would last just eight-ten hours; 24 hours in best-case scenarios. They breathed a sigh of relief when oxygen tankers reached their premises late at night. The medical facilities that got a refill were the LNJP Hospital and Sir Ganga Ram Hospital, among others.