Amit Shah releases BJP's manifesto for West Bengal election
Last updated on
Mar 21, 2021, 08:42 pm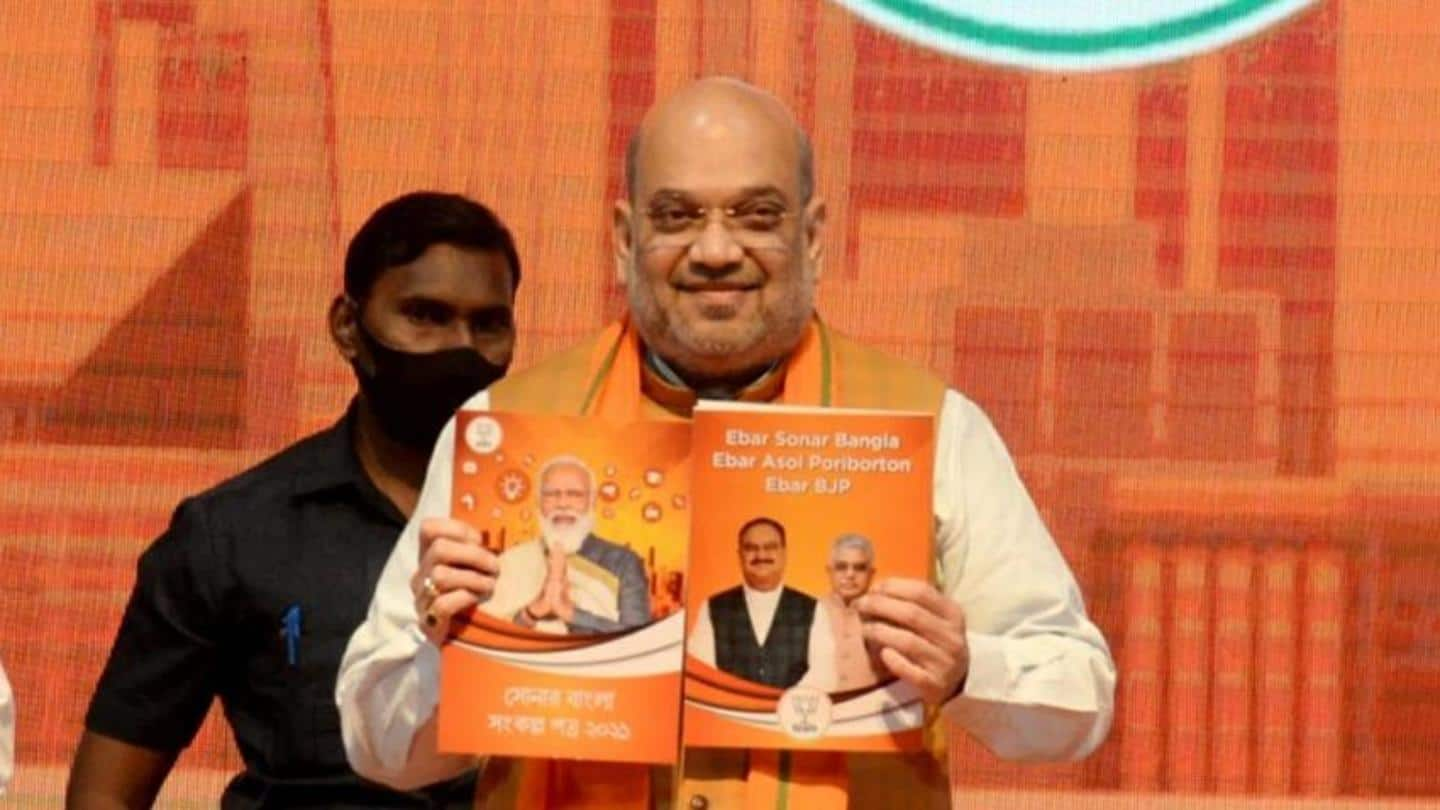 Union Home Minister Amit Shah on Sunday released the Bharatiya Janata Party's (BJP) manifesto for the Assembly polls in West Bengal.
In the manifesto, called 'Sonar Bangla Sankalp Patra 2021', the saffron party promises to implement the contentious Citizenship (Amendment) Act, reservation for women in government jobs, aid to farmers, among other benefits.
Voting for the eight-phase election is due to begin next week.
Mamata criminalized politics, institutionalized corruption: Shah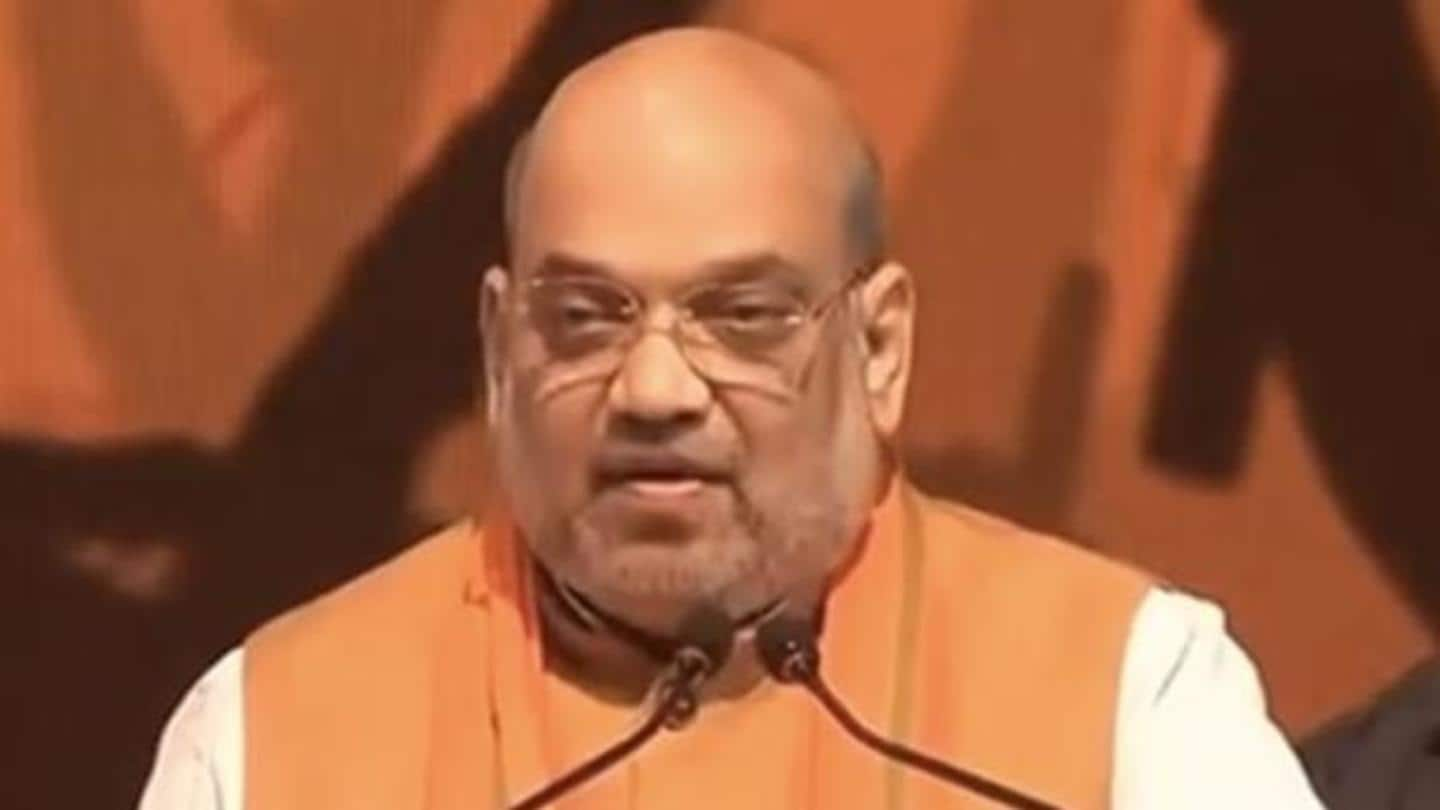 The manifesto was released at the party headquarters in Kolkata by Union Home Minister Amit Shah, BJP Bengal in-charge Kailash Vijayvargiya, and state party chief Dilip Ghosh.
Shah said that West Bengal Chief Minister Mamata Banerjee, who belongs to the Trinamool Congress (TMC), has only delivered on three fronts in the past 10 years: politicization of administration, criminalization of politics, and institutionalization of corruption.
Bengal among most unsafe states for women: Shah
Further, Shah said that Bengal had become one of the most unsafe states for women. Inaction has halted the flow of employment, he said, describing the TMC's administration as a "dark chapter in Bengal's history.
What does the manifesto say?
The manifesto promises the implementation of CAA in the first Cabinet meeting, clean drinking water, free public transport for women, and the inclusion of Mahishya, Tili, and other Hindus OBCs under the reserved status.
It promises Rs. 10,000 financial aid to refugees for the next 5 years, raising the pension for widows to Rs. 3,000, efforts to get Bengali official language status, etc.
Promises for education/employment: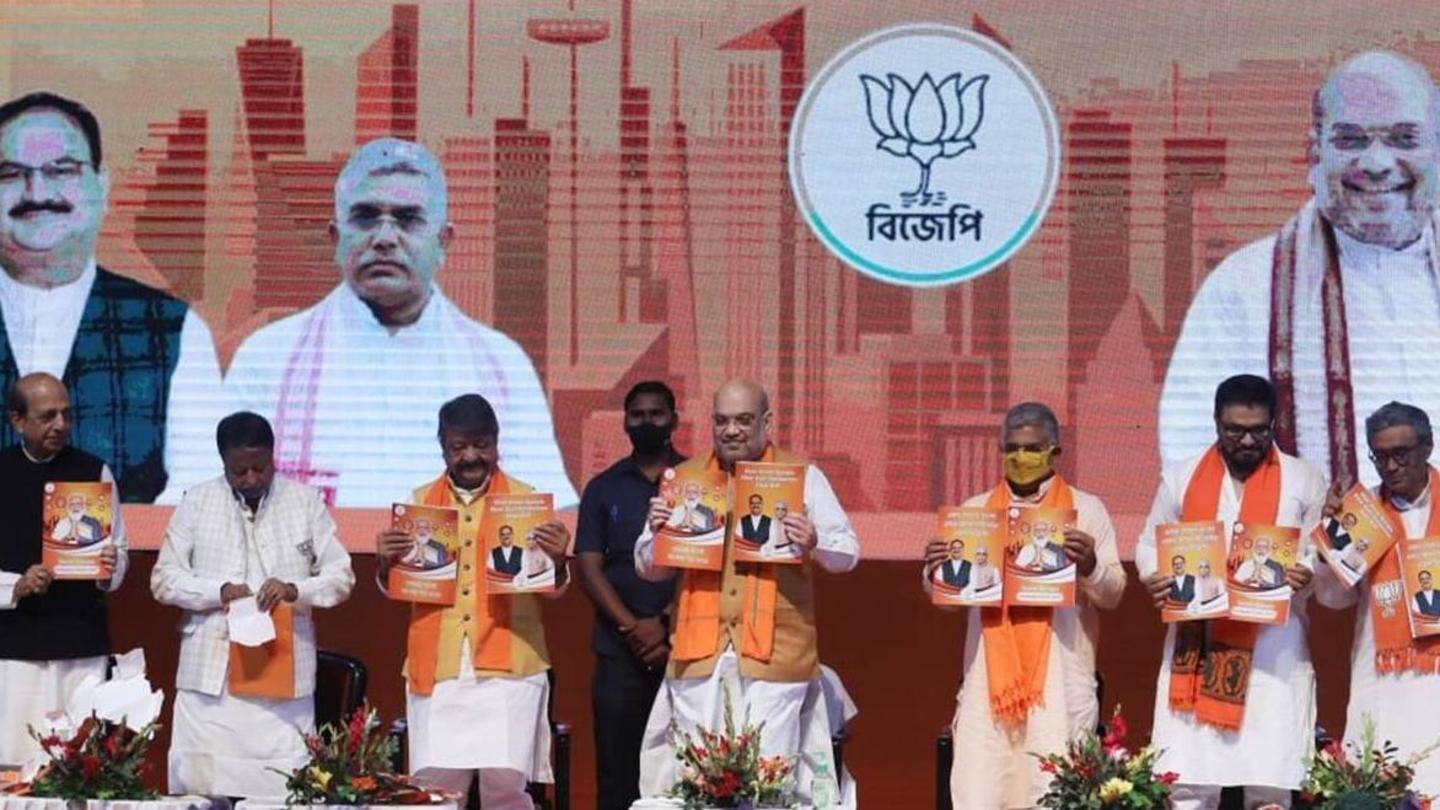 33% reservation for women in government jobs.
7th Pay Commission to be implemented.
No school fee for girls from KG to PG in government schools.
Bengali to be made mandatory in school education till Class X.
Engineering and medical course to be made available in Bengali.
Monetary support for Dalit, tribal girls' education.
Rs. 350/day wage for tea garden workers.
Promises for agriculture:
Rs. 18,000 for farmers under PM Kisan without any "cut money."
Rs. 6,000 for fishermen annually.
Rs. 5,000 crore intervention fund to ensure the right price for farm produce.
Farmer Security Fund of Rs 20,000 crore.
Kisan Credit Card to be upgraded to Rupay card.
Insurance for fisherman up to Rs 3 lakh.
MSMEs to be given loans up to Rs 10 lakh.
Promises to limit corruption: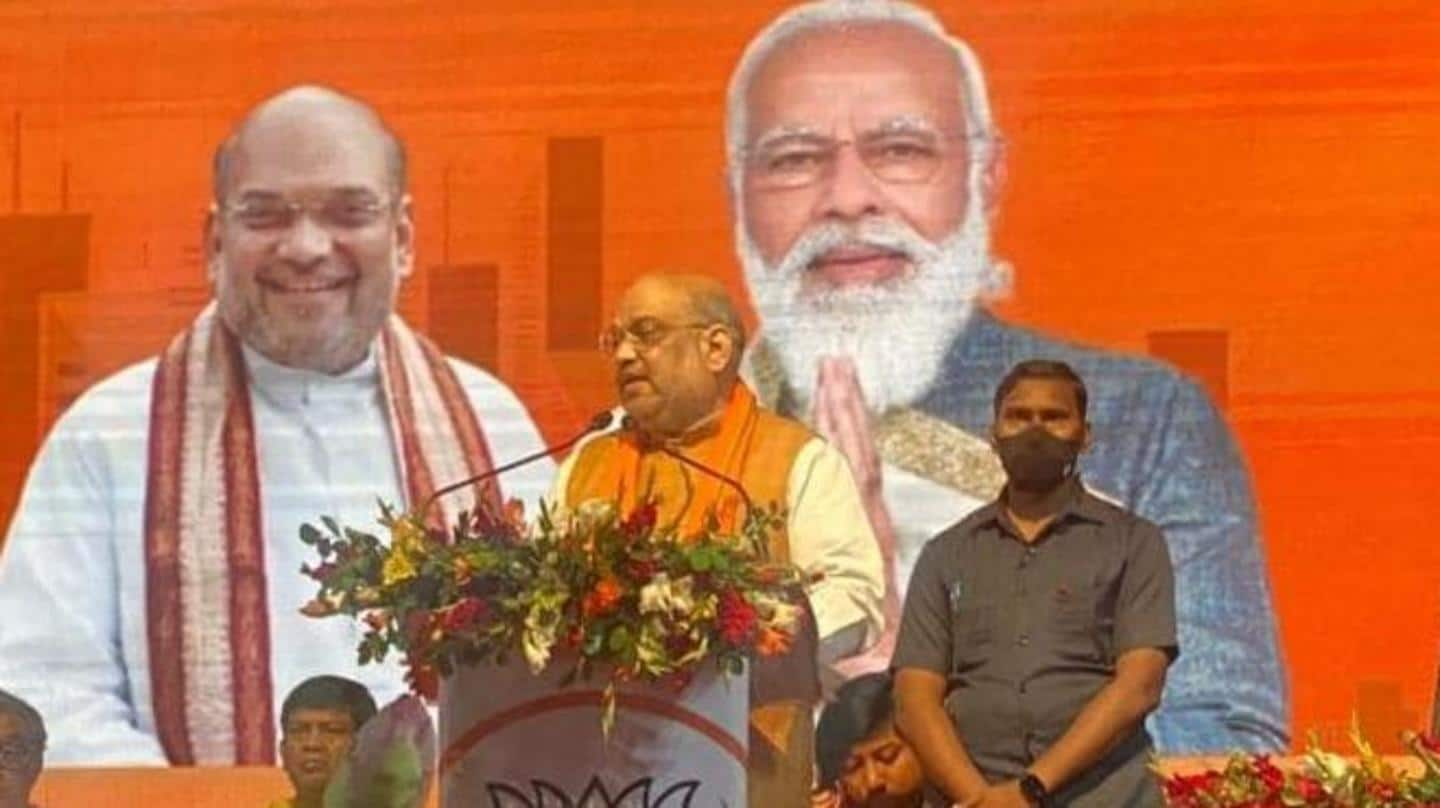 Probe into alleged corruption in Amphan and other calamities.
Anti-corruption helpline inside the Chief Minister's office.
Rs. 25 lakh for each family that has lost a member to political violence.
Task Forces to counter arms racketeering, narcotics trade, land grabbing, fake currency circulation, cattle smuggling.
No more charge of Rs. 100-500 for SC/ST caste certificates in Bengal; process to be digitized.
Here are some other highlights: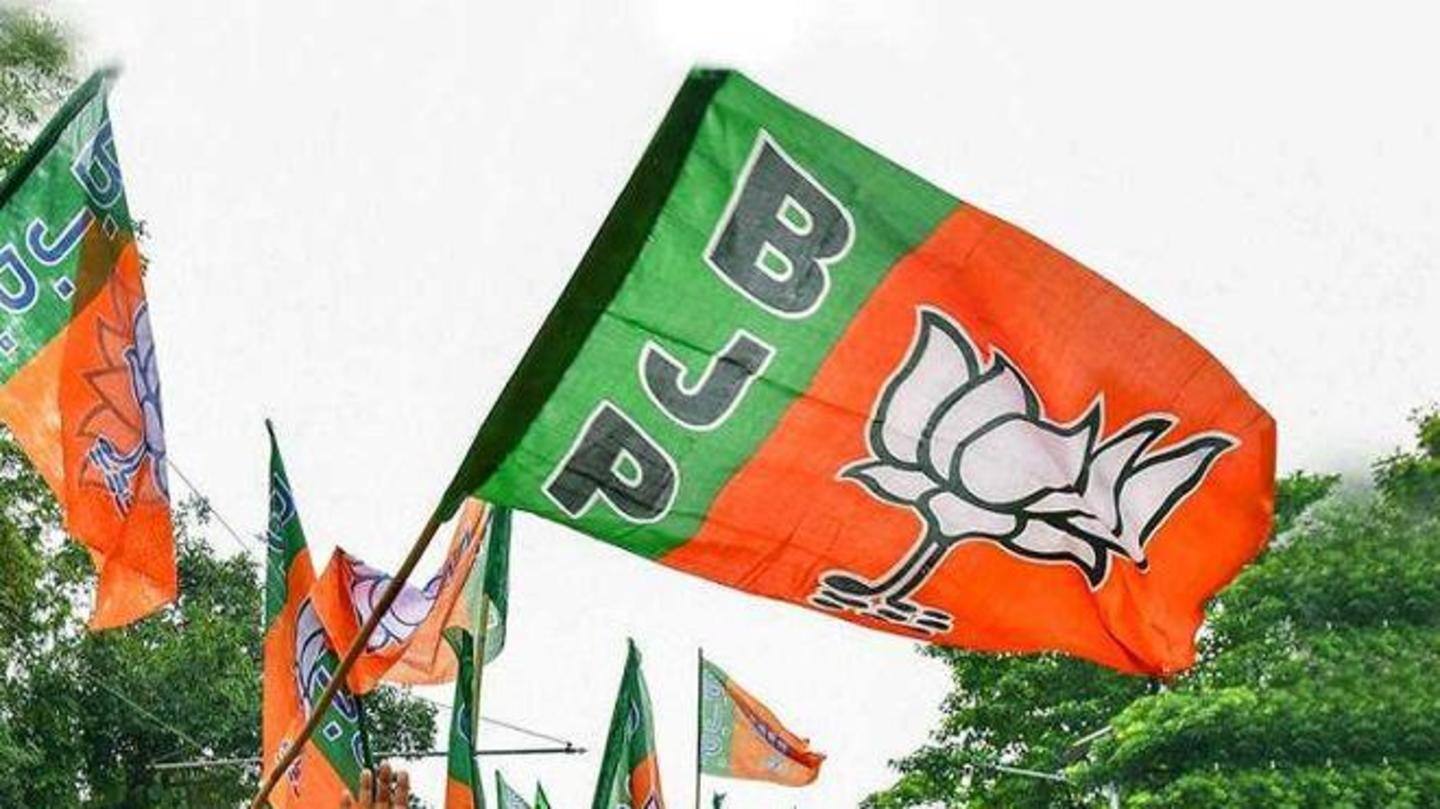 The development of Bagdogra International Airport.
Proposal for Netaji Expressway between Kolkata and Siliguri.
Sonar Bangla fund worth Rs 11,000 crores to promote art, literature.
Up to Rs. 50 lakh loan for hospital sector (interest-free for 3 years)
No roadblocks toward celebrating Saraswati Puja, Durga Puja.
Three new AIIMS in West Bengal (North Bengal, Jangal Mahal, and Sunderban).