Brahmins know Hinduism: Congress-leader's comments on Modi's caste spark row
Brahmins know Hinduism: Congress-leader's comments on Modi's caste spark row
Nov 23, 2018, 01:07 pm
3 min read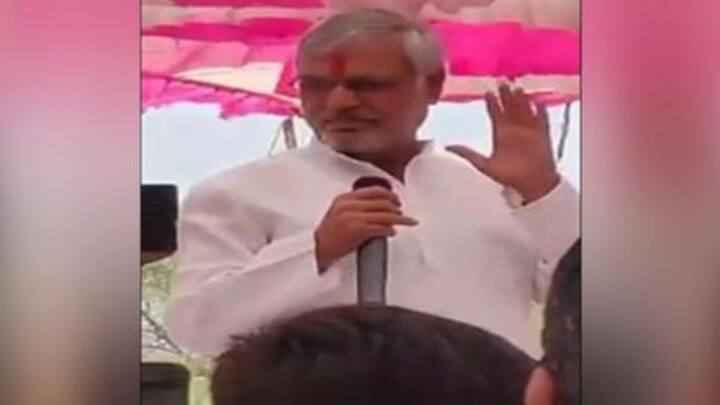 Congress has found itself in yet another controversy after senior leader CP Joshi said only Brahmins are learned enough to speak on Hinduism. He said a weird trend was underway in the country where people from 'different religions' spoke about Hinduism, and then went on to question the roots of Prime Minister Narendra Modi and senior BJP leader Uma Bharti. Here's what happened.
Joshi certifies who is allowed to talk about Hinduism
In a video, which was shared by BJP MLA Harsh Sanghavi, and has since gone viral, Joshi can be seen addressing a gathering. He said, "Uma Bharti, who belongs to the Lodi samaj, is talking about Hindu religion. Sadhvi Ji also belongs to a different religion and is talking about Hindu religion. Narendra Modi too belongs to some other religion and talks about Hinduism."
Brahmins have lost their minds, claims Joshi
"If anyone is qualified to speak on religion it is the Pandits, intellectuals, and the brahmins. There is a weird trend in the country where people from different castes are speaking on Hinduism. In the last 50 years, brahmins have lost their mind," he said.
After flak, Rahul Gandhi hopes Joshi will apologize
After the video went viral, Joshi received flak from all quarters and he rushed to say the words were misinterpreted by the BJP. Notably, Congress President Rahul Gandhi didn't approve of Joshi's choice of words. "I am sure Joshi Ji will realize his mistake, keeping party's principles in mind," Gandhi said according to HT. The comments could hurt Congress before Rajasthan elections.
The video everyone's talking about
Shameful statement by Congress Leader CP Joshi. Implies what does a lower caste person like Modi know about Hinduism as only Brahmins are true custodians of Hinduism ! pic.twitter.com/JKhoKdYnnx

— Harsh Sanghavi (@sanghaviharsh) November 22, 2018
Separately, Raj Babbar's remarks on PM Modi's mother stroke controversy
While the Congress was still reeling from Joshi's statement, a comment from another senior leader of the party created an uproar. Uttar Pradesh Congress Chief Raj Babbar said PM Modi equated falling rupee with former Prime Minister Manmohan Singh's age in the past. "Today, the rupee's valuation has dropped so low, that it is inching closer to your beloved mother's age," Babbar said.
Babbar claims Congress never opposed Ram Mandir but BJP failed
Babbar then said his party was never opposed to Ram Mandir and felt that even Muslims want a temple in the disputed land of Ayodhya. He claimed the BJP had no passion for Ram Mandir and brought up the issue ahead of elections. "It (BJP) promises to build the temple but will not tell the date," Babbar said in Indore.
Babbar gets criticism for commenting on PM Modi's mother
Taking strong offense at Babbar's remarks, Gujarat CM Vijay Rupani said, "Congress is stooping low, below its dignity and making nasty comments. Comparing Rupee vs Dollar to the age of Modi Ji's mother shows his (Raj Babbar) mentality. He should immediately issue an apology."
Meanwhile, #ShameCongressShame trends on Twitter
Joshi and Babbar's comments gave BJP's cheerleaders chance to slam Congress and #ShameCongressShame remained a top Twitter trend. @joganiya_ wrote: Congress is responsible for Dalits pathetic situation because Congress used Dalits as a vote bank, they never bothered about their upliftment. And @rathinikunj tweeted: It seems @RajBabbarMP is living his reel life. The kind of statement made by him about PM's mother cannot suggest anything else.