Meet Dushyant Singh Chautala, the kingmaker of Haryana
Meet Dushyant Singh Chautala, the kingmaker of Haryana
Oct 24, 2019, 12:09 pm
3 min read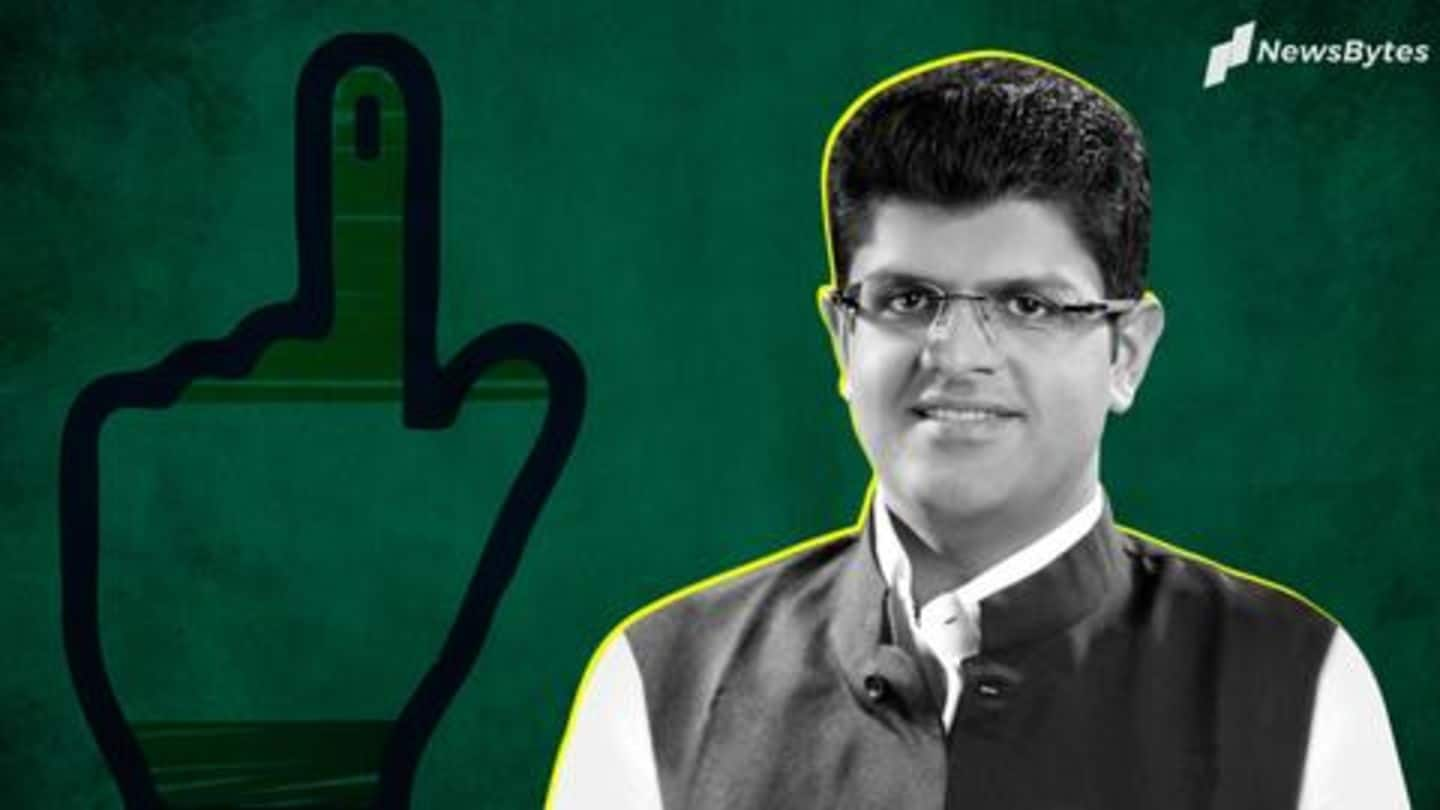 In Haryana, a young Turk, Dushyant Singh Chautala is holding the cards for the Assembly. The founder of the Jannayak Janata Party (JJP), who is merely 31 years old, is being courted by both Congress and BJP, as none of the bigger parties will get a clear majority. But who is Chautala, and how has he emerged as a force to reckon with?
Chautala comes from a family of politicians
Chautala comes from one of the most influential political families of Haryana. He is the grandson of former CM Om Prakash Chautala and the son of former MP Ajay Chautala and politician Naina Singh Chautala. He has studied from California State University and holds a Master of Law degree from National Law University. He married Meghna Chautala in 2017.
Chautala's party was warmly welcomed by people of Haryana
Chautala holds a record for being the youngest MP. But, in 2018, he was expelled from Indian National Lok Dal; he then formed JJP. His expulsion and formation of the new party became an unprecedented event. The rally, which he addressed in Jind, was attended by 6 lakh people. Something similar happened in 1986 when his great grandfather Devi Lal had addressed a public gathering.
For people of Haryana, Chautala is Devi Lal's "heir"
Now, Chautala's grandfather Om Prakash favored his uncle Abhay in the family rift, which led to his expulsion from INLD. But the welcome which Chautala got showed that Haryana residents treat him as the true blue heir of Devi Lal. In the run-up for polls, his party's cadres campaigned on streets and went door to door to tell people why JJP is an option.
According to Chautala, he didn't inherit love, he earned it
Though the motto of JJP cadres remained: Dushyant nahin kamaal hai, doosra Devi Lal hai, the politician had other thoughts. "Nobody can inherit love, trust, affection of the people. It is earned," he told ET last week. Chautala also reminded that his party's vote share swelled in Lok Sabha polls, and INLD's dipped. He had said the results of Assembly polls would be better.
Using cricket analogy, he asked people to not underestimate him
"Remember when Afghanistan debuted in the cricket world cup? Nobody thought they could play, and they reached the quarterfinals. We are also a young party. You would be surprised how well we do in the assembly election," Chautala added.
Earlier, Chautala expressed faith in people of Uchana constituency
Chautala is fighting against sitting BJP MLA Prem Lata from the Uchana Kalan seat. Accepting that it's a tough contest, considering the constituency is BJP's stronghold, he told IE, "In the current situation, I believe, people want change. For the last 11 years, I have worked with the people of Uchhana and their love will make us win the seat with a huge majority." And he is leading!
Chautala's agenda is clear: He wants the CM chair
With the picture almost clear, Chautala is being wooed both by BJP and Congress. As per reports, Congress President Sonia Gandhi has given senior leader Bhupinder Singh Hooda a "free hand" to bring him on board. With all eyes set on him, Chautala made his plans clear. He wants to become CM and will support the party which fulfills his dream.