Why new-CM BS Yediyurappa is indispensable for BJP in Karnataka
Why new-CM BS Yediyurappa is indispensable for BJP in Karnataka
Jul 28, 2019, 02:55 pm
4 min read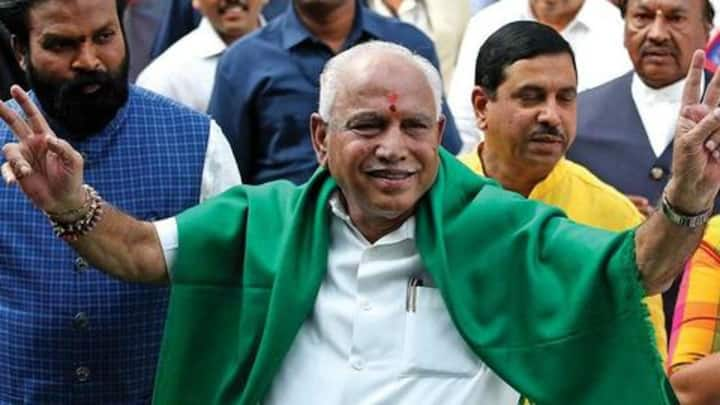 BS Yediyurappa (Yeddyurappa until recently) was sworn-in as the Chief Minister of Karnataka on Friday, for the fourth time. However, uncertainty still looms the government- Yediyurappa doesn't have the numbers as of now, and horse-trading allegations haven't really died down. Despite all this, he got BJP's high command's blessings and he took the oath. But why is Yediyurappa indispensable for the saffron party?
Born in Bookankere, Yediyurappa spent life in Shivmogga
Though he was born in Bookankere, a small village in Mandya district, Yediyurappa's karmabhoomi is Shivmogga, where he came to work with RSS, BJP's ideological parent. After his graduation, he worked as a clerk in Karnataka's social welfare department. In 1965, he joined Shankar Rice Mill as a clerk and two years later married the owner, Veerbhadra Shastri's daughter Mythra Devi.
As time passed, Yediyurappa grew within RSS ranks
Yediyurappa set up a hardware store in Shikaripura, and eventually turned towards politics. He became secretary of RSS unit in Shikaripura in 1972, and was elected to Shikaripura Municipal Council in 1973. During 1975 Emergency, he spent 45 days in prison. In 1977, when Jana Sangha merged with Janata Party, Yediyurappa was made the chief of Janata Party's Shivamogga unit.
Yediyurappa won assembly elections from Shikaripura seven times
As per political aficionados, three major movements cemented Yediyurappa as the formidable political force in Karnataka-- 1977 rehabilitation of bonded laborers, the early 80s movement of Bagar Hukum (landless laborers), and a cycle yatra during 1987 drought. He has been elected as MLA from Shikaripura a record seven times (only losing in 1999) and represented Shimoga in Parliament from 2014 to 2018.
Interestingly, Kumaraswamy had foiled Yediyurappa's CM ambitions in 2007
Yediyurappa became Karnataka's CM for the first time in 2007, albeit for just seven days. Back then, HD Kumaraswamy's JD(S) and BJP had stitched an alliance. As per the agreement, Kumaraswamy was supposed to remain CM for 20 months, and Yediyurappa for 20. When Kumaraswamy's turn to give up power arrived, he resisted. Subsequently, Karnataka remained under President's rule for five months.
In 2008, Yediyurappa finally sat on CM's chair for months
Both JD(S) and BJP ironed out their differences and Yediyurappa sat on CM's chair on 12 November 2007. On November 19, he was forced to resign after Kumaraswamy refused to lend support to him over ministry allocations. In 2008 assembly polls, Yediyurappa finally tasted fruits of his labor as BJP formed government in the state. Then in 2011, his dreams came crashing down.
Indicted in illegal mining case, Yediyurappa resigned
At the peak of his political career in 2011, the Karnataka Lokayukta indicted Yediyurappa in an illegal mining case. BJP's central leadership asked him to step down, and he did. Few months later, he was sent to jail for 23 days in another case of illegal de-notification of land. For many, this could have been the end of a political career, but Yediyurappa didn't stop.
Yediyurappa exited BJP, formed new party, returned "home"
In 2013, Yediyurappa floated his own Karnataka Janata Paksha party. When assembly polls were held in 2014, BJP won just 40 seats, proving that without Yediyurappa the party couldn't maintain a stronghold in the state. A year later, he returned home, by merging his party with BJP. In 2016, he was made the state chief of Karnataka and Chief Ministerial candidate in 2018.
The tallest Lingayat leader, Yediyurappa influences masses
Yediyurappa is the tallest Lingayat leader in the state. The Lingayat community influences close to 80-100 assembly seats in Karnataka, and this was proved once again when BJP emerged as the single-largest party in 2018 assembly polls. Interestingly, Yediyurappa is 76 years old and the unsaid retirement age in BJP is 75. But both Amit Shah and Narendra Modi know Yediyurappa is an exception.
Yediyurappa rose from ashes, and now has everyone's support
Yediyurappa is credited for increasing BJP's vote share from 7% in 1989 to 37% in 2018. He also changed BJP's image from being an upper-caste/class party to one which works for the oppressed. Since he was forced to resign in May 2018, Yediyurappa had his eyes set on the CM office, and even after "Operation Lotus" failed many times, he didn't flinch. And now, BJP can't think of remaining in power in Karnataka without Yediyurappa.