A hacker just installed Windows 10 on a calculator
A hacker just installed Windows 10 on a calculator
Written by
Shubham Sharma
Nov 11, 2019, 06:10 pm
2 min read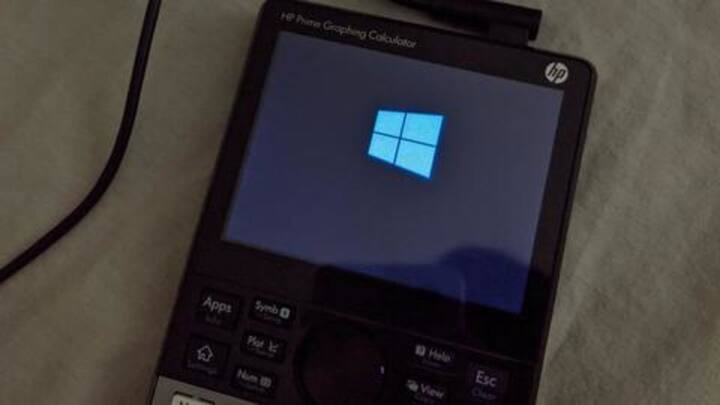 Many techies have a knack for 'reinventing' gadgets with new tricks, workarounds. A few months back, a guy made a personal computer out of pasta, and now, in another surprise, a developer has hacked a calculator to run Windows 10. And while this calculator wasn't an ordinary one, the feat is just amazing. Let's see how he did it.
Hacking calculator to install Windows 10 IoT Core
The developer, who goes by the name Ben, shared a series of images on Twitter revealing the effort to put Windows 10 IoT (Internet of Things) edition on a calculator. He didn't specify the exact steps but the installation was ultimately successful as he shared a couple of images showing the boot menu of the OS running on the tiny device.
What kind of calculator he used?
As basic/scientific calculators aren't capable enough to support Windows 10, Ben used a slightly more powerful HP Prime Graphing Calculator for the installation. At first, his technique didn't work due to the small screen of the device and resulted in a pre-OS error while booting. But, the second attempt was successful, giving him access to Windows Boot Manager and Windows 10's boot UI.
Here's what the developer tweeted
Windows 10 IoT Core has been designed for small-screen devices
The researchers used Windows 10 IoT for the task as it doesn't offer a full Windows Shell experience and is more suitable for small devices, regardless of the type of screen they sport. The OS has been designed to work with any small embedded system, which means you can run it on anything like GLAS Thermostat and Raspberry Pi to an automatic door lock.
More work to be done on the calculator
As of now, the developer has just been able to run Windows 10 IoT on the calculator. In order to get a complete experience, he needs to move past the boot menu and get to the desktop. There is no tweet indicating this development, but if the project progresses as planned, we may soon get a launch update, even the installation of UWP apps.