Boeing's self-flying car nails first flight, inches closer to launch
Boeing's self-flying car nails first flight, inches closer to launch
Jan 24, 2019, 12:34 pm
2 min read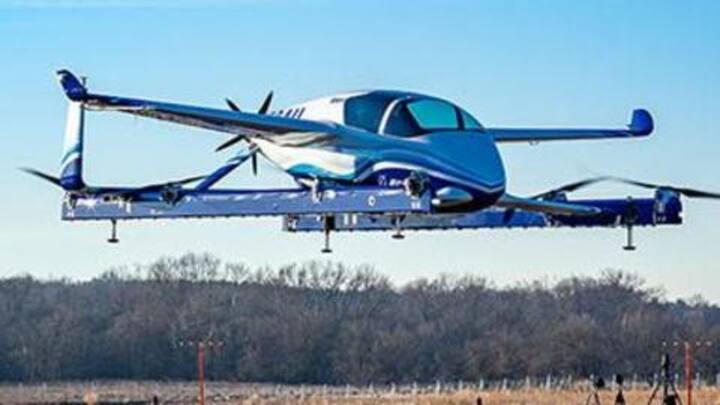 Just as several tech giants, including Airbus and Larry Page's Kitty Hawk, continue to develop their flying car projects, Boeing has achieved a major breakthrough in the space. The aerospace company has completed the first flight of its autonomous air vehicle, inching a step closer to a future where flying taxis would be ferrying people across the city. Here's more on it.
Vertical take-off, landing capabilities verified
In the first flight, Boeing tested take-off and landing capabilities of its autonomous passenger air vehicle (PAV). The prototype, powered by an electric propulsion system, lifted-off on its own, hovered for a while, and landed back on the ground, verifying its autonomous and ground control systems. This marks a major feat for the company as a year ago PAV was nothing but a concept.
Here's a clip of the test
PAV will make 'urban air mobility' possible
Though this is just the first test, Boeing hopes its fully-autonomous air vehicle will make urban air mobility a real thing. The company believes its self-flying cars, when ready, would be able to ferry passengers, even cargo, across the city by flying over congested roads and dodging massive skyscrapers. With a maximum range of 80km, this could be extremely handy in evading traffic situations.
Boeing is also working on cargo air vehicle
Along with the passenger air vehicle, Boeing has also been working on a cargo air vehicle, which could take off with as much as 220kg of load. The CAV passed its indoor test last year and is slated to be tested outdoors in 2019.
For now, Boeing plans to close in on its ultimate goal by completing additional flight tests in the near future. As part of this, the aircraft manufacturer will conduct forward and wing-borne flights of the 30-feet-long passenger air vehicle. It will also advance the vehicle's safety systems and test how it transitions between vertical and forward-flight modes.
When will Boeing launch this vehicle?
Boeing is moving ahead with advancement and testing phase of its passenger air vehicle prototype. As such, the work is still in progress and there's no exact timeline for when we might see an actual self-flying taxi in the sky. Notably, it is not just Boeing in this race; Larry Page's Cora, Airbus, and several Chinese firms are also working on flying car projects.