This laptop by Expanscape has seven screens
This laptop by Expanscape has seven screens
Written by
Chandraveer Mathur
Feb 10, 2021, 12:03 pm
3 min read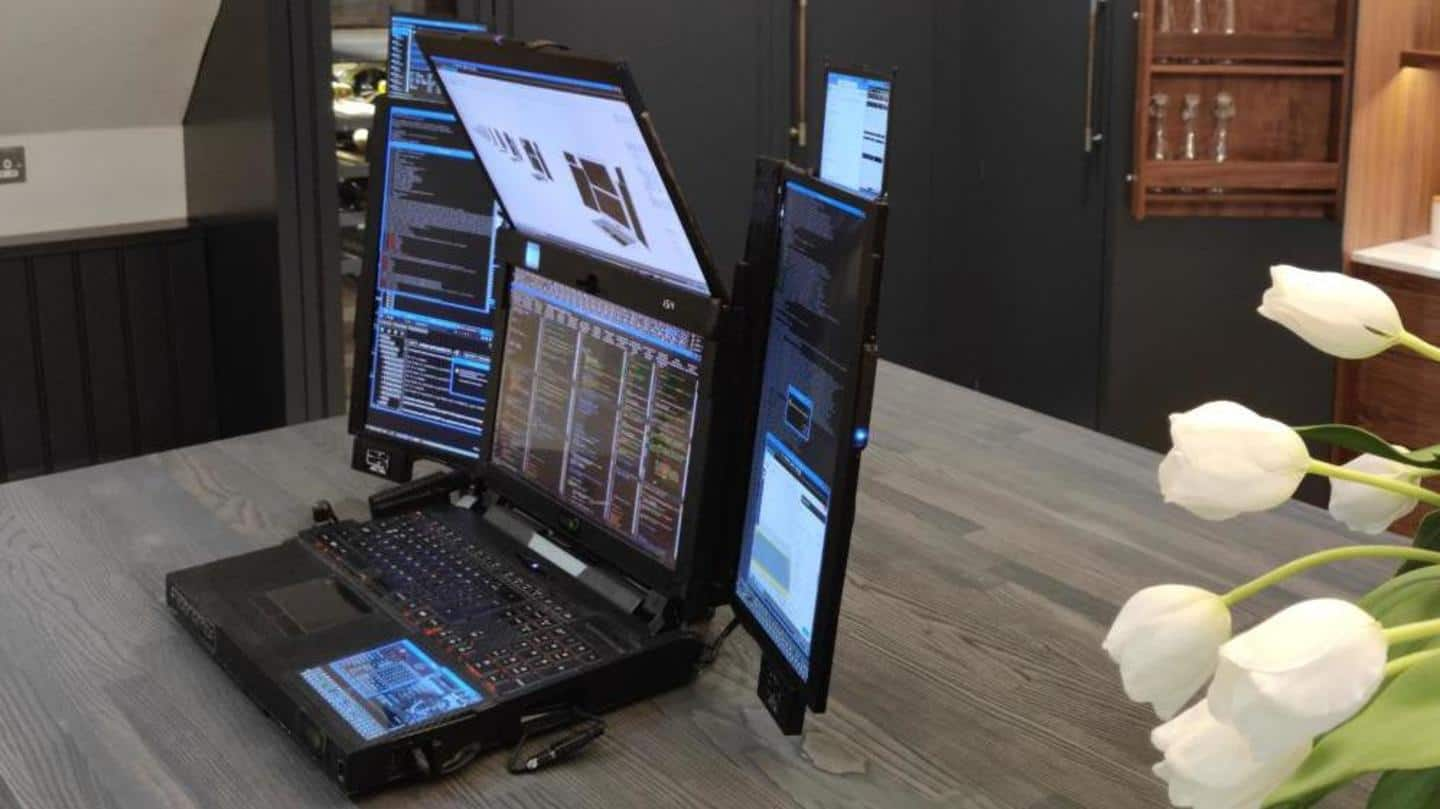 London-based company Expanscape has created a seven-screen laptop prototype called the Aurora 7. The meaty laptop weighs 12 kilograms, packs four 4K displays and three smaller screens. Internals include an eight-core 16-thread Intel i9-9900K processor, 64GB DDR4 2666MHz RAM, and an NVIDIA GTX 1060 graphics card to drive the 4K displays. Expanscape claims one hour battery life with the i9 locked at 2GHz.
Aurora's four 4K displays support 100 percent Adobe RGB colorspace
The Aurora has four 4K displays measuring 17.3 inches. The VA panels reach peak brightness of 400 nits. Two of these are in landscape mode, flanked on either side by two more in portrait. Smaller 7 inch auxiliary displays can be seen just above the vertical 4K screens. A seventh display is integrated into the wrist rest, while Expanscape essentially forgot about the eighth.
Feature-rich connectivity, with provision for another external 4K display
A tiny 1.44-inch mini display is integrated for system monitoring. The bezel also houses a 2MP webcam. The desktop, erm...the Aurora 7 features a fingerprint reader, two Wi-Fi adapters, Bluetooth 4.2, three USB 3.1 Gen1 ports, one Thunderbolt port, and one HDMI 2.0 out. The HDMI 2.0 display output could come in clutch if eight screens don't suffice for some crazy reason.
Aurora features modified Z170 chipset motherboard, one hour battery life
The components interface with each other via an Intel Z170 chipset motherboard. It has been heavily modified to support the i9 processor, HDMI 2.0 port, and the Thunderbolt port. The mobile workstation lasts an hour with the i9-9900K capped at 2GHz. This deteriorates to a measly 28 minutes at 4GHz. Expanscape says it preferred the 1060 GPU for its moderate power draw.
Aurora's 12 kilograms bulk means it isn't exactly travel friendly
The Aurora packs an 82Wh primary battery and a 148Wh secondary battery exclusively for the screens. This disqualifies it for flights, as per FAA guidelines. Regulations aside, it is not too convenient to carry either. Folded down, you are looking at an 11 centimeter thick display sandwich that weighs around 12 kilograms. And, you'll also need two power adapters to use it plugged in.
Expanscape's prototype mobile security operations workstation could get upgraded internals
Expanscape calls this a "mobile security operations workstation". The massive heft of the device also provides unintended physical security, because anyone determined enough to steal something this massive would have better luck with the ATM machine instead. Expanscape says it plans to use an NVIDIA RTX 2070 paired with an Intel i9-10900K or a Ryzen 9 3950X.
You could buy Aurora prototypes if you sign an NDA
Expanscape's Aurora seems to have borrowed the name from Alienware's Aurora series and the central concept from Razer's three-screen Project Valerie laptop. However, the company will actually sell this monstrosity to buyers willing to sign an NDA about the price. The device may still have carbon-fiber vinyl around the edges that scream prototype, but nothing comes remotely close to the uniqueness of this product.