Apple's Find My app can now locate non-Apple products too
Apple's Find My app can now locate non-Apple products too
Written by
Chandraveer Mathur
Apr 20, 2021, 05:22 pm
3 min read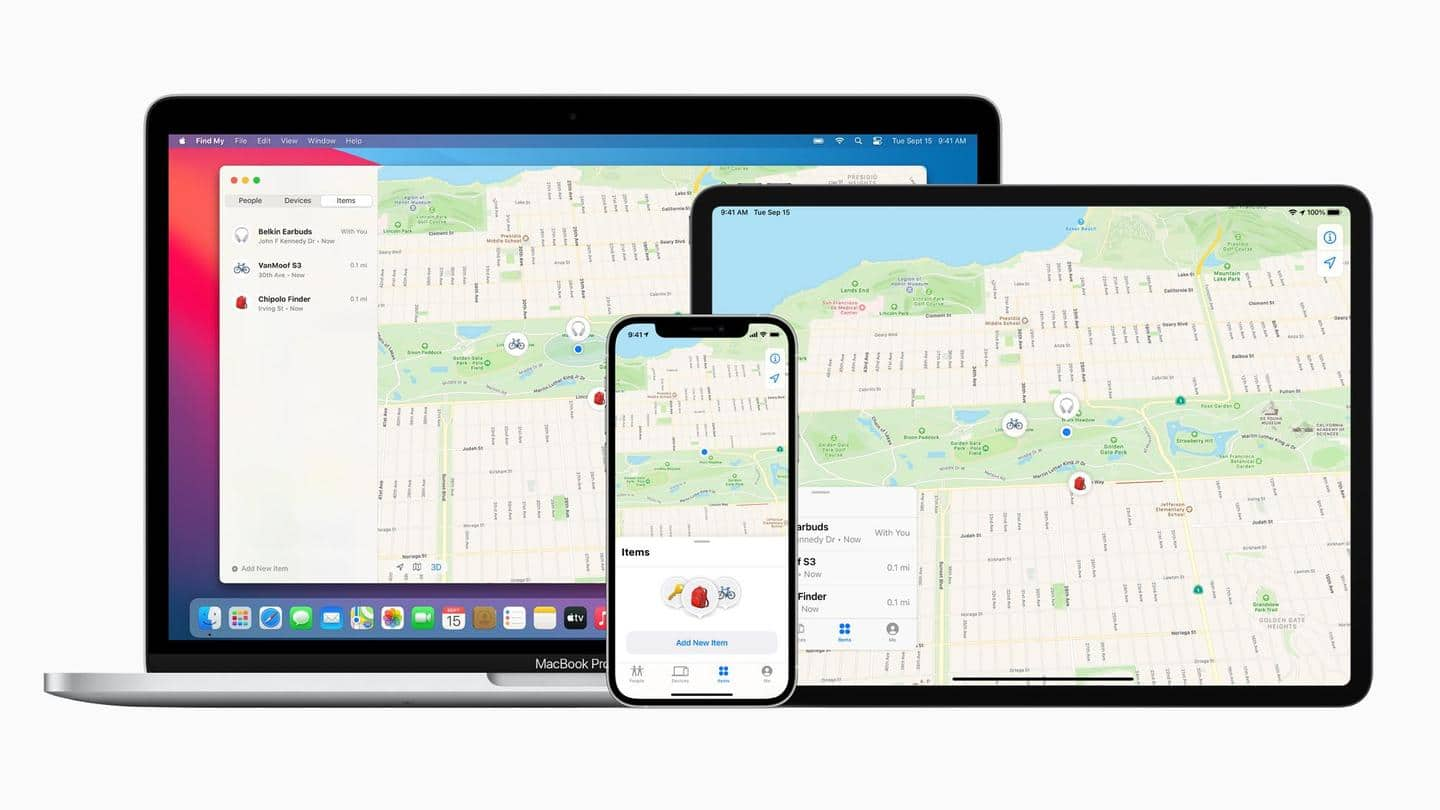 Tech giant Apple has recently announced that the Find My app and its underlying Find My network will expand to include third-party accessories and products. A new Items tab has been added to the app where users can keep track of their belongings and locate them when lost. Here's all you need to know about it.
Find My network is crowdsourced, relies on Bluetooth technology
Since Apple introduced the Find My app with the iPhone 3GS in 2009, its capability has grown from tracking lost iPhones to being able to locate almost any Apple product. The crowdsourced Find My network relies on Bluetooth to detect lost devices nearby and anonymously relay their approximate location back to the owner. Apple claims that the process is secure and end-to-end encrypted.
Accessory developers must follow Apple's guidelines to incorporate Find My
Now, the Find My network accessory program enables any accessory developer to enlist an existing or new product on the Find My network. However, the product must follow Apple's guidelines on privacy, encryption, and tracking protection. The devices also include a speaker to play locating sounds triggered from the app. These third-party Find My-enabled accessories can be linked to the owner's Apple ID.
Apple's 2020 WWDC promise made good just before 2021 event
Apple announced plans to extend the Find My network's functionality to third-party devices at its Worldwide Developers Conference (WWDC) last year. With the company finally implementing this, it's likely that Apple will announce its long-awaited tracking product called AirTags at the upcoming WWDC in June.
Lost Mode helps Find My network users locate missing devices
To note, on the Find My app, device owners can enable a Lost Mode for items. When others on the Find My network come within proximity of the lost device, it can display a note in the app with contact details. Someone who finds a lost item can use the Identify Found Item section on their Find My app to report it as found.
Apple's Ultra Wideband specification guidelines could improve Find My's accuracy
Apple also announced a draft specification for chipset manufacturers, so third-party devices can leverage Ultra Wideband technology (UWB) in Apple devices to make locating more precise. For now, VanMoof's S3 and X3 e-bikes, Belkin's SOUNDFORM Freedom True-Wireless Earbuds, and Chipolo's ONE item finder can be located using the Find My app. More devices with Find My-compatibility badging will be launched soon, Apple said.
High-precision location is just one of UWB tech's capabilities
Apple was the first to bring UWB technology to consumer-grade hardware through the iPhone 11's U1 chip. Besides high-accuracy location, the tech can do a lot more. UWB is essentially a short-range, high-speed, and high-data-rate communication protocol that operates through radio waves. Cutting-edge military applications use UWB for ground-penetrating radars (GPR), targeting smart munitions at mobile targets, detecting IEDs, and for seeing through walls.