Huawei patents smartphone design with triple-lens rotating camera
Huawei patents smartphone design with triple-lens rotating camera
Dec 23, 2019, 12:24 pm
2 min read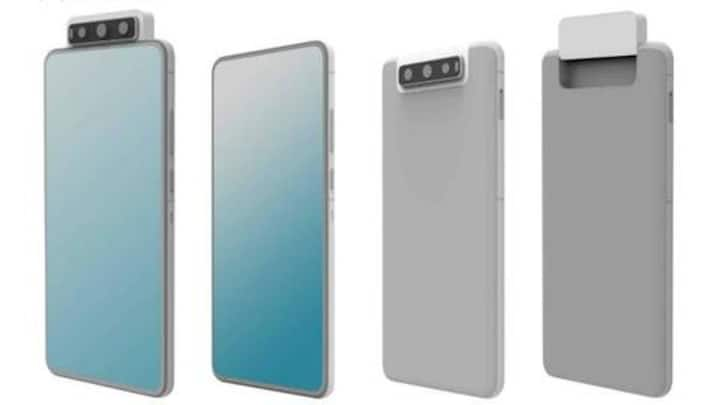 Huawei is working on a new smartphone that will have a rotating camera mechanism to offer a full-screen design, similar to the likes of ASUS 6Z and Samsung Galaxy A80. As understood by the patent filed by the Chinese tech giant, the camera module will automatically pop-up and rotate to serve as a front-facing camera for high-quality selfies, vlogging, and video calling.
Everything we know about the patent
According to LetsGoDigital, Huawei had filed the design patent in China on January 9 this year and it got approved last week on December 17. The patent is published in the WIPO Global Design Database, revealing the full design features of the upcoming Huawei phone.
This is how the phone will look like
The patent images show a notch-less, bezel-less smartphone with a triple camera setup. The camera unit will use a rotating mechanism that will allow the triple-lens setup to automatically flip 180-degree and serve as a front-facing camera. Going by the current trends, the camera system should comprise a standard lens, an ultra-wide-angle lens, and a dedicated zoom lens.
This design has its own advantages and disadvantages
Since the camera module will automatically pop-up and rotate to serve as a front-facing camera, the different lenses will not only offer high-quality selfies but also a versatile perspective (standard, wide, and zoom). Moreover, the camera will also allow for well-stabilized 4K vlogging and hi-definition video calling. As for cons, the entire setup will be more prone to breakage, given the moving parts.
Huawei P Smart Z to debut this design?
According to rumors, the Huawei P Smart Z, which is reported to be launched in 2020, will debut this rotating camera set-up. However, there is also a possibility that Huawei's sub-brand Honor will first implement this design on one of its upcoming smartphones.