SpaceX awarded contract to build lander for manned lunar mission—Artemis
SpaceX awarded contract to build lander for manned lunar mission—Artemis
Written by
Chandraveer Mathur
Apr 18, 2021, 06:58 pm
3 min read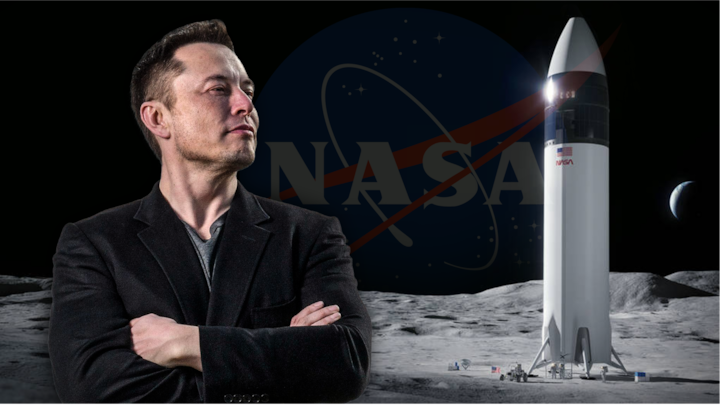 The National Aeronautics and Space Administration (NASA) has chosen Elon Musk's SpaceX to build the lunar lander for the Artemis mission. NASA announced that it had awarded SpaceX a $2.9 billion grant for the lander's development. The contract outlines one uncrewed flight and one crewed lunar landing. NASA said it would initiate talks for subsequent landings under a follow-up program next week.
Two astronauts would explore the moon's surface for a week
The Artemis mission plans to launch four American astronauts into lunar orbit using the Orion spacecraft. There, two astronauts would transfer into SpaceX's human landing system (HLS) for a journey to the surface of the moon. After spending a week exploring the moon, they would board the HLS and reunite with the Orion crew to come back to Earth.
Artemis will send the first woman to the moon
NASA has said that the goal of the Artemis program is to make history by sending the first woman and the first person of color to the moon. So far, only white men have landed on the moon. Meanwhile, SpaceX must successfully perform an uncrewed flight before the manned mission. NASA is expected to ink the deal with SpaceX on May 1.
SpaceX picked over defense contractor, Jeff Bezos's Blue Origin
In a major victory for SpaceX, the company was the sole awardee for NASA's contract which is usually shared by two companies. This gives NASA a contingency plan in case one company doesn't deliver. SpaceX triumphed over a defense contractor called Dynetics and Jeff Bezos's Blue Origin. Unsurprisingly, the latter lost despite partnering with established aerospace companies such as Northrop Grumman and Lockheed Martin.
Two-phase Artemis mission's human spaceflight phase planned for 2023
Notably, both Northrop Grumman and Lockheed Martin have been repeatedly penalized for negligence, corruption, and overspending taxpayer money while executing federal contracts. Artemis will be NASA's first manned lunar mission since Apollo 17 in December 1972. The Artemis 1 unmanned mission will launch later this year and the Artemis 2 manned mission is planned for 2023.
SpaceX, NASA also partnering for upcoming Crew-2 mission to ISS
The fact that SpaceX's Starship HLS won the contract despite recent explosions during testing is also a testament to NASA's unwavering faith in SpaceX's technical acumen and its ability to eventually deliver. Meanwhile, NASA and SpaceX are partnering on another Commercial Crew endeavor. The Crew-2 mission will launch on April 22 from Kennedy Space Center and send four astronauts to the International Space Station.