Samsung's first foldable smartphone is coming sooner than you expect
Samsung's first foldable smartphone is coming sooner than you expect
Edited by
Ramya Patelkhana
Sep 05, 2018, 12:22 pm
2 min read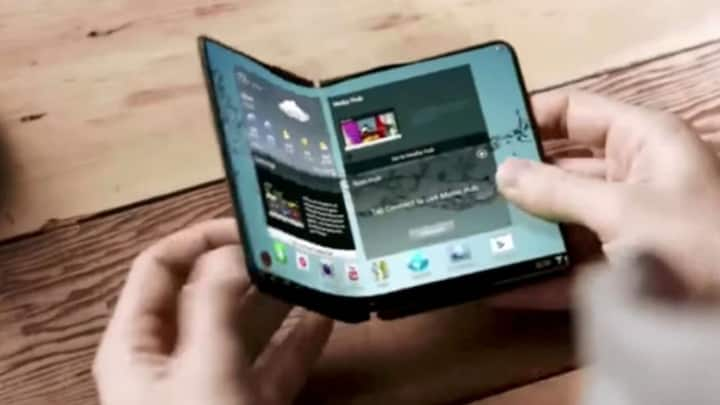 Samsung's first foldable smartphone, dubbed as Galaxy F, could be unveiled as early as November this year, according to DJ Koh, CEO, Samsung Mobile. This development comes weeks after reports suggested that the phone will be launched in early 2019. Koh also added that the phone will offer a unique experience to set it apart from our modern day smartphones and tablets. Here's a leak peek.
Samsung could unveil the phone at its Developers Conference
Speaking to CNBC, Koh said the company will release a foldable smartphone this year, possibly at the Samsung Developers Conference in November. Quoting surveys, Koh added that there is a definite market for foldable smartphones and for Samsung, "it's time to deliver". Earlier, he noted that Samsung "didn't want to lose the world's first title" considering other OEMs are also working on foldable smartphones.
Everything to know about Samsung's Galaxy F
Samsung's Galaxy F, codenamed "Winner", is said to feature a 7-inch display that can fold into a pocket-sized device. The phone could possibly come with two displays - one primary 7-inch display and a smaller secondary display on the outside. Notably, this is a design that Samsung has been working on for some time now and got it patented last October.
Can be used both as a phone and tablet
The foldable device becomes a phone when folded. It can be unfolded for operating as a tablet, somewhat like a gaming-console similar to Nintendo's DS range. Earlier, a report said: "The in-folding type has a more drastic curvature rate. But due to the durability issue, the out-folding type is considered a more advanced next-generation technology." However, Samsung is likely to adopt the in-folding variant.
The phone's development is complicated, but nearly complete: Koh
Earlier, Samsung's mobile chief admitted that its foldable phone is not a concept and "we wouldn't have started [the project] if it was a going to be a one-time thing." And now, in his interview, Koh noted that while the phone's development is a "complicated" process, the company has "nearly concluded" it. However, he remained tight-lipped regarding the design of its upcoming phone.