Scientists discover two alien minerals in a 15,000kg Somalian meteorite
Scientists discover two alien minerals in a 15,000kg Somalian meteorite
Dec 01, 2022, 12:05 am
2 min read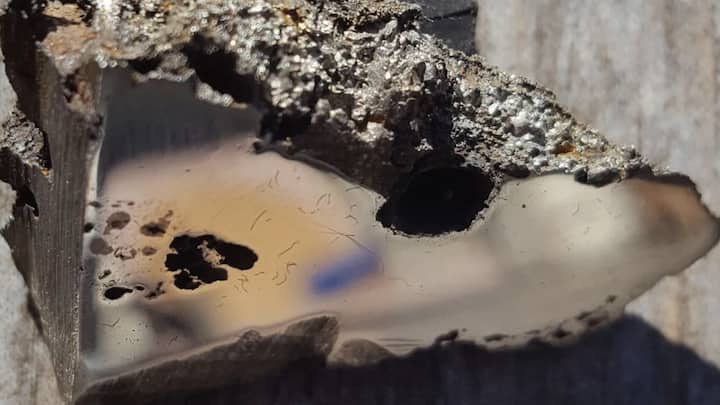 Scientists from the University of Alberta have discovered two new minerals, which have never been seen before on Earth. They were found in a Somalian meteorite called El Ali, which is the ninth-largest on the planet. The new minerals, named elaliite and elkinstantonite, might hold significant information about the formation of asteroids and can even find their way to real-world applications.
Why does this story matter?
Meteorites are smaller chunks of meteors that pass through the Earth's atmosphere and land on the surface.
Researchers claim that the Somalian meteorite was discovered about two years ago, but the locals have something else to say.
They refer to this space rock as 'Nightfall' and deem that it has been mentioned in songs and poems which are almost five generations old.
A potential third new mineral can also be uncovered
Scientists received a 70g sample, taken from the 15,000kg Somalian meteorite, for classification. They claim there could be a potential third mineral as well. The first mineral—elaliite—gets its name from its parent meteorite. The second one, elkinstantonite, is named after Lindy Elkins-Tanton, who is the vice president of the Arizona State University's Interplanetary Initiative and the principal investigator of NASA's upcoming Psyche mission.
What is the Psyche mission?
It is a probe into a unique metal-rich asteroid, called Psyche, which orbits the Sun and lies between Mars and Jupiter. It is considered to be the exposed nickel-iron core of an early planet, one of the building blocks of the solar system.
The minerals were identified upon comparison to their synthetic counterparts
Researchers were able to identify the minerals quickly because they have been synthetically created before. They claim that there might be more discoveries if more samples from the massive meteorite were provided. "That was phenomenal," said Chris Herd, curator of the University of Alberta's Meteorite Collection. "Most of the time it takes a lot more work than that to say there's a new mineral."
The minerals can be employed for several applications
"Whenever there's a new material that's known, material scientists are interested too because of the potential uses in a wide range of things in society," added Herd. New mineral discoveries could have a wide variety of uses.