WhatsApp now lets you share "Live location" with friends
WhatsApp now lets you share "Live location" with friends
Written by
Ramya Patelkhana
Oct 18, 2017, 03:01 pm
3 min read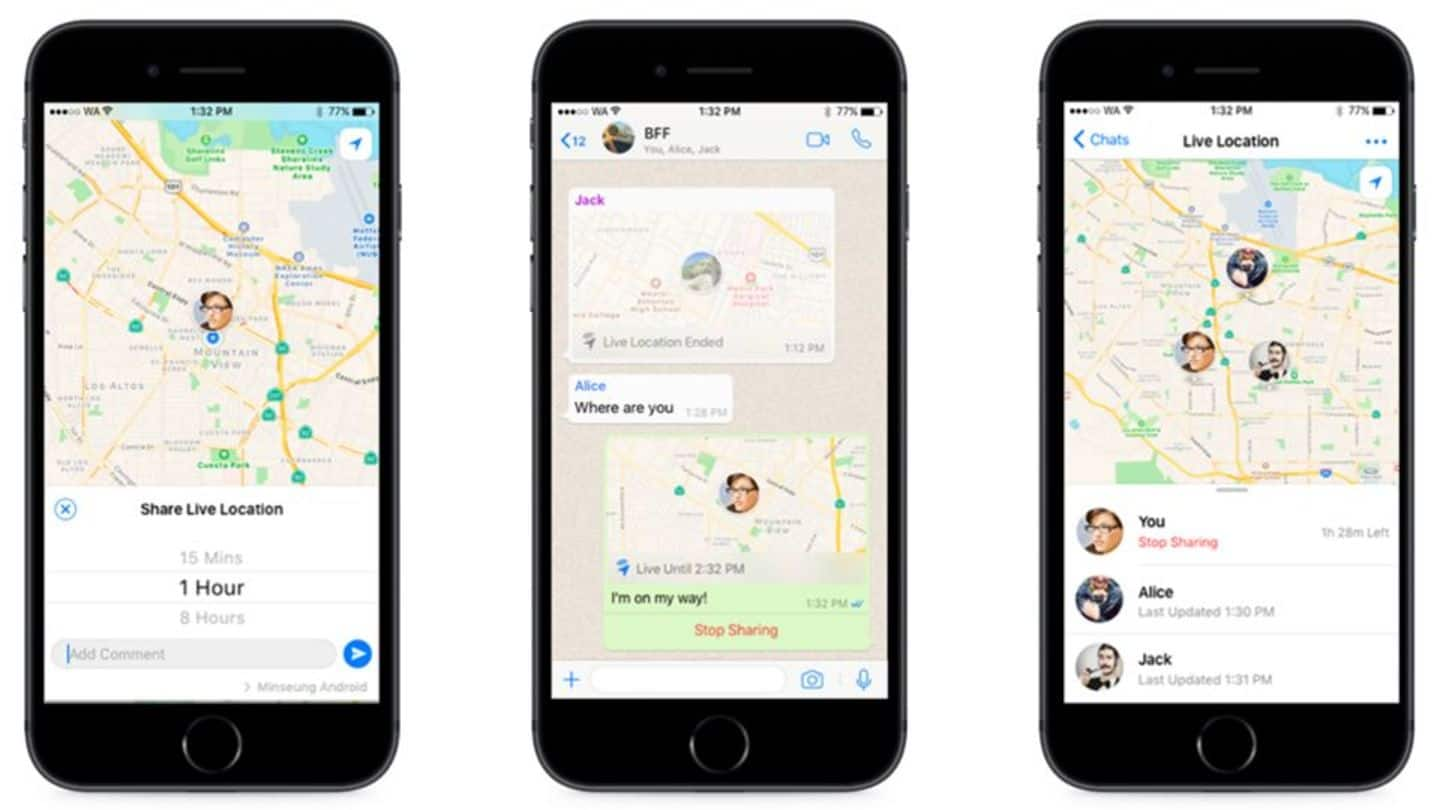 Facebook-owned messaging service, WhatsApp, is rolling out a new "Live Location" sharing feature to its Android and iOS users today. Users can choose to show their "live location" to a contact/group allowing them to track their movement/location in real-time for a preset duration of 15 minutes/1 hour/8 hours. It is different from the existing "share location" option, which only shows static locations. Know more!
Scenarios where the new feature could be useful
Zafir Khan, WhatsApp's Product Manager, said they aim to solve the "rendezvous problem" with "live location" feature they have been developing for a few months. Khan said it is helpful "when you are meeting up with a group, when you want to share where you are when you are commuting, or when you want to let your loved ones know that you are safe."
Short-term, limited duration feature
Zafir Khan stated: "Live location is a way to share your location in a chat and the participants in that chat will then be able to see your real-time location as it updates on a map. (It's) short-term in nature, it's limited in duration."
How to use the new location sharing feature?
The feature, initially rolled out to Android and iOS users, would be globally available within the next few days. Such users can check if an update for WhatsApp is available on their device by heading on to their respective app stores. After updating, users can share "live location" with a contact or group by accessing the option under "attachment" section on the chat.
Once a user shares the live location, the recipient (individual/group) would be able to see a card-style notification with an option to "view the location". The sender would see a button to "Stop Sharing" the location anytime before the pre-defined period ends. It is essential to understand that sharing live location with a group enables every member in it to track a user's movement.
Location sharing is end-to-end encrypted
Zafir Khan said the live location sharing would be end-to-end encrypted just like the messages, images, and videos shared on WhatsApp. He added, "We understand that location is an intimate piece of information, so the option to 'stop sharing' is prominently displayed."
Similar features launched by other apps
Before WhatsApp, several internet companies and mobile apps have introduced social location sharing features. Facebook Messenger, Telegram, and Apple's iMessage also allow users to share live locations in real-time. In Jun'17, Snapchat rolled out "Snap Map" location sharing feature. Also, ride-hailing app Uber allows the customers to share their "trip status" with a contact letting them trace the car's live movement.