Want world's largest plane? It "just" costs $400 million
Want world's largest plane? It "just" costs $400 million
Written by
Shubham Sharma
Jun 15, 2019, 07:54 pm
2 min read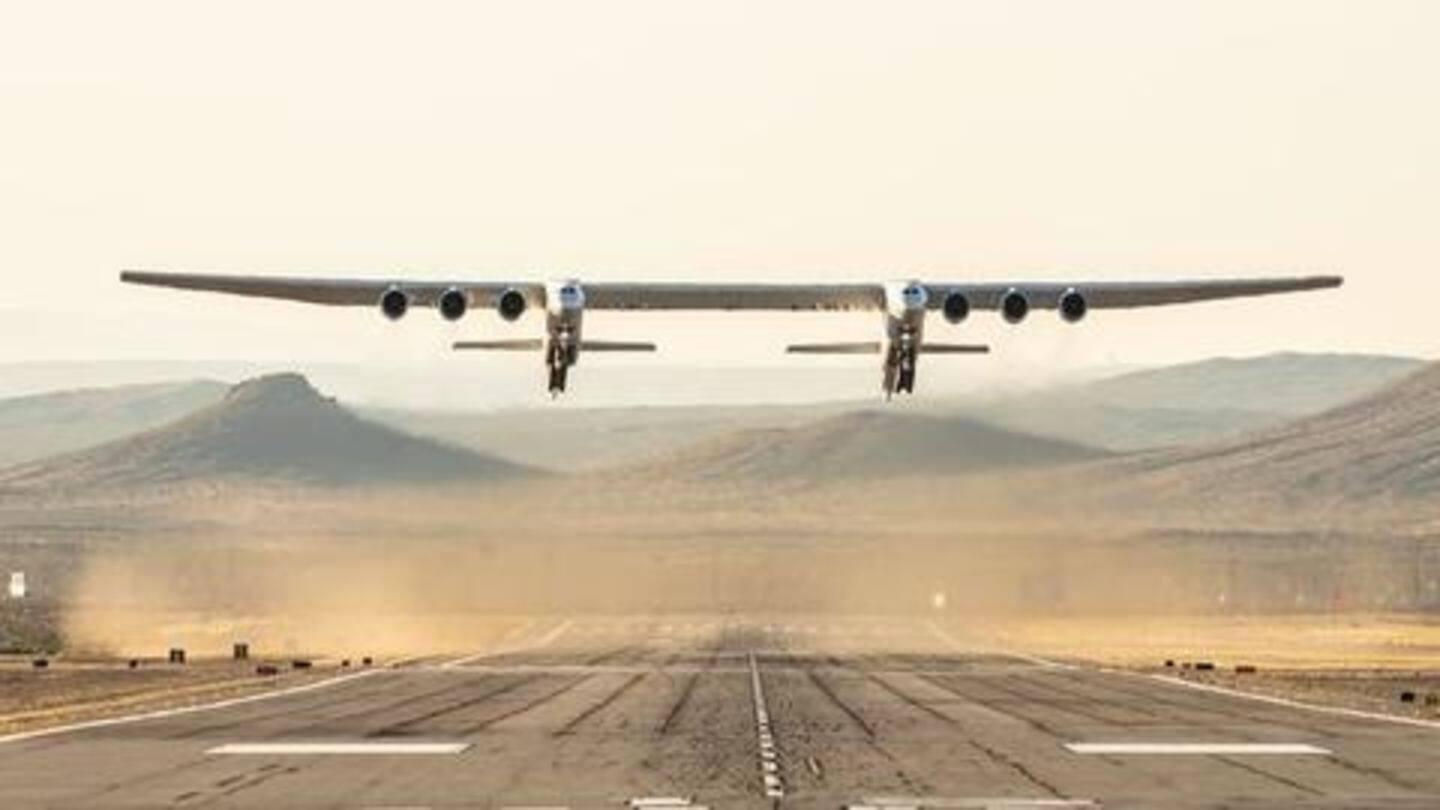 Stratolaunch, the world's largest plane by wingspan, is up for sale for a whopping $400 million. The aircraft - a brainchild of late Microsoft co-founder Paul Allen - has flown just once. But its holding company, Vulcan, is looking for potential buyers to sell it off with all associated intellectual properties and facilities. Here are the details.
Stratolaunch's wingspan is longer than football field
Allen founded Stratolaunch Systems some eight years ago in hopes of launching rockets from the air and making space more accessible. The work on the aircraft continued progressively, ultimately resulting in a ginormous bird boasting a wingspan of 385 feet - longer than a football field. Notably, in its final avatar, the 500,000-pound plane had as many as 28 wheels, six Boeing 747 engines.
First flight nailed after eight years of development
Years after being developed and tested, Stratolaunch finally completed its first flight in April, just a few months after Allen passed away due to non-Hodgkin's lymphoma. The historic flight went just as the company expected; the aircraft flew for more than two hours after taking off from the Mojave Air and Space Port in California. Sadly, the future now looks shady for the craft.
Internal sources confirmed the plan to sell Stratolaunch
Multiple sources familiar with developments at Stratolaunch have told CNBC that the company is planning to sell the plane and the intellectual property and facilities - including a giant hangar - associated with it. The company denied issuing an official comment on the matter, saying that it remains operational and they will "provide an update when there is news to share."
Stratolaunch has been downsizing of late
Having said that, it's worth noting that the company has downsized significantly lately. It has sacked the majority of its workforce and even canceled the plans to develop its own rockets for Stratolaunch; Northrop Grumman is the only launch partner of the company. In fact, just last month, Reuters had reported that the company is in the process of closing down operations for good.
No word on potential buyers
As of now, there is no word on the final fate of Stratolaunch. However, the most possible candidates who could invest and take control of the company are said to be tech moguls Jeff Bezos, Elon Musk, and Richard Branson.