FIFA World Cup controversies: Why did Mexican boxer threaten Messi?
FIFA World Cup controversies: Why did Mexican boxer threaten Messi?
Nov 30, 2022, 10:28 pm
3 min read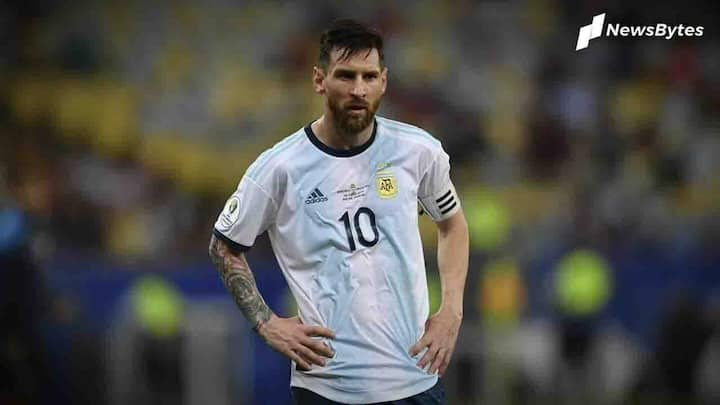 Legend Lionel Messi drew flak after a video of him celebrating Argentina's win over Mexico at the FIFA World Cup in the dressing room went viral. Messi can be seen kicking a Mexican jersey after having swapped his jersey at the end of the game. Mexican boxer Canelo Alvarez, in a tweet, mentioned that "better pray to God that I don't find him".
Why does this story matter?
Messi starred in Argentia's 2-0 win over Mexico earlier this week.
After the match, the PSG star reportedly exchanged his jersey with a Mexican player.
A post-match video that did rounds on social media projected that Messi kicked that jersey lying on the floor.
This did not go down well with boxing champion Canelo Alvarez.
Along with him, several others lashed out at Messi.
Did Messi really kick the jersey?
Clearly, Messi's intention was not to kick the jersey. He can be seen chanting with his teammates in the dressing room. Toward the video's end, one can see how Messi tried to remove his right shoe. He got hold of the shoe's heel from his left foot before dragging to remove it. Messi then raised his leg, which in turn pushed away the jersey.
Alvarez feels Messi disrespected Mexican jersey
Controversies in FIFA World Cup 2022
Messi's incident adds to the growing string of controversies at the ongoing FIFA World Cup in Qatar. Right from the country's treatment of migrant workers to their take on LGBTQ rights, numerous issues have made headlines. Several European nations decided to abandon the "OneLove" armbands designed to express solidarity with LGBTQ+ rights. Notably, same-sex relationships and their promotion are illegal in Qatar.
The 1978 FIFA World Cup in Argentina involved sports-washing, which means using sports to improve tarnished reputations. At that time, dictator Jorge Rafael Videla-led military junta ruled Argentina. He was accused of killing thousands. Meanwhile, there were calls from those fighting junta to boycott the tournament. According to the Netflix documentary, 'Fifa Uncovered', thousands of protestors disappeared from the scene.
The 1938 edition witnessed Fascism
France hosted the third FIFA World Cup edition in 1938. Then-Italian dictator Benito Mussolini used the tournament to exhibit the superiority of the Fascist party. Italy donned an all-black outfit to showcase the party's colors. Moreover, their players made fascist salutes before kickoff. Meanwhile, South American countries Uruguay and Argentina boycotted the tournament. They protested against the decision to hold consecutive WCs in Europe.
When Africa boycotted the tournament!
The 1966 FIFA World Cup, won by England, was boycotted by the entire of Africa. As per FIFA's 1964 ruling, three second-round winners were required from Africa to reach a playoff round against the Asian Zone. The winner of the playoff round would have qualified for the World Cup. However, the Confederation of African Football felt it was unfair.