Kohli completes 11 years in international cricket: Here're unbreakable records
Kohli completes 11 years in international cricket: Here're unbreakable records
Aug 20, 2019, 02:51 pm
3 min read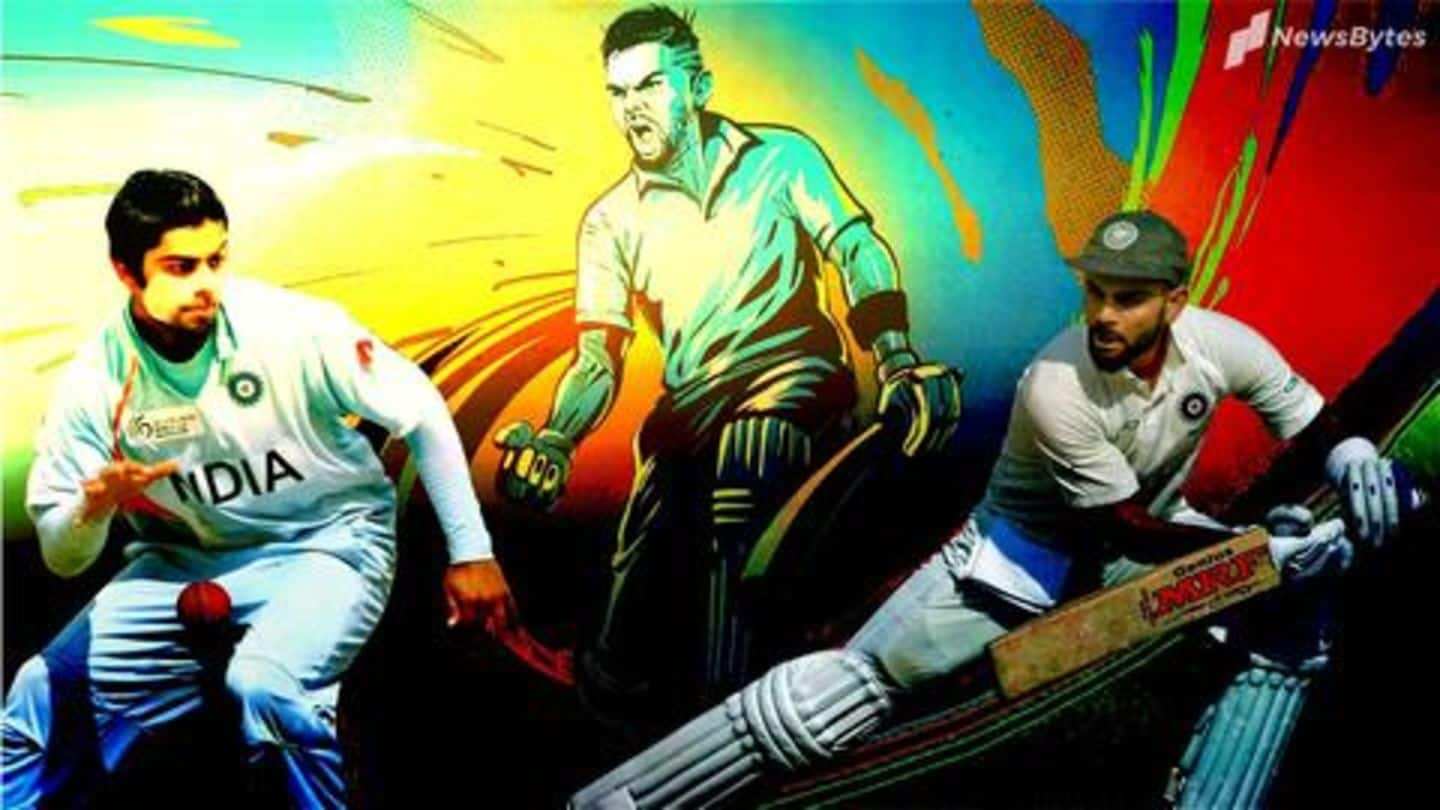 Indian cricket team captain Virat Kohli has scripted a terrific milestone in his illustrious career. On Sunday, the 30-year-old completed 11 years in international cricket. This was a special moment for Kohli, who is operating at a different level across all the formats of the sport. One of the GOATs, Kohli has registered several unbreakable records. Here we look at the same.
Kohli has taken the game to the next level
It was on August 18, 2008, when Kohli played for India the first time in an international match. He made his debut in the ODI against Sri Lanka. In that match, Kohli played as an opener and managed to score 12 off 22. Since then, he has played 239 ODIs, 77 Tests and 70 T20Is. He has amassed a plethora of records across formats.
Kohli's most runs in a decade record is mind-blowing
Kohli's run-scoring affair is something no one can match. Recently, he became the first batsman to score 20,000 international runs in a single decade. Earlier, legendary Australian captain Ricky Ponting held the record for scoring the most international runs in a decade with 18,962 runs in the 2000s. Kohli achieved this feat against Windies. This record could stay for a long period of time.
Fastest to 10,000 ODI runs
Kohli is also the fastest batsman to reach 10, 000 ODI runs. He registered this historic feat against Windies in 2018. He smashed an unbeaten 157 that day and achieved the feat in his 205th inning. Kohli surpassed Sachin Tendulkar who did it in 259 innings. Kohli is also the fastest batsman to surpass 10,000 ODI runs mark in terms of time.
These ODI records make Kohli stand out
The Indian skipper smashed the record of being the fastest to 1,000 ODI runs in a calendar year. In 2018, Kohli scored 1,000 runs in just 11 innings eclipsing Hashim Amla, who had earlier scripted the feat in 15 innings. The celebrated cricketer is also the first batsman to hit 100s in three consecutive innings against two opponents- Windies and Sri Lanka.
Most ODI runs in a calendar year as captain
Kohli has been stealing the show in ODIs for a while now. In 2017, Kohli hammered 1,460 runs in 26 ODIs as the captain of the Indian team. That saw him overtaking former Australian skipper Ricky Ponting who had amassed 1,424 runs back in 2007. Kohli is also the first skipper to register five consecutive fifties in World Cup history.
Some other superb unbreakable records by Kohli
The right-handed batsman is also the first Test captain and the first Indian to score 1,000 runs in three consecutive calendar years. He scored 1,215 runs in 2016; 1,059 runs in 2017; and 1,322 runs in 2018. Kohli also has the most double hundreds (6) by a skipper in Test cricket. His 43 ODI hundreds in 230 innings is another special record.
Kohli's IPL record can never be touched
Kohli amassed 973 runs in the Indian Premier League in 2016. Except him, nobody has crossed the 900-run mark ever in a single season of IPL. Kohli's four centuries in one season is another feat that can never be touched.