Conor McGregor knocks out Donald Cerrone in 40 seconds
Conor McGregor knocks out Donald Cerrone in 40 seconds
Jan 19, 2020, 03:00 pm
2 min read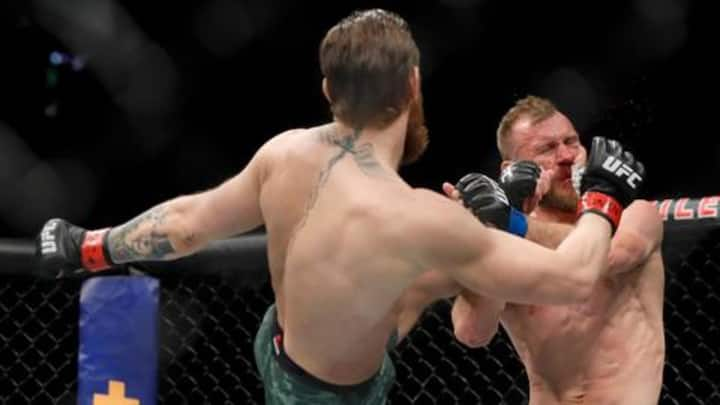 Former UFC champion Conor McGregor made his dominating return to the octagon as he beat 'Cowboy' Donald Cerrone in just 40 seconds at UFC 246. In what was his first fight in 15 months, McGregor showed no signs of rustiness, as Cerrone succumbed to the intense and varieties of punches and kicks from 'The Notorious' one. Here are further details on this.
From knee to a cold shoulder, McGregor outfights Cerrone
In what was an electrifying atmosphere, McGregor started off the bout with a kick to Cerrone's face. Immediately following the kick, Cerrone seemed to be fazed by it, as McGregor landed a series of 19 punches over the 'Cowboy'. As the time clock struck 40, the referee was forced to push McGregor away and that's all it took for 'The Notorious' to seal it.
40 seconds is all it takes
It's good going up and down, I'm in shape: McGregor
"I like this weight division, it's good going up and down, I'm in shape. I'm not there yet, there's work to do to get to where I was. I'll party, celebrate, any of these fools can get it. It does not matter," said McGregor.
McGregor on standby for UFC 248 event, eyes BMF title
Following the win, McGregor said that while he is on standby as of now for UFC 248 event, he is also eyeing the BMF title against Jorge Masvidal.. "I'd take both. I'd like that BMF title. To me, gold has more significance to it. ... I thought we were robbed of a classic. I like Masvidal matchup better," he said.
McGregor has a fine MMA record
As far as McGregor's MMA record is concerned, it has been a commendable one. To date, he has fought 26 matches, winning 22 and losing the remaining four. Barring Khabib, he has lost against Nate Diaz, Joseph Duffy, and Artemij Sitenkov. As for championship wins, he is a one-time Featherweight Champion, one-time interim Featherweight Champion and a one-time Lightweight Champion.