Warner tampered the ball even in First-class cricket: Cook
Warner tampered the ball even in First-class cricket: Cook
Sep 10, 2019, 08:31 pm
2 min read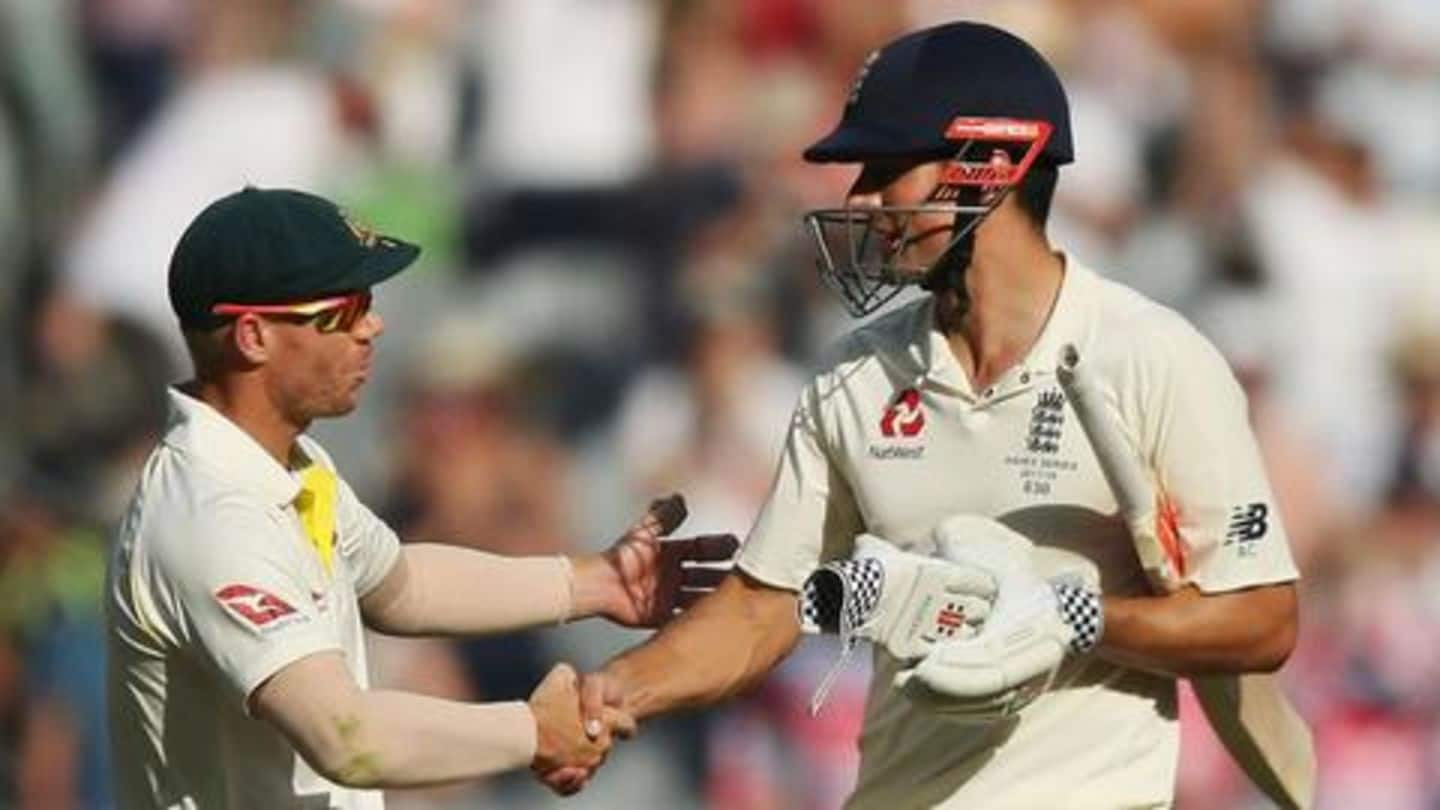 Sir Alastair Cook continues to enjoy First-class cricket post his international retirement. Meanwhile, he has already penned a book on his cricketing career so far. Interestingly, it is the shocking revelation regarding Australian opener David Warner, which has got the world talking. Cook has allegedly mentioned about how Warner did ball-tampering in a First-class match. Here's what Cook wrote about Warner.
Warner used substances to tamper the ball
In the book, Cook mentioned while celebrating the 2017-18 Ashes win, Warner opened up about a particular incident. After a couple of beers, Warner said that he had 'used strapping on his hand to accelerate deterioration of the ball during a First-Class match'. "I looked at Steve Smith who shot a glance that said: 'Ooh, you shouldn't have said that.'," noted Cook.
Warner was suspended in 2018 following Cape Town ball-tampering scandal
Warner has been a notorious character and he was the mastermind behind the Sandpapergate scandal, during Australia's tour of South Africa in 2018. Warner, along with then skipper Steve Smith, had influenced Cameron Bancroft to tamper the condition of the ball using sandpaper in the Cape Town Test. The incident led to Cricket Australia (CA) handing both Warner and Smith a year-long ban.
"It's been the best thing for Australian cricket"
"People know what was going on. But, it's been the best thing for Australian cricket, because they realized it wasn't acceptable. The win-at-all-costs culture they created isn't what the Australian public needed or wanted. They'd gone too far," Cook further noted in his book.
Cook shocked in the manner Bancroft tampered the ball
Meanwhile, Cook also mentioned in his book that according to fellow English pacer Stuart Broad, it was the hand-strapping technique that could have helped the Aussies to extract reverse swing during 2017-18 Ashes. However, Cook was shocked at their change of approach, as they used sandpaper against South Africa. "Why change what you've been doing? Why suddenly use sandpaper?" Cook wondered.
Warner struggling in Ashes
After serving the ban, both Warner and Smith are back to playing international cricket. However, unlike Smith, Warner is struggling in the Ashes. In the four Tests, he is averaging less than 10. If this continues, he might lose his spot in the Test team.